The Texas Hill Country is blessed with abundance of gorgeous landscapes, breath-taking views, and, fortunately in the dog days of summer, a plethora of pools to cool off. Here's a look at some of the most popular Texas has to offer in no particular order.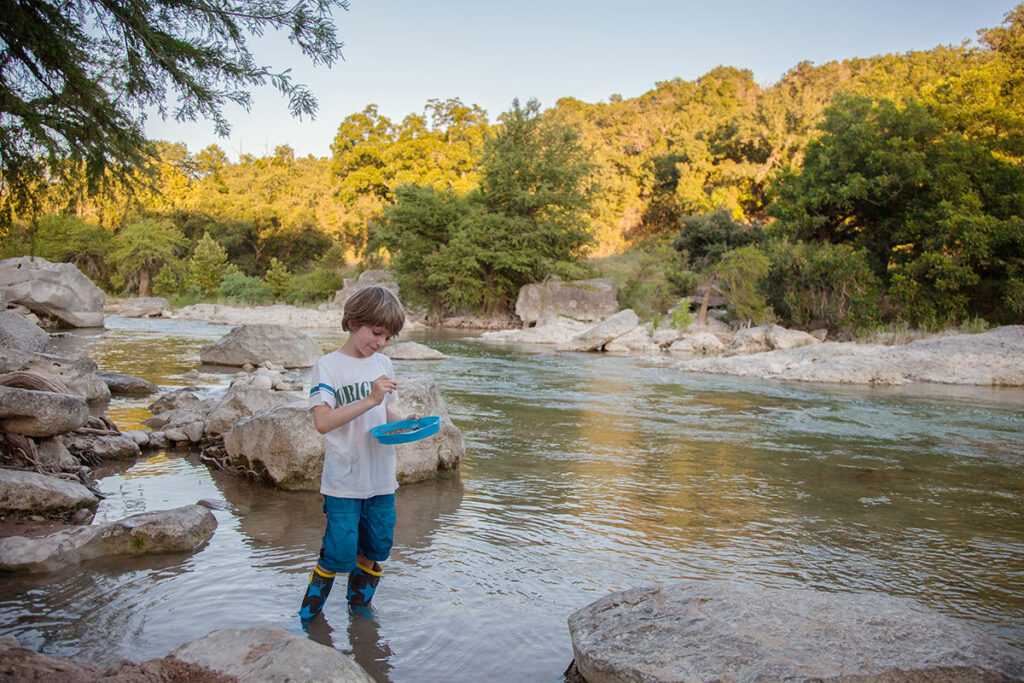 Pedernales Falls State Park, Johnson City
Located on more than 5,000 acres and just 30 miles west of Austin, Pedernales Falls State Park offers some of the best swimming, tubing, wading, and fishing on the Pedernales River. The river within the park flows over and around limestone slabs and, depending on water levels, creates a multitude of shallow pools perfect for escaping the summer heat. Although swimming is not allowed directly below the falls, it is allowed along a stretch of river accessed by the 0.6-mile Pedernales Falls Swimming Area Trail. "Our swim area has a nice sandy beach and some great big cypress trees for shade," says Assistant Park Superintendent Jason Hairston. "The river's wide and the current generally slow. It's the perfect place to float."
Hamilton Pool, Austin
Fed by an absolutely stunning 50-foot waterfall and operated by Travis County Parks, Hamilton Pool was formed when an underground river collapsed inward following more than a millennium of erosion. This left behind an amazing grotto filled with turquoise waters surrounded by scenic limestone outcroppings. Access to the pool is by reservation only and via a steep .25-mile trail (sturdy shoes are a must) that's well worth the taking, given the reward at the end.
Barton Springs, Austin
Perhaps the most famous pool in all of Texas, Barton Springs is a cultural landmark located within the Barton Springs Greenbelt of Austin. The manmade pool is three acres in size and fed from the underground Main Barton Spring, the fourth largest spring in the state. The pool ranges from zero to 18 feet in depth and averages between 68-70 degrees. The swimming area is surrounded by grassy slopes and numerous shade trees and serves as the perfect place to lounge after cooling off in the spring's brisk, gin-clear waters. A statue near the entrance honors the Texas letters triumvirate of Roy Bedicek, Walter Prescott Webb and J. Frank Dobie, who cooled off regularly here in pre-air conditioned Austin. Tiffany Chavez, a summer cashier at the Springs says of the popularity of the pool, "We're family friendly and the water's always, always cool and refreshing!"
Blanco State Park, Blanco
Located only a stone's throw from the Blanco Courthouse and roughly an hour from both San Antonio and Austin, Blanco State Park is the perfect place to dip into the cool waters of the spring-fed Blanco River. Park goers can swim anywhere along the river or relax near the man-made dam and small pool that sit surrounded by waterfalls. The shore is beautiful, natural Texas limestone and the water always cool. The park rents tubes and provides free loaner fishing rods to further enhance a getaway to the park. As Buffy Marquez, assistant office manager at the park, says, "We get everybody from all over to come enjoy our mile of river because everything here is perfect!"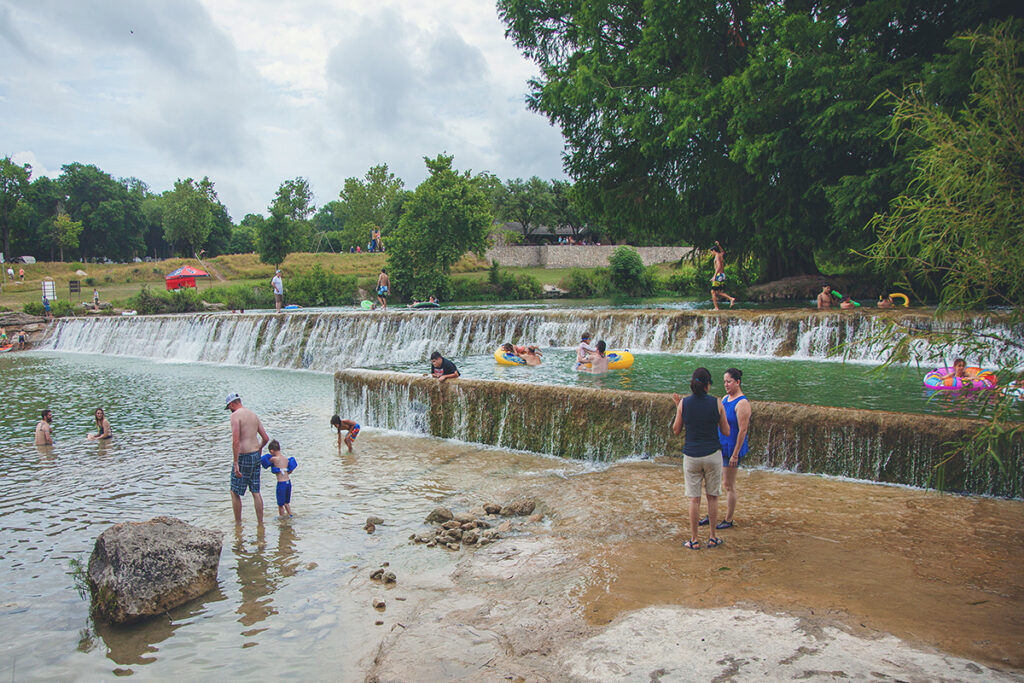 Garner State Park, Garner
There's no better place to cool off than in a river whose name means "cold" and no better place to do so than in Garner State Park. The park, famous for its fall foliage and summer dances, offers bathers, tubers, anglers, and those just looking to cool off nearly three miles of access to the Frio River's cold, crystal-clear water. Park goers can rent paddleboats, kayaks, and innertubes to further enjoy the river as well as tables, barbecue pits, and fans after a day in the water. A tube shuttle and putt-putt golf course are also available during summer months.
Jacob's Well, Wimberley
Jacob's Well is a 30-foot vertical perennial karstic spring that serves as the headwaters of Cypress Creek, but it's also the entrance to a vast underwater cave system. This gorgeous swimming hole is located within the Jacob's Well Natural Area (JWNA) and managed by the Hays County Parks Department. The Well is supplied by the Trinity aquifer, roughly 140 feet below the surface that maintains a constant temperature of 68 degrees making it one of the coolest times in Texas.
Landa Park at Comal Springs, New Braunfels
Situated on the always 72-degree Comal Springs, Landa Park offers a trio of swimming experiences. The Coach E.E. "Bud" Dallmann Olympic Pool measures 25 yards by 50 meters and varies between four and seven feet deep. It's the perfect place to cool off or swim laps. By far the most popular of the venues is the Springfed Pool. At more than a century old, it is one of the oldest and most popular bathing pools in Texas. The pool varies in depth from zero to nine feet deep, offers a 10-foot-tall water slide and shallow end with mushroom fountain. The Zero Depth Pool is perfect for bathers under five years of age and features water that varies between zero to two and a half feet in depth, a smaller slide and fountain.
Devil's Waterhole, Burnet
Don't let the name fool you, the Devil's Waterhole is about as heavenly a swimming hole that can be found in the Hill Country. Located inside the 1,201-acre Inks Lake State Park, this Texas favorite swimming spot is a small inlet of Inks Lake that is almost completely surrounded by boulders of pink granite. Jumping from some of the higher cliffs surrounding the pool (the tallest being upwards of 40 feet) attracts thrill seekers from the world over and the tranquility of the 800-acre lake of brings them back again and again.
"The Devils Waterhole has been an icon of Central Texas for generations," Park Superintendent Corey Evans says. "People love to jump off the cliffs and just to experience what has drawn folks from all around for so long."