Dr. Robert Young opened Bending Branch Winery in Comfort in 2009. I discovered this place in 2013. A naturally curious scientist, Dr. Young has experimented with many varieties of grape finding the best grapes to make wine from in Texas. He also works to make the best wines possible experimenting with processes such as Cryo-Maceration and Flash Détente. His efforts have paid off. The awards shelf is overflowing with gold medals and the San Antonio Express -News voted them Best Texas Winery four years in a row.
The Cryo-Maceration research gave him the Top Texas Winery award from the 2014 Rodeo Uncorked International Competition. The 2011 Estate Tannat swept the competition. Bending Branch was again awarded Top Texas Winery in 2018. To really understand what Texas wines can be, one must visit this winery. As they say, "It's Comfort in a Bottle."
---
Picpoul Blanc –
2018 Texas Hill Country
Lost Pirogue Vineyard
Quintessential Quaffer
Brilliant acidity shines through this minerally quaffer. Aromas of green apple and almost ripe Anjou pear blend with hints of vanilla and an end note of smoke. This lovely white is aged in American oak for seven months. This adds a fabulous body to the wine. With a refreshingly clean finish, this is the quintessential Texas white. A great accompaniment to fish and shrimp dishes.
---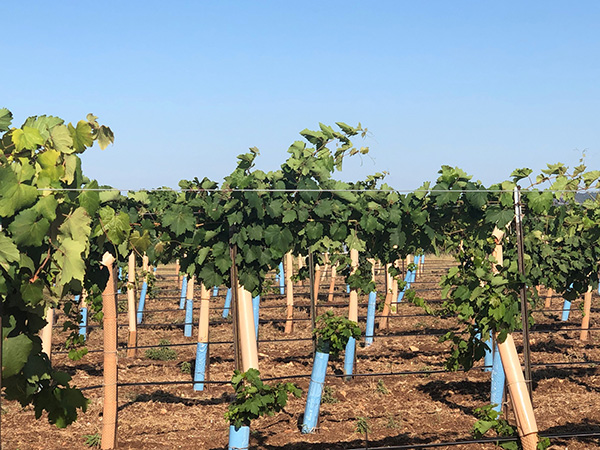 Petite Sirah –
2016 Texas High Plains
Newsom Vineyards
Sophisticated Sipper
A departure from typical Petite Sirah, the Bending Branch 2016 is elegant and sophisticated. This tasty red is bright ruby in color. The acidity makes it wonderful to pair with food. Aromas of white pepper, blueberry, anise and leather swirl around the nose. The tannin structure is solid with the feel of satin. It has a feminine character and long lovely finish. Perfect to pair with lamb or wild game sausages.
---
Texas Tannat –
2017 Texas
Sourced from four vineyards in the Texas Hill Country and Texas High Plains
Big and Bold
A robust, full-bodied red wine that satisfies. The dense garnet-brick color shows off in the glass. Concentrated aromas of ripe red cherry, black plum and dark chocolate play with graphite and slate in the glass. The pallet explodes with flavors. This is Big Bold Texas wine. A full-bodied complement to grilled game and long smoked brisket.
---

CM Tannat –
2017 Texas Hill Country
Tallent Vineyards
Boldly Elegant
Bright Ruby color entices the eye as refined aromas of smoke and mineral combined with intense blue fruits show an elegant Tannat. The acidity is brighter than their Texas Tannat and the feel a touch more feminine. Enjoy this one with a ribeye and blue cheese.
---
Comfortage – 2016
Roussane – Texas Hill Country
Hoover Valley Vineyard
Full-bodied White
Bight hay in color with a viscous character. The 2016 Comfortage serves up aromas of pears, almonds and apples laced with delightful minerals. It will stand up to food and is well suited for Thanksgiving Day.
---
Thinkers Blend – NV Blend – California
Easy Imbiber
From Dr. Youngs California vines, Bending Branch offers a unique blend with versatile appeal. Fruit forward with well-balanced acidity and tannin structure. It pairs beautifully with pizza, barbeques and antipastos.
---
BENDING BRANCH WINERY
bendingbranchwinery.com
Estate Tasting Room:
142 Lindner Branch Trail
Comfort, TX 78013
T | 830-995-2948
11 am-6 pm Th-Sat
Noon-5 pm Sun
Branch on High:
704 High Street
Comfort, TX 78013
T |830-995-3394
Noon-8 pm Th-Sat
Noon-5 pm Sun