Blue smoke. A sip of a heavy beer or a spirit. Large leather chairs. Sports on the television. Hill Country cigar bars are like a community man cave (though women are certainly welcome).
Rock & Vine did a tour of area cigar lounges this summer. There's no way to hit all of them, but here are a few of our favorites.
---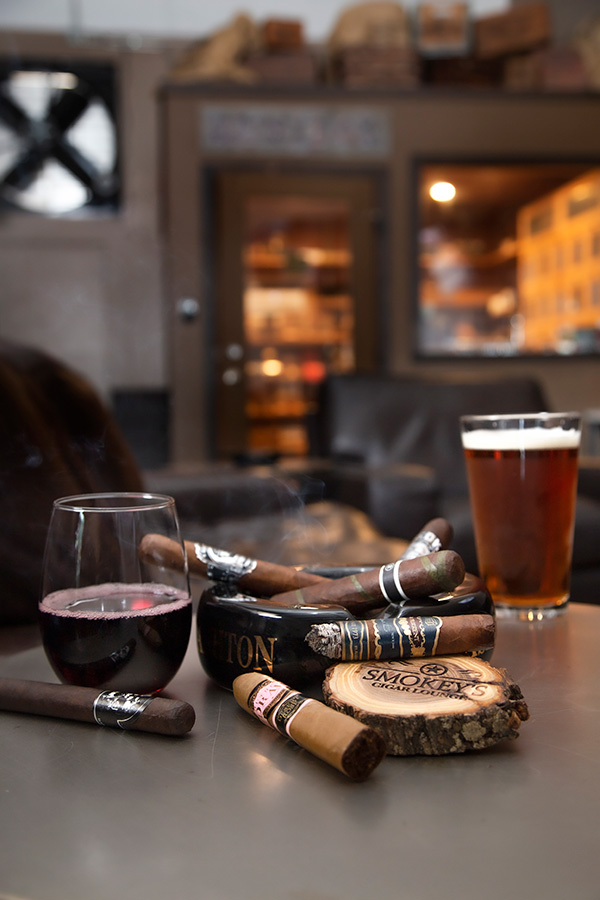 Smokey's Cigar Lounge
331560 Ranch Road 12, Suite 207
Dripping Springs, TX 78620 • 512.829.5560
Hours: Wed, Th 1-8 Fri, Sat 12-10, Sun 12-8
These people who really love cigars and their community. In fast-growing Dripping Springs, this is a cool spot to slow down. Lawman owner Chris Walling has carved out a comfortable space in a simple strip mall, but has made it his own with something for every taste.
Smokey's began as strictly a mobile lounge (and still hire out for events), but Walling opened a retail space when demand exceeded supply and space.
Their walk-in humidor features surprising boutique finds such as: Casa Turrent, which comes from the San Andres Tuxtla region of Mexico; One Shot, One Kill, which was made by Lowrider magazine editor/photographer Edgar Hoyle; and Southern Draw, a Texas label. The owners support many veteran-owned labels.
They offer 25 beers, wines and ciders. Private lockers are available (nearly sold out), which come with BYOB privileges. An added bonus is the owners welcoming patrons to order and enjoy anything from the Route 12 Filling Station next door. Once a month, they even offer a "Yogis and Stogies" event, and they regularly host musicians.
Andrew Unhassobiscay and employee Allison Trainer are cigar aficionados and even affirmed their love with cigar band wedding rings.
---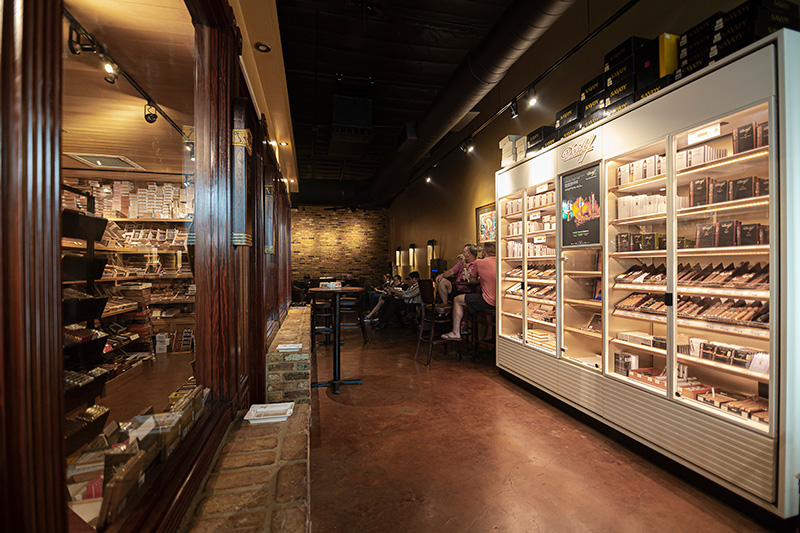 Habana House Cigars
3601 S. Congress Ave., Suite K300-A
Austin, TX 78704 • 512-996-8706
Hours: Mon-Thu 10-8:30, Fri-Sat 10-10, Sun 10-6
Other location:
13729 Research Blvd., No. 1075 • Austin, TX 78750
When you are in Austin, Habana House will fill your cigar cravings. With two locations (and plans to add a third), it is growing right along with the capital city. Owner Michael Rocha runs the business, which began 15 years ago inside the Ruta Maya Coffee Shop. He moved to the bustling South Congress area in 2013 and will soon expand that location next door with a larger spot and a walk-in humidor that is as large as many Austin apartments (the largest in the city).
Rocha owns M&R Wholesale, so his stores will have most any major brand one is seeking, including being an exclusive Davidoff retailer.
Habana House specializes in the well-established brands of every size and spice, but also sports a solid selection of boutique brands. Manager Daniel White says it's BYOB and the Wifi hookups mean it's not unusual for guys to hang out for hours on end, like a smokey coffee shop. "We like our diverse clientele," he said.
---
Cigar Vault
210 N Main Street • Buda, Texas 78610 • 512 361-3289
Hours: Sun-Thu 12-8, Fri-Sat 10 am-11 pm
This place has the most interesting history of probably any Texas cigar lounge. It is located in a stucco, 1928 building which used to house Farmers State Bank. The bank origins mean the building still has a vault, which now serves as its walk-in humidor. In 1919, leg-end has it that the bank was robbed by a 19-year-old female University of Texas student who was caught on a muddy road that is now Interstate 35.
The place has a living room feel with comfortable chairs and couches and soft light in the cozy space. They offer a nice selection of beers, wine, coffee and espresso. Owners say it's "like a community center" and patrons will find all ages, male, female hanging out. The owners/managers are friendly and knowledgeable.
There also are regular grub from local food trucks and an indie pizza place nearby and music frequently on the tree-covered back porch. Always a sporting event on the tele, and also, fans of Scottish football – we call it soccer 'round these parts – are most welcome.
---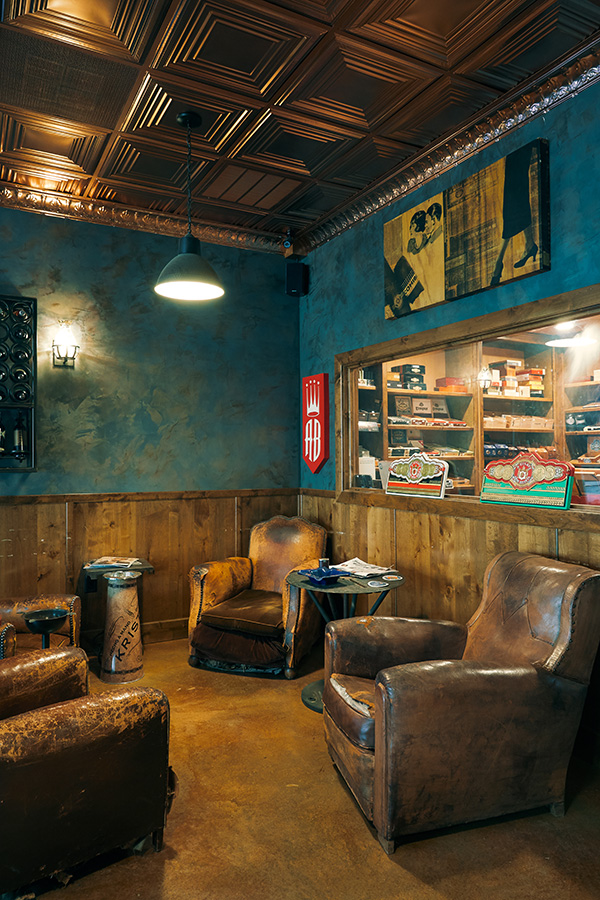 Tabak Haus
109 S. Washington St. • Fredericksburg, TX 78624 • 830.997.2360
Hours: Tue-Thu 10-10, Fri-Sat 10-11:30, Sun (flexible, but during football season from noon til' games are over)
Owner Bob Kreipe's spot – with a wooden Indian and 100-year-old Welsh, leather pub chairs just off of Main Street – has been a hit since it opened almost four years ago. With thoughtful details like copper ceiling tiles and knotty wood, it feels like going to a friend's home who has much better decorating taste.
As our "home turf" shop, we enjoy it often and Kreipe or Gayne Young (an R&V con-tributor) talk sports and hunting. The place is frequented by couples visiting The 'Burg on anniversary trips or weekend getaways, but many times men stop in when their wives are shopping on Main Street.
Tabak Haus features some boutique sticks as well as major brands, and a nice selection of pipe tobacco and merchandise.
The lounge's spirits offerings feature some top shelf liquor. There is also a solid selection of local and imported beers and a delightfully sizable wine menu. Customers may bring in food or order pizza. Another nice touch is a wooden deck under a giant Live Oak, where they sometimes host musicians or DJs spinning cool tunes.
---
Other stops:
The Cigar Humidor
122 N. LBJ Drive
San Marcos, TX 78666
Hours: Tues-Sat 12-7
512 396-PIPE ( 7473 )
Bolivar Cigar Lounge
(private lounge)
309 E. Cesar Chavez St.,
Austin, TX 78701
512-472-2277
Hours: Mon-Sat 11-8
Boerne Wine Co.
302 S. Main St.
Boerne, TX 78006
830-331-9424
Hours: Mon-Sat 11-8
Let us know your favorite spots by messaging Rock & Vine on Instagram, Facebook or via email at ken@fredericksburgstandard.com.