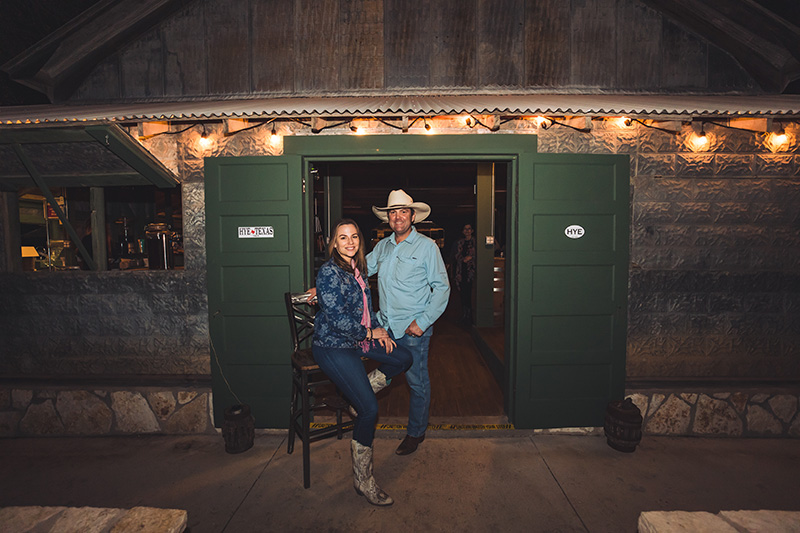 Texas' historic dance halls have been closing or, more sadly, deteriorating and collapsing in small communities since the dawn of TV and air conditioning.
What once numbered about 1,000 now total fewer than 400 across the state. Some are abandoned, overgrown with weeds and brush. About a quarter those remaining are considered "at risk" by the nonprofit group Texas Dance Hall Preservation.
But in the tiny hamlet of Hye, hugging U.S. Highway 290 between Stonewall and Johnson City, one has come back from the dead. Refurbished and rejuvenated more than a century after it was built, Hye Hall has reopened its doors.
It brings back a Hill Country social institution that vanished in the 1950s. It also brings back memories for Margaret Duecker, a longtime Fredericksburg resident born 95 years ago in Hye.

'Sit on My Hunkers'
When she was a girl "two, maybe three" years old (known then by her maiden name, Margaret Rech), Duecker's "Daddy" would "put me on the end of his shoes, on his toes, and I would dance with him."
When the band took breaks, "I would go out and slide on the floor. The larger children would pull me by the arms and I would sit on my hunkers and they would pull me."
Until recently, Hye Hall was still standing but steadily crumbling. But thanks to owner Oliver Deike and Jason Cook, who operates Hye Hall, it was refurbished over the past two years.
Hye Hall's formal grand reopening was Nov. 29, the day after Thanksgiving. But unofficially, it reopened in October for Wednesday night dances and private events other days of the week. Hye Hall can be reserved for birthday parties, wedding receptions, group meals, Texas wine tastings, dances, yoga, brunches and more, said Cook, who schedules bookings.
"It will be a gathering place for our guests to step back in time and get away for a while," he said. Cook also sees Hye Hall as a visitor center to share information about local businesses and the community's history.
Starting this past October, the local band known as Lost Sounds of a Texas Honky Tonk has been performing starting at 5 p.m. on Wednesdays. About an hour into the music, food is available from the Hye Market restaurant, across 290 from the dance hall.
So are soft drinks and water – but no alcoholic beverages initially. Until Cook secures his state license, guests are invited to BYOB.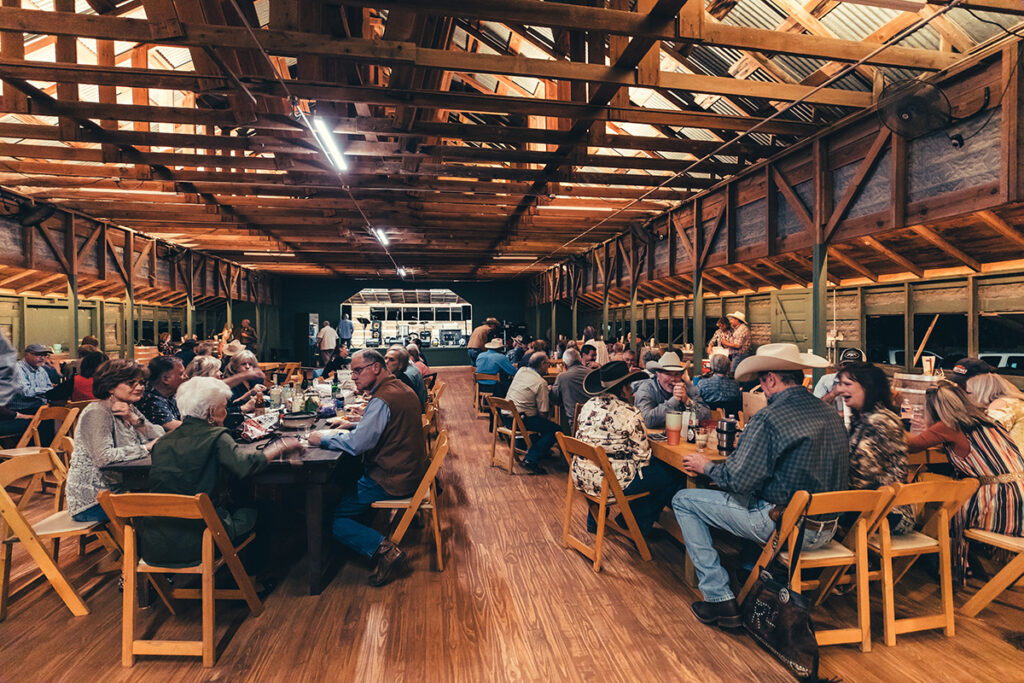 'Clean That Place Up'
A couple years ago, Oliver Deike and his wife, Mary Alice, were mulling the shuttered dance hall that dates back to before Oliver's grandfather purchased it. It had been stuffed with broken farm equipment and other machinery. On one side, the weight had sunken the flooring 16 inches.
There also was a termite infestation in another area of the building and the roof had "about 100 leaks," Oliver said.
"She said, 'You know, you need to clean that place up.'" Oliver recalled.
Mary Alice's guidance dove-tailed with a related concern: Oliver couldn't get the building insured unless he tidied up the property.
He set about making the old building insurance-worthy "and, as I cleaned it up and it looked a little bit better, I got more involved and excited about it and then I just decided I'm going to put this thing back together."
More than $100,000 later, the Deikes revived what had been Hye's community gathering spot dating back more than 100 years.
'Sody Water' and More
Unlike many historic Texas dance halls, which were community construction efforts dating back to the 1800s, Hye's was erected (likely in 1916 by the town's founder, Hiram Brown.
Brown's dance hall and Hye Market (which also housed the local post office) largely constitute what remains of the close community where Margaret Rech grew up.
On Saturdays, that area was a gathering spot for local residents, many of them share-croppers like Felix and Annis Rech and their two daughters.
One male neighbor "who never went to barber school" cut men's hair while a female counterpart "who'd taken a few lessons in a beauty school" would set women's hair, Duecker recalled.
Come evening in the dance hall, about 50 people would gather. Four of Oliver's older brothers sold cold beer, "sody water" and five-cent ice cream cones. Another brother cooked hamburgers on a propane stove alongside the dance hall, she remembered.
Inside the hall's entrance, Oliver's grandmother checked men's hats while other older ladies sat nearby watching couples sashay around the dance floor.
Over the hall's entrance, beneath a single electric light, a sign would alert local residents and passersby when the next Saturday night dance was coming up – not every Saturday night, but about once monthly, Duecker said. There also were dances on certain holidays and on Dec. 26, right after Christmas.
"If we would get company on the 26th, we would be so mad, me and my sister, because we couldn't go to the dance," she said.
Songs were performed by Hye locals or bands from nearby towns like Fredericksburg. Duecker recalled one with "big horns – they'd go WOO! WOO!" she exclaimed, laughing.
She danced with other girls when she was little, but it was waltzes and two-steps atop her father's toes that she remembers more fondly.
"My Daddy was so good looking," Duecker recalled, smiling.
Furniture & Turkey BBQs
Oliver Deike's grandfather took ownership of the dance hall from Hiram Brown after the Browns made plans to move to Austin.
Deike's grandfather didn't have enough money to buy it. Brown arranged financing and "managed to make it work," Deike said.
After the dances died out, the structure became a furniture store, then hosted turkey barbeques for local residents who raised the birds (and sup-plied three nearby turkey plants before those business also died out). After that, the broken farm equipment and other items moved in.
Looking ahead, Cook said there will be no additions to the original, historic structure, which measures about 5,000 square feet and can hold about 250 people, maybe more.
"We'll expand around the building, add parking spaces, more bathrooms, more outside seating, playgrounds and tasting areas," Cook said.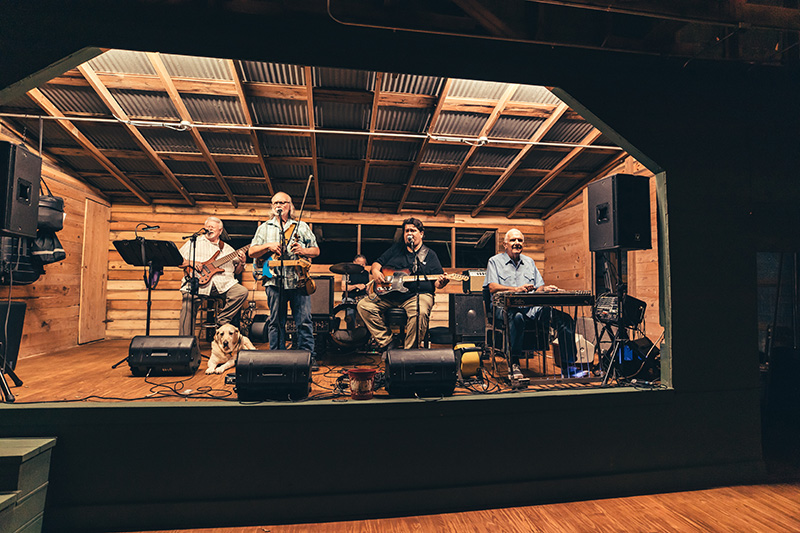 'I Met My Husband There'
Texas dance halls "all have their own, unique feel and personalities," Deb Fleming, Texas Dance Hall Preservation's executive director, told the Houston Chronicle in 2019. "They were the cornerstones of building the Texas that we know today. The more people you talk to about the halls that are gone, they really miss those places because they hold so many memories for them and their families."
"You know – 'my grandfather got married there; he met my grandmother there.' 'I met my husband there.' 'I had my first kiss there,' whatever it might be."
Now that Hye Hall is repopulated with dancing couples, such memories can made be again – and shared more widely. Cook and his wife, Karen, plan to spread the word world-wide.
"I plan to take Hye Hall global," he said. "We are already planning global events, Karen and I feel so blessed and fortunate – and feel a huge sense of responsibility to carry on this legacy.
"We hope everyone makes Hye Hall their home away from home."