Sit back in your chair. Relax. Breathe in slowly, then exhale slowly. Feel the gentle breeze against your cheek, and the sunshine on your face as it filters through the live oaks above.
Then lift your glass and take a sip of delicious craft beer. Repeat as necessary.
That's the prescription Seth Weatherly has for what ails you. It's a potent one.
"We love it here," Weatherly says of 5 Stones Artisan Brewery, hidden away down Farm to Market Road 1863, nine miles west of New Braunfels. It's a nice little piece of heaven, and just like heaven, you're not going to just come across it by accident.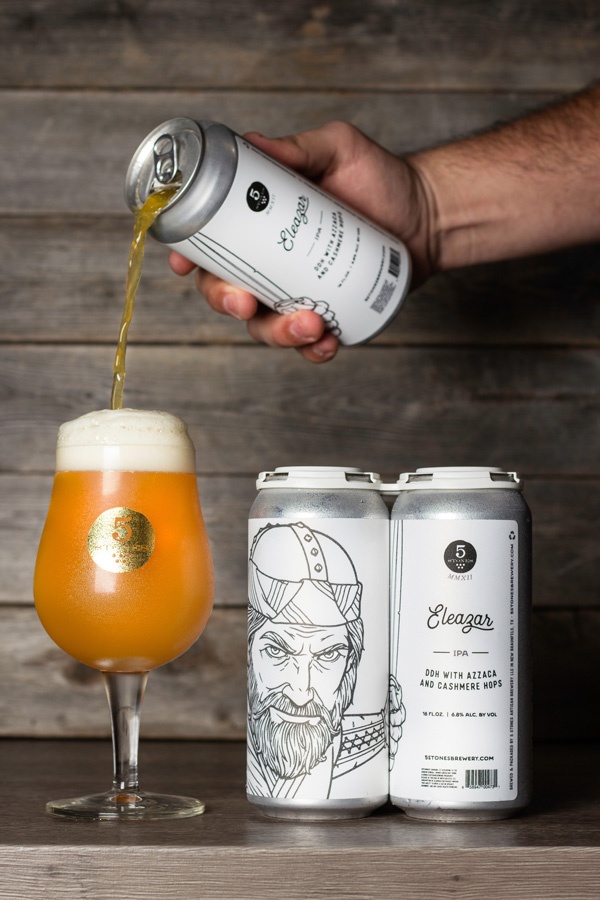 "It's a little difficult, it takes some effort to get here," Weatherly said, referring to the quintessential winding Hill Country road that leads to 5 Stones. "You're not going to stop by for just a quick beer. You're going to come out for an hour or two, try some beers, hang out and spend some time with us."
Indeed, between the idyllic setting and Weatherly's very creative brews, you may never want to leave.
Five Stones itself took a bit of a winding road to get here. It originally opened up in 2013 in another picturesque setting, the small town of Cibolo, east of I-35 just north of San Antonio. But Weatherly's creations proved a little too popular.
"When we started we were super tiny, because I just wanted to see if I could even sell beer," Weatherly recounts. "Within a couple of years, we knew we wanted to expand. But deals we put together around Cibolo fell through. We didn't want to go to another warehouse area or a strip center. We wanted either a historic building or to get a piece of property.
"After the Cibolo deals fell through we started looking around. Our heart was on the New Braunfels area. We didn't think it was realistic, but then we were out driving and found this. It was out of our range at first, but six months later it came back on the market a little bit lower. The rest is history."
Change can be scary for a small business, but this one has worked.
"For the most part, we've only received positive feedback – nothing negative at all. Of course, there are times when people wish food was readily available at all times but that was not realistic for us. People want food always, but we only have food available Friday and Saturday." (When they do, it's good – we enjoyed Gold Stone Pizza the day we visited, which alternates with a barbecue truck and a french fry truck.
Once the new brewery was completed in 2017, Weatherly could return his focus to the beer.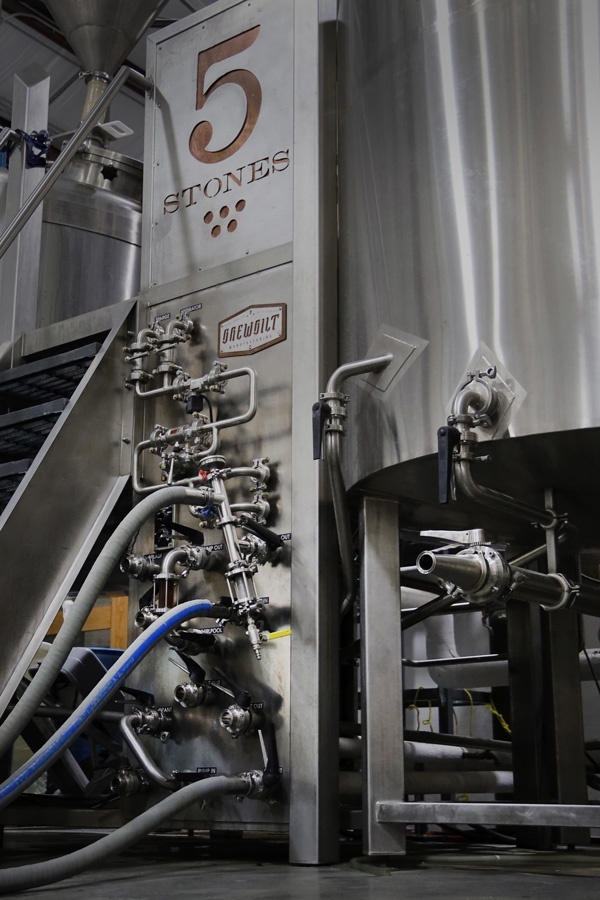 "In the beginning, I wanted to build these sort of culinary-inspired beers. I would take on different inspirations. I tried to get a base style nailed down and then build on that to make the beer balanced and drinkable."
Indeed they are. On this day, Love Wins – a dry-hopped IPA with floral and citra hops refermented with raspberries – was very drinkable, judging by the number of glasses seen holding the pink-colored concoction. It was a Valentine's Day special – "It's a philosophy we have … 'love wins,'" Weatherly said.
Fruit is a frequent star in 5 Stones' beers, and of course, there are those in the beer drinking community that take a dim view of fruit beers. Don't let that dissuade you from visiting 5 Stones: "We always remember that we're making beer," Weatherly says. "Not juice or a cocktail or anything like that."
By the time you read this article, you might be able to grab the brew Weatherly said he's most proud of: Aloha Piña, a golden ale with roasted jalapeños and pineapple.
"It's a beer that brings together two ingredients that are pretty difficult to work with, and we process everything ourselves," Weatherly said.
If you're curious, get to it quick: "We usually release it the first Sunday in May and it goes until it's gone. It usually lasts about a month. We're gonna pull back on distribution [to stores] because it went way too fast from the brewery last year."
Other expected spring offerings will be Norma Jean, a golden ale with fresh strawberries; Flower Child, an amber with piloncillo sugar; Sprung, an IPA brewed with heather tips, dried elderflower and cascade hops; and Shepherd's Juice, a variation on their Shepherd Boy (an American pale ale) but "amplified a bit" with fresh-squeezed cara cara oranges.
Five Stones' adventurousness, isolated and scenic location and the way it formerly packaged beers in artfully decorated 750 milliliter bottles may remind beer lovers of another Hill Country brewery, the highly acclaimed Jester King.
Unlike Jester King – which regularly appears on every "top 10 breweries in Texas" list – 5 Stones doesn't seem to have captured the broader attention of the public yet.
"Yeah, it's kinda weird," Weatherly said. "It's strange in that among the people that come out here, we get a lot of positive feedback, but we are still under the radar. Our visitors are very supportive."
Even Jester King's staff are fans.
"They turned out to be some of our biggest advocates," Weatherly said of Jester King. "They invited us to sell our beer at their brewery and that was a big boost to us. They were a huge part of why we distributed into Austin so early on."
But don't wait for 5 Stones to distribute to you. Remember: live oaks … sunshine … breeze … beer. Go to them.
"The whole goal of moving out here was to encourage people to take a load off and get away from the fast-paced life. That's what we're trying to achieve out here. Beyond beer, just slow down and enjoy the day."
5 Stones Brewery
11335 FM1863 • New Braunfels, TX 78132
210.627.4402
Wed-Thu noon-6pm
Fri-Sat noon-9pm
Sun-Tue closed