Burger Burger
Eric Bryla, owner and chef, has been in the burger business for over 12 years. Located on the busy Main Street of Fredericksburg, Burger Burger is a favorite of tourists and locals alike. Specialty burgers include the "Fredericksburger," with Bavarian-themed toppings sauerkraut, German sausage and spicy brown mustard, as well as Bryla's favorite, the "Farmhouse" that incorporates arugula, tomato, grilled onions, bacon, smoked ham, house-made pickles and a fried egg. One cannot go wrong with custom-built options and his options of house-made buns (Martins potato bun, jalapeño cheddar, gluten free) and plentiful "Build Your Own Burger" toppings. Along with fresh ingredients, Bryla also insists on using grass-fed beef and serves perfect house-cut fries and homemade milkshakes. People watchers will enjoy the covered patio with one of their tasty cocktails. Family friendly and in the middle of everything Fredericksburg. Bryla is always willing to expand his burger repertoire for his patrons.
209 E Main St • Fredericksburg, TX • 830.997.5226 • burgerburgerfbg.com
---
Alamo Springs
"Inconveniently located in the middle of nowhere" is the tagline for owner/chef Brian O'Neill of Alamo Springs. Situated between Fredericksburg and Comfort, visitors will find a throng of people from all over the country that somehow just magically appeared to partake in what they declare with fervor "the best burger in Texas." Burgers are thick, hand-rolled and have an artful sear on them that perfectly melds with any and all of the toppings you could ever hope for (including fried avocado and goat cheese). Along with fantastic burgers, fans will also enjoy their spicy green beans, hand-cut and hand-battered onion rings and homemade desserts. Make sure to find an evening or weekend when the outdoor music venue is open to be in good company of other burger aficionados.
107 Alamo Rd • Fredericksburg, TX • 830.990.8004 • alamospringscafetx.com
---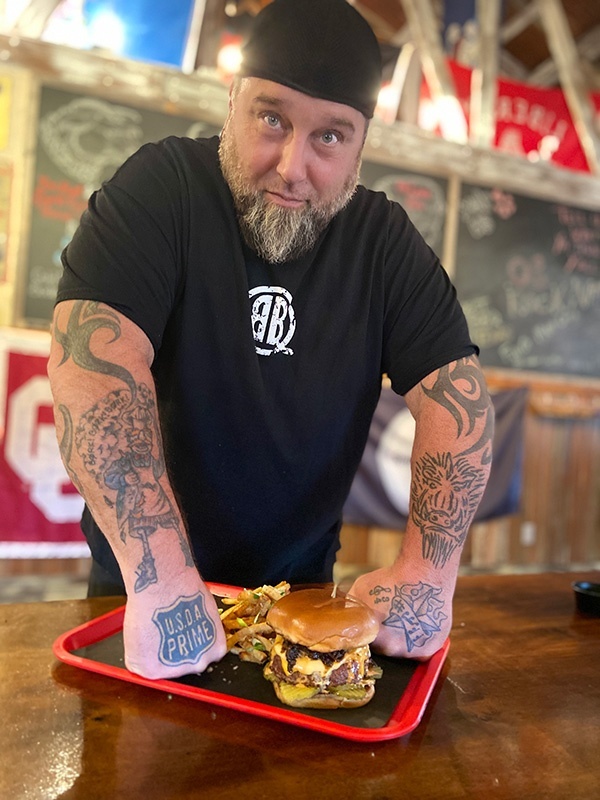 Black Board Bar B Q
Those that don't know Jake Gandolfo and his Texas-raised wagyu beef burger should make the journey to Black Board Bar B Q for this smoked, hand-ground wagyu meat. This burger differentiates itself because it is smoked, not fried or seared. Gandolfo also supports the "bun as the vessel" theory – it's not the rock star but plays a huge supporting role and is crucial to the whole burger experience. "I just don't think there is enough bun love out there," Gandolfo said. "I mean, everyone has the best burger, but the bun is also really important and creates the whole experience." Gandolfo also describes his wagyu blended burger as meat caviar. "When you eat wagyu, you don't really have to chew it. It just presses on the roof of your mouth like butter," he said. You will not find all the toppings of other noted burger joints, but you will find plenty of sides that are not to be missed: Mamma's Mac & Cheese, Texas Tater Chips, Jo's Asian Slaw, hand-cut fries and homemade carrot cake. Make sure you try this burger on Thursday nights as Black Board donates $1 for every burger sale to the Sisterdale Fire Department.
1123 Sisterdale Road • Boerne, TX • 830.324.6858 • blackboardbbq.com
---
Badu 1891
There is only one Burger on the menu at Badu 1891 in Llano, simply known as the BADU burger, created by chef Chandler Melia. The BADU features local-sourced beef paired with bacon jam, pepper jack cheese, tomato, arugula, basil aioli and hand-cut fries. The peppery hints of the arugula paired with the sweetness of the bacon jam awakens the palate in this layered experience of taste and texture. Along with the BADU burger, diners have two options in terms of ambiance – the interior dining, more of a formal affair, imbued with western elegance from the artwork and décor to the service. For a more relaxed environment, their outdoor patio, courtyard space and concert venue is always an option. Either way the BADU is great served with a Texas Hill Country premium wine or a locally sourced Texas beer.
601 Bessemer Ave • Llano, TX • 325.247.1891 • badu1891.com
---
Bridget's Basket
For a piece of Texas Hill Country paradise and a cheeseburger to go with it, stop at Bridget's Basket in Hunt. Bill and Bridget Symm have acres of farm-fresh produce growing year-round, always farm to table direct. The all-natural Axis burger is not to be missed as this half-pound venison patty is topped with bacon jam, Gouda cheese, tomato and greens on a toasted bun. Enjoy the Axis burger inside the quaint surroundings of their bright and homey farmhouse or enjoy it outside on a nice day overlooking the bounty of freshly planted vegetables and fruits. Sustainable and tasty in every bite.
1551 Hwy 39 • Hunt, TX • 830.238.3737 • bridgetsbasket.com
---
Pint & Plow
Nothing pairs better for an afternoon rendezvous in Kerrville than live music, an ice-cold craft beer, and the Hyphen-Burger from Pint & Plow. The Hyphen-Burger consists of grass-fed lean beef, cheese, greens, house-made pickles and, of course, the "hyphen" that links it all together is the made-from-scratch beer bun. Brothers Jeremy and Jake Walther have made this a delicious destination for locals and a hot spot for visitors that wish to grab some Hill Country action along with a great burger and a sudsy brew to wash it down with. Along with their rock star burger, they also have pizzas, Bavarian pretzels, and a few beer cocktails to wash it down.
332 Clay St • Kerrville, TX • 830.315.74684 • pintandplow.com
---