Highway 39's two lanes that hug the Guadalupe River are home to dozens of private summer camps. And out here, one may not expect to find a culinary destination that also hosts a gourmet market. Amid sprawling acres of the freshest farm-to-table produce, Bridget and Bill Symm have created an atmosphere that extends well beyond the table. Bridget's Basket allows visitors to experience the bounty of their land.
Bridget's Basket was established in 2016 as a marketplace that sold seasonal harvests and local artisanal goods. After numerous community requests, they opened the restaurant. "People probably thought I was crazy in the beginning, as I had two sons rolling in the dirt and I was just selling my vegetables. Soon they started asking me if I could make breakfast tacos or simple lunches," Bridget said.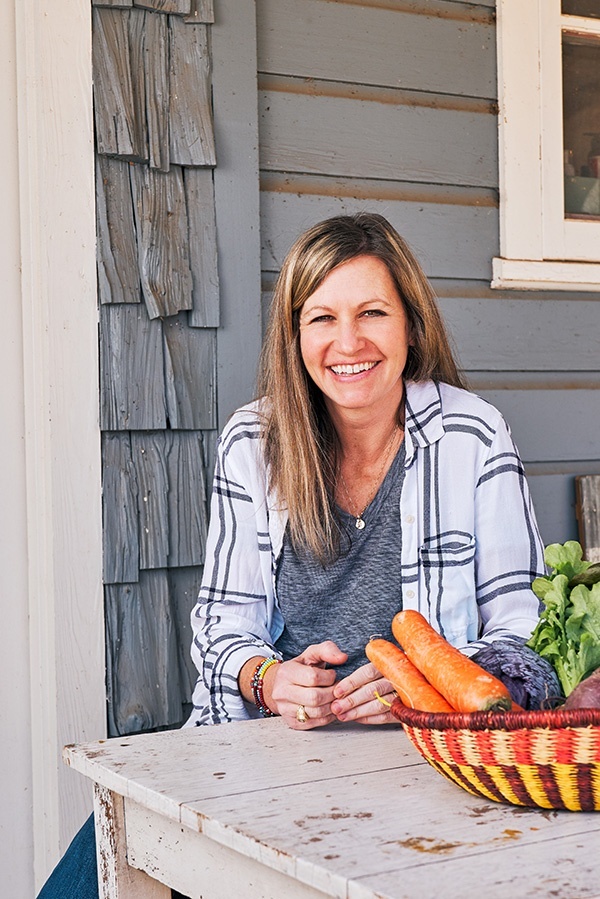 In this tranquil Hill Country setting, diners or shoppers will find ample outdoor space with a one-third-mile track and eight acres of their seasonal harvests that is collected for plates upon ordering. "We looked around and noticed that all this beautiful land was private and we wanted a place where people could come out, walk their dog, bring their children and experience the Hill Country by picking their own vegetables and fruit," Bridget said.
Native Texans Bill and Bridget have a long past associated with growing up in the area and with food. Bridget's grandmother started the first and only restaurant in Harper called the Longhorn Café. "My grandmother always loved serving people, and my mother-in-law was the lunchroom cook at Hunt school district for several years. We always grew up around food. The community was supported in good times and bad – funerals or weddings – they fed them all and made them happy."
Carrying that hospitality on at Bridget's Basket came naturally. "We wanted to give people something where you could bring your family out enjoy every aspect of life out here."
As Bridget walks rapidly between the restaurant, her greenhouse and the market place, loyal patrons greet her, hug her and talk about what's growing or what they loved on her menu. Some patrons just want to remark on how something tasted or who was at the last Sunday's brunch. It's an obvious tell that Bridget is a part of the community and her food resonates with all of her happily fed customers.
Some favorite items on her menu include the Harvest bowl: spinach, arugula, chard, sautéed seasonal veggies, avocado, quinoa, pickled beets and green goddess dressing. Along with salads, they also have farm-fresh eggs, house-baked breads for sandwiches, soups and indigenous meats including quail and venison (axis burger). Weekend brunches and special dinner nights make the Highway 39 jaunt worth the trip, as well as daily blackboard specials, always a surprise featuring seasonal treats.
Commitment to Sustainable foods
Bridget took her exploration of growing seriously in 2010 when one of her two sons was diagnosed with a severe food allergy. "It made us sit back and examine what is in our food. It became a mother-of-invention scenario because something really good grew out of something that could have been really bad."
Bill and Bridget began growing with basic ground gardens. Bridget's interest in growing and learning really took root and forged lasting and rewarding friendships with other growers and farmers markets.
"I remember I was the first of two people in the New Braunfels farmers market, and the only other person was a girl that sold handmade soaps," she said. That was years ago and New Braunfels now hosts one the largest farmers markets in the Hill Country.
From this experience, the Symms' relocated briefly to Bryan/College Station and began getting serious with land management practices. They invested in their first tractor and bought 20 acres to farm and raise livestock. "I wanted to be like Little House on the Prairie," Bridget said. "I baked my own my bread, canned my own vegetables and began a CSA (community supported agriculture) that reached over 300 members."
It became tedious without mechanization and distribution resources, and their produce was then reallocated for the Texas A&M student farmers market. "I used to sell my vegetables out of my car, and out of tents with my two small boys. It was a lot of work to get things moved off the land and get a return," she said.
Bridget and Bill relocated back to Hunt and realized that they had a captive and thriving community to grow for and alongside. With the camps along Highway 39, they had an active and hungry contingent of customers, diners and students throughout the summer months. They could grow, teach campers about growing sustainably and provide healthy lunches. This was encompassing of Bridget's mission about clean food and sustainability in growing.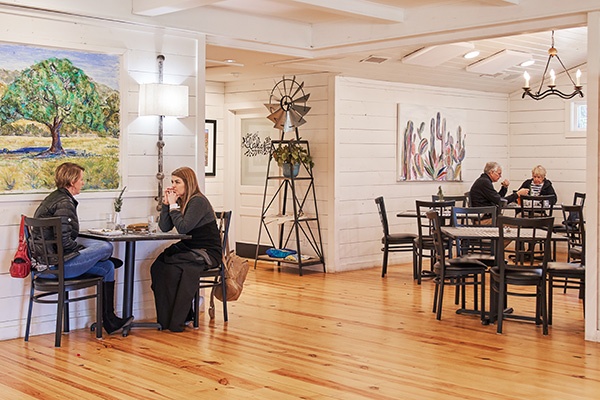 "We learned so much about our food when our son was having such severe food allergies, we wanted people to understand what was in their food, the same way we had to learn ourselves," Bridget said. "It's very important to know what you're putting into your body and we approach everything from a very simple perspective – minimal ingredients, no preservatives or artificial flavorings in our foods. Our meats have no nitrates or additives."
Bridget's Basket now thrives all year and has plenty of plates to fill beyond just the summer. "We realized very quickly that by just having the market and selling vegetables we would never make it. It is too difficult without mechanization to compete with the larger farms and get your harvest sold. But this has become a destination and an attraction for people to come out and enjoy the food and our location."
Bridget's Basket is still evolving and appreciated in all seasons. They are busy with community devotees and day-trippers looking for the serenity of a clean escape in food and locale. The Symms are back on the winding road in Hunt, a place they were rooted and where they can still serve their community in good times and bad.