here's no name for what the Ox Ranch is because it's unlike any other destination in the Hill Country. Or the world.
Although it offers hunting, fishing, and safari drives, the Ox Ranch is far more than a game ranch. Despite its offering visitors the opportunity to drive and shoot World War II tanks, it's more than a living museum. And while it offers unparalleled accommodations, a trained chef, and incomparable amenities, it's not a resort. It's something else altogether different.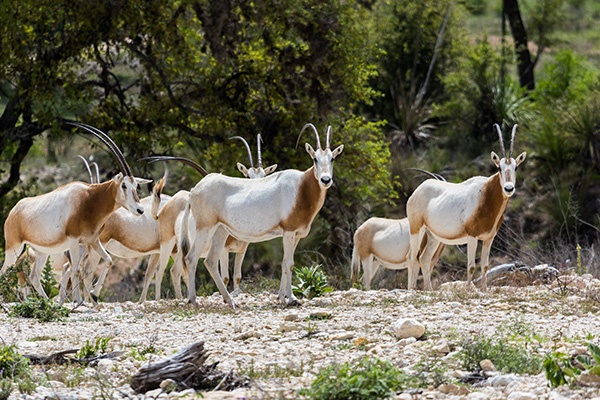 The dream that is the Ox Ranch began when owner Brent Oxley was looking for property to, "shoot guns, offroad and explore." Although originally looking for around 2,000 acres, Oxley quickly fell in love with an 18,000-acre ranch that his realtor showed him on a whim. "The only problem was that the price was over six times my original budget and far more than I could afford at the time," Oxley said. "The negotiations went on for a year trying to get financing in order, and while this was taking place, suiters started making offers to purchase the web hosting company I founded hostgator.com. Hostgator at the time had over 1,000 employees and hosted about 2% of the internet. I ended up selling Hostgator for close to $300 million and Ox Ranch was officially born!"
Visiting the Ox Ranch is not unlike visiting four different continents on one large, gorgeous, rocky, well-watered property especially in terms of larger wildlife and they offer a fantastic hunt.
– Larry Weishuhn
That birth brought about what is widely regarded as the premier game ranch in the world. More than 60 species of game animals from six continents roam the ranch's picturesque landscape. Some of these, such as the Arabian oryx, Dama gazelle and addax, are all but extinct in their native habitat but flourish on the Ox. Axis deer, blackbuck antelope and scimitar-horned oryx do so well on the Ox that they roam in the largest herds found in the state. This wealth of animals attracts hunters, photographers, and animal enthusiasts from every corner of the globe and has been featured in print, online and on TV.
Larry Weishuhn, co-host of Discovery Channel's "Trailing the Hunter's Moon" who hunted the ranch for an episode of his TV show, is one of Ox Ranch's biggest fans. "Visiting the Ox Ranch is not unlike visiting four different continents on one large, gorgeous, rocky, well-watered property especially in terms of larger wildlife and they offer a fantastic hunt. But Ox Ranch goes way beyond a day spent in the field in pursuit of game with their excellent cuisine suited for royalty and comfortable lodging with decor reminiscent of years gone by."
Guests of the Ox stay in historic 1800s cabins relocated from Kentucky and refurbished by artisans and craftsmen specializing in period restoration or in luxurious safari-style tents that feature a private hot tub and waterfront views.

The ranch's 6,000-square-foot lodge features two massive stone fireplaces, an antique bar, dance floor, and game mounts from the ranch and the world over. Meals are prepared by a Le Cordon Bleu trained chef and yoga classes and spa services are available as is a 5,800-foot-by-70-foot, instrument-marked and painted runway for guests flying directly to the ranch. Unique to and pioneered by the Ox is the ability to drive and shoot an array of military vehicles.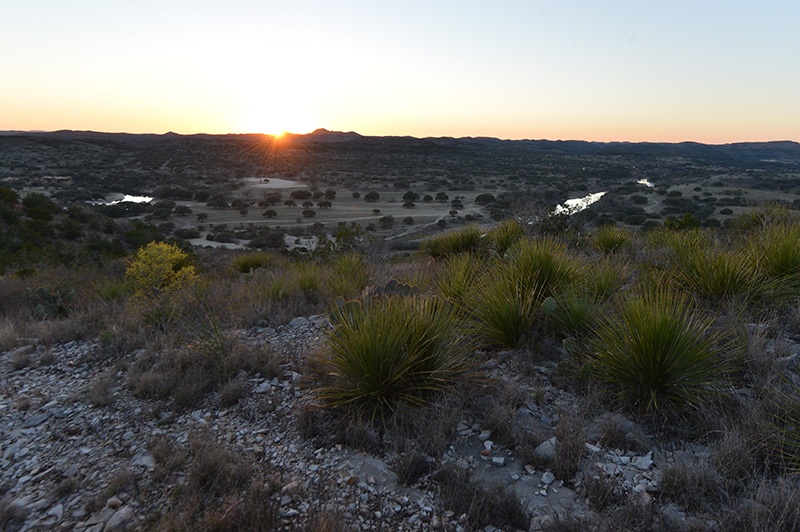 "It was a typical Saturday afternoon when my stepdad Todd approached me saying he saw a Sherman Tank for sale and asked if I was interested in acquiring it. I was in shock and responded, saying…. 'I can own a tank? Why haven't I've been told this sooner?'" Oxley said of how he entered the tank business. "Todd and I purchased the Sherman and slowly began building up an armory. Todd was confident we could get the Sherman firing legally with the proper licensing, and that's what we did. Once we had it firing, it was a no brainer that we were sitting on a business opportunity. Todd and I partnered up and launched drivetanks.com. Drivetanks became the first company in history to allow civilians to drive and shoot fully functional tanks. I always ask people, 'What ranch would you choose to hunt at? The one with tanks you can drive and shoot or the one without?'"
The answer for a lot of people has been The Ox Ranch. "The response has been incredible, with people flying in from all over the world to enjoy this bucket list experience. The amount of media coverage Drivetanks has experienced has resulted in millions of dollars in free advertising. We've been featured on the homepage of CNN, The New York Times, ABC and at least a hundred other media outlets."
Guests of the Ox can drive and shoot an assortment of tanks including a US M4A2E8 Sherman Medium Tank, US M4A3E2 "Cobra King" Sherman Medium Tank, Russian T-34/85 Medium Tank, British FV101 Scorpion Light Tank, West German Leopard 1A4 Main Battle Tank, and an Abbot FV433. Guests can also fire military weaponry such as a M134 Minigun, M2 Machine Gun, M9 Vietnam Era Flame Thrower, M3 Grease Gun MG and more.
Not content to only offer guests hunting, fishing, trekking, river activities, camping, shooting tanks and military-grade hardware, the Ox is always thinking ahead.
"We're in the process of building a 1,000-acre rhino habitat," Oxley said. "These rhinos will never be hunted and will be able to enjoy a life free of poachers. We hope to be one of the first ranches to promote rhino conservation, so this species can be saved from extinction."
The Ox Ranch is truly a destination like none other.