Need a copy of "The Mustangs," by J. Frank Dobie? Looking for an "Old Yeller" first edition? Or what about that 1968 Larry McMurtry "In a Narrow Grave" that has only 15 surviving copies and is worth a mint?
Jon and Sandy Wolfmueller might have it or they know who does. Their used bookstore – consistently voted one of the best in the state – is becoming known as the place for lovers of Lone Star literature and lore. Their cozy, two-story building in downtown Kerrville has 30,000 titles, including new selections, an amazing choice of genres, and about anything that is important to Texas.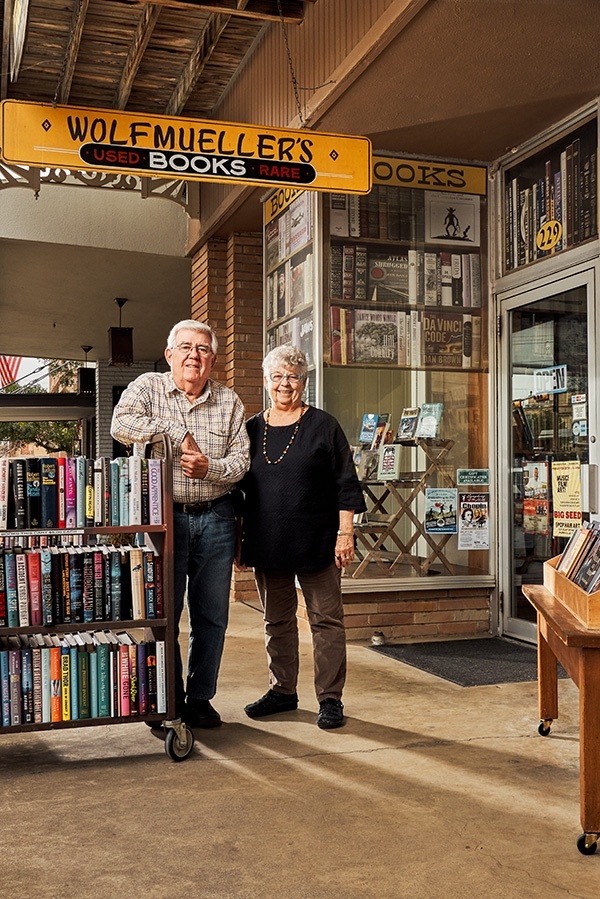 "We tried to create a niche, and that's the way it worked out. We're both interested in Texas history," Jon said of their built-up reputation as the go-to for the state's literature.
"We do have a lot of new books, but there are just titles that people want over and over. We scour and buy at estate sales or from people looking to downsize. People bring us books and we go and buy at sales," Sandy said. "And book people are good people to deal with."
"We enjoy our customers," Jon said. "We like waiting on them and they like seeing us and visiting with us. If you go into a place you like and see the owner, it just makes a shopper more comfortable. So it works for us."
The words "friendly," "accessible" and "unique" come up frequently when customers describe the place. Jon's sister Jean helps out when they are away or on a buying excursion.
"It has a unique blend of rare, collectible books," said Casey Doherty, a Houston attorney who has a home in nearby Hunt. "I'm a collector, so I have bought several titles on Texas history. They've helped me become educated, but also recommended just other good reads."
Kathleen Keen of Kerrville, the wife of troubadour Robert Earl, is another frequent customer.
"Having gone into all kinds of bookstores, all those wonderful attributes of every store are present at Wolfmueller's because they are so passionate about what they do," Keen said. "I've gone through a number of areas of interest, and I can walk in there with any subject interest, and they are ready to go with recommendations."
Keen said her two children were raised as readers and loved running down the creaky stairs to the basement selection. They also had some books rebound by the Wolfmuellers, including a sentimental family Bible. "There are some books in there that when you touch them and smell them, it takes you back in time."
Beck Gipson has an office upstairs. He is the son of Fred Gipson, Mason's most famous export and author of "Old Yeller." He comes in to talk shop with the owners or visiting authors.
The Wolfmuellers got into the book business about the time Jeff Bezos began an internet site, amazon.com. Jon said there was some trepidation, but their focus on used inventory, coupled with their knowledge of Texas literature, gave them an advantage over any algorithm.
Old downtown
Jon Wolfmueller practically grew up in downtown Kerrville. His father had Wolfmueller Men's Wear back in the days when the town had five men's stores. His grandparents lived in a home at the rear of the store and young Jon had the run of the town. There was a general merchandise store, a saddle maker and hardware store near in the block.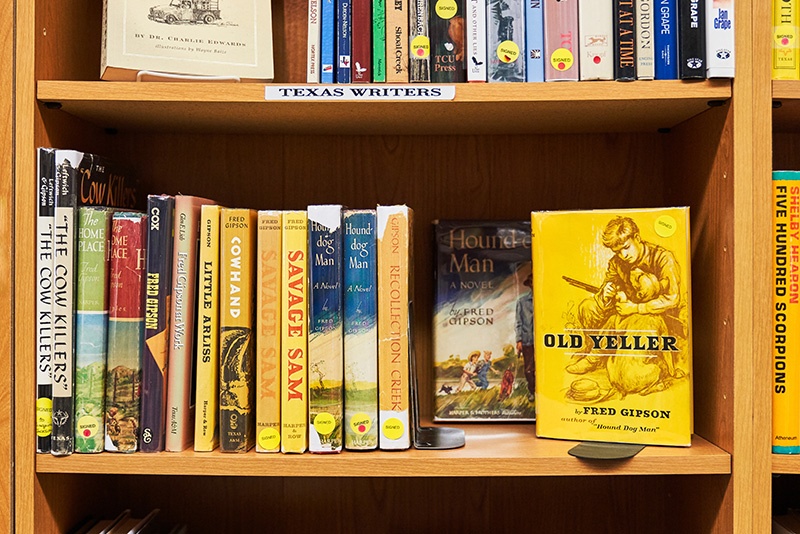 In 1989, the Wolfmuellers bought Pampell's Antiques and Soda Fountain, a popular, three-floor emporium that had a selection of books. When a next-door renter moved out, they expanded the book selection. A decade later, the couple decided to go with just books and moved back into the Wolfmueller building.
Legend, lore
Like Texas literature, the store has a varied selection. It is full of the great books outlining the myths of Texas, but also fun buys for children, art books and a hefty selection of collectibles and author-signed editions. They always have a copy of John Graves' "Goodbye to a River." They keep Cormac McCarthy but also newer writers like Philipp Meyer. They have Ben Greene and Tom Lea. They have poetry, and they have classics.
Sandy said the legend of Texas drives much of the literature, from the Rangers, to the Mexican-American stories, to histories of ranching or oil, and so much more. Each of the state's 254 counties seems to have lore more colorful than many entire states.
And shoppers can run into writing royalty, too.
Kinky Friedman frequents the place, as do so many authors stopping through town, like Elizabeth Crook. They were friends with Elmer Kelton before his passing. Stephen Harrigan held a recent signing over his epic tome "Big Wonderful Thing." History author Don Frazier lives just down the road. Families visit and there is something for every age.
The couple has no exit strategy, nor quarterly goals. "We talk about it sometimes, but we enjoy getting up and coming to work," Sandy said.