A favorite destination for fine wine and food is Cabernet Grill in Fredericksburg. Chef Ross Burtwell has curated a dense offering of Texas wine varietals under the advisement of his trusted sommelier Elizabeth Rodriguez. This collaboration of sommelier and chef has procured an singular meld of cuisine and Texas wines. Or as Burtwell likes to say, "What grows together, goes together." Peaches, seasonal vegetables, jalapeños, pecans, and a variety of livestock are grown and raised in unison in the Hill Country right alongside grapes.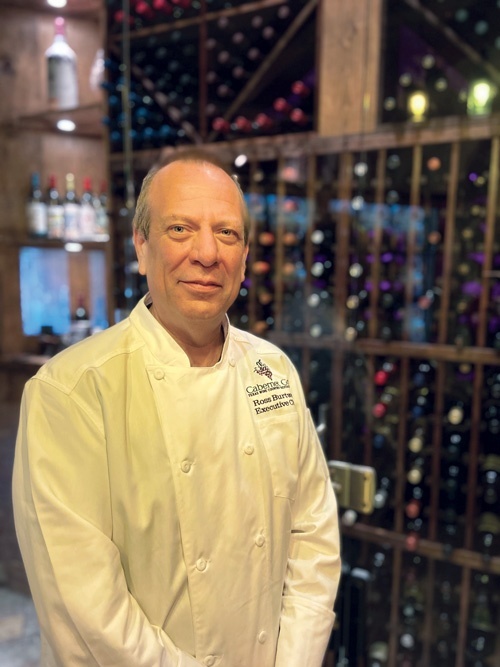 "These components combined are getting the same flavors down inside them, so obviously the cuisine and wine pair together naturally," Burtwell said. His passion and commitment to supporting "local" also extends to sourced and seasonal menu offerings, but also to Texas wine makers. "They're our neighbors, our friends and their wines are fantastic," he said.
Sommelier Elizabeth Rodriguez adds, "Texas is very much growing it all," with the diversity in our state's climate and terroir, from the gulf coast to the high plains. The unique region here in the Texas Hill Country encourages varietals that are featured prominently on Cabernet Grill's menu. Rodriguez loves that diversity, to go along with different techniques individual wine makers employ. "Texas grapes grown in our different regions offer different taste profiles and flavors that allow us to match and contrast with all of our menu offerings," she said.
Every featured dish that Chef Ross prepares – from appetizers, to desserts – Rodriguez recommends her favorite wine pairings: Oak-smoked pork tenderloin with apples and cranberries, dates and a bourbon demi-glaze is fitting with Chenin Blanc from Fall Creek Vineyards, Tow Texas; the beef short rib with crispy onion strings is paired with a Tannat from Bending Branch Winery, Comfort Texas. Each of Burtwell's complex dishes is matched by Rodriguez's expertise for just the right Texas wine.
"We are pairing Texas. From field to vineyard and from fork to glass. Our inspiration is to share these skills with our guests for an elevated dining experience"
Cabernet Grill
2805 S State Highway 16 • Fredericksburg, TX • 830.990.5734
cabernetgrill.com