So, you were cooped up at home during the pandemic lockdown with nothing to do and you decided to break out that homebrewing kit and give it a try. And, wow, you actually made some good stuff. You gave some to friends, and they told you it was great. "Hey," you thought, "maybe I should turn pro and open up a brewery!"
Whoa, pardner. Slow down. If you think all it takes to open a brewery is a few tasty recipes, you're probably about to make some big mistakes.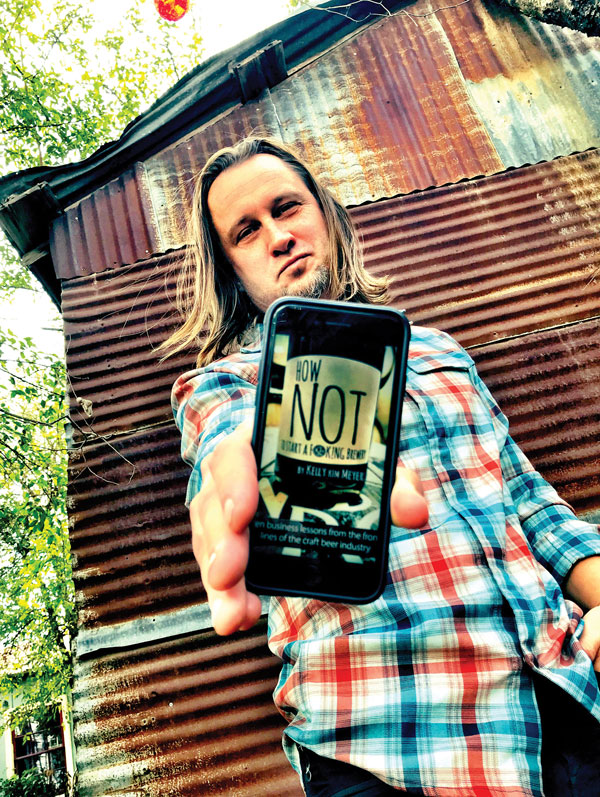 Kelly Meyer, owner of New Braunfels Brewing Company (NBBC), has made those mistakes. And as a favor, he wrote them all down, in the hopes that others won't repeat them.
So step away from that brewing equipment, sober up, and use some of that free time to read How Not to Start a F**KING Brewery: Ten Business Lessons From the Front Lines of the Craft Beer Industry (available at nbbrewing.com).
Meyer specializes in what are called "mixed culture" beers, a style most drinkers would identify as "sour," although he shies away from that term (more on that later). And he's really good at it. If you aren't familiar with sours, or think you won't like them, pay a visit to his tap room in downtown New Braunfels (especially on a hot summer day) and let him convert you.
But being good at it, maybe even the best, doesn't guarantee success. He and his wife opened in 2012 and struggled. To help him think through their problems, he sat down and put his errors into words.
"What I had originally written down was going to be an outline of what we'd done wrong, just to see if we had any chance of fixing it. And honestly, we were leaning toward the fact that we probably weren't going to be able to fix them. It was almost like describing the water in which we were drowning," Meyer said. "But I talked to others in the business, and it seemed like everyone was facing the same struggles. It was primarily mistakes that weren't unique to me."
Eventually, he was able to organize the mistakes into chapters and the book was born.
Yes, you can brew. But can you market? Can you manage cash flow? Can you identify and hire quality employees? These are skills that have nothing to do with your skill as a brewer.
Before becoming a brewer, Meyer owned some gyms. "So many gym owners were just guys with big arms," he said. "The idea is that if you're good at your job, you should be good at owning. That's rarely the case."
Meyer's book opens with the mistake of not marketing your product well enough. In 2015, he was eating a jar of Best Maid pickles, and came up with the crazy idea for a pickle-flavored beer. Seriously. And it was a success – when he finally went public with it in NBBC's tasting room in 2016, the keg was empty within two hours.
After some initial issues, the beer (PKL) eventually did pretty well in stores. It caught Meyer by surprise and has become his biggest seller. But it didn't necessarily make New Braunfels Brewing Company famous.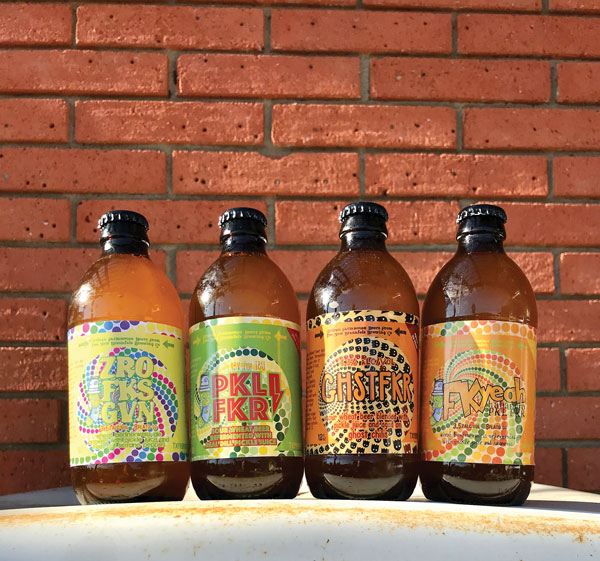 Then, in 2019, Fort Worth brewery Martin House announced it was coming out with … you guessed it … a pickle beer. And not only that, it was in collaboration with Best Maid Pickles! And it was a runaway success. Soon, news media around the nation were raving about this "new" creation of pickle beer by Martin House. Was Martin House better at brewing pickle beer? That's debatable, but quality wasn't the difference, Meyer said. What Martin House indisputably did better than NBBC was marketing and building hype.
And yeah, Meyer is clearly a little jealous of that, but ultimately, Martin House's success did NBBC a favor.
"Martin House expanded the reach of pickle beer and literally went where no pickle had dared go before," he writes. "And they opened hearts and doors for us. Six months after their release, our output [of the PKL] had tripled and was still growing faster than we could keep up."
It's been successful enough that NBBC has other PKL offshoots, including PKL PNCH (fruit flavored) and different Spicy PKL variations (including serrano, jalapeno, ghost chilis and habanero!).
certain percentage of Rock & Vine readers – even those who might like sour beers – are gagging at the thought of pickle beer. Don't worry – New Braunfels Brewing has plenty other things to please your palate. In fact, those are the ones Meyer likes brewing best.
Meyer prefers the term "mixed culture" because, unlike a lot of sours that rely on a commercially produced yeast to create that flavor, he relies on the natural (and multiple) yeasts and bacteria just floating around in the New Braunfels air. Trying to explain the chemistry is complicated, but as Meyer puts it in a blog post on NBBC's website, "Much like kombucha, my multiple strains of yeast and bacteria work symbiotically to create a Mixed Culture Beer that is funky, dry, refreshing and makes you pucker a bit."
Just applying the term "sour" to what he brews is "like saying that your car is red when it's actually four colors and it's only 30% red."
The actual core of NBBC's lineup is a mixed culture "rustic wheat" beer called Blondine. "It's our most underrated product," Meyer said, and it forms the basis for Funkromancer (aged with hibiscus flowers), Saison de Nefle (refermented with loquats procured from his New Braunfels neighbors), Deathbed (refermented with Vermouth spices from La Cruz de Comal Winery) and Das Lokal (refermented with tempranillo wine pomace from Lost Draw Cellars).
Meyer isn't afraid to admit that his beers probably appeal to wine lovers as much or more than traditional beer drinkers.
"I was really into wine when I started, and I gravitated to those flavors and fell in love with them," he said.
Those flavors aren't the path that most would take into the beer industry, but then, Meyer doesn't necessarily want others to emulate him. He just wants them to avoid his early mistakes.
"I don't have all the answers," he says. "I can't guarantee what I did will work; your way might be different. I am not an expert on everything."