A pandemic certainly affected plans and routines, but not everything has gone to pot in a bad way.
Since March, nursery owners in the Hill Country have seen a blossoming interest in container gardening. Whether due to concern about food supply or because residents have more time at home, more people have begun patronizing local nurseries for information, ideas and inspiration.
Matt Horvath at Wimberley Gardens has seen an increased interest in gardening during the pandemic. "Absolutely, 100 percent," he said. "Overall there has been a huge uptick in home gardening."

Mitzi McCollum, professional nurseryman and floral designer at The Plant Haus 2 in Kerrville, has seen the growth in demand, too.
"Across the board, we're selling more vegetables, seeds in bulk and in packets, perennials, indoor plants, succulents, you name it," she said.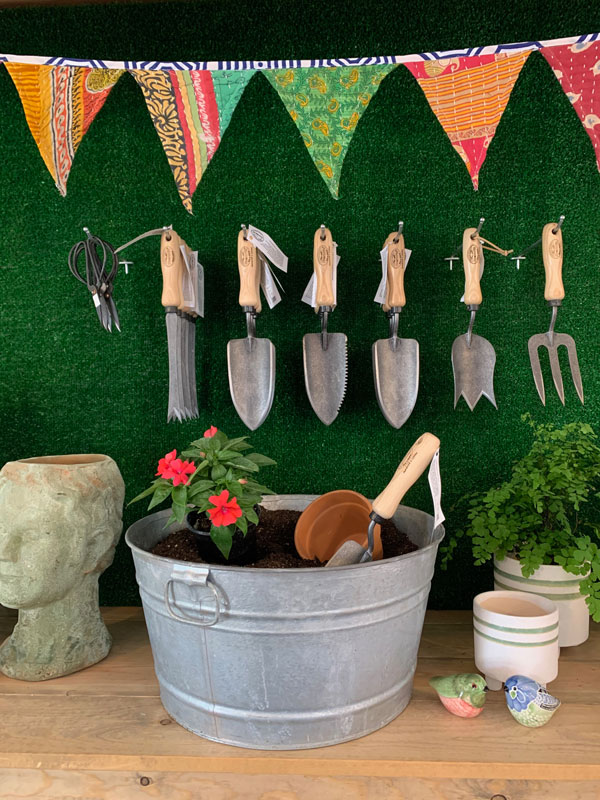 First time's a charm

Whether growing for beauty or gardening for food, both Horvath and McCollum agree, novices are always welcome.
"There have been so many first-time gardeners in the store," said Horvath.
This year, about half of Wimberley Gardens' customers have been novice gardeners. When over-the-phone orders began taking an hour or more during quarantine, Horvath and his wife Jennie transitioned to email orders so that they could continue to interact with and teach customers.
"We see a lot of people who are trying vegetable gardens for the first time now," said McCollum.
"I don't know much about it, but I'm learning." said Cheryl Latchford, a teacher in Wimberley. When Latchford needed sturdier containers for her heirloom, grape and Roma tomatoes, she sought the Horvaths' advice. "The silver lining in all of this is that I was home long enough to get the garden started. Now I have melons, squash and peppers because I had the time to do it."
Almost anything grows

As for what defines a "container," experts agree that they come in all shapes, sizes and materials.
"Some customers created a raised bed out of concrete blocks, and another couple used cedar posts to make beds," said Jennie. "Someone else used the bed of an old truck and put cedar posts in the corners."
In addition to traditional planters and pre-made raised beds, think outside the pot. Just because something wasn't originally used for plants doesn't mean it can't make a great container. Consider using feed and water troughs or barrels. With a little modification, a wooden pallet can be turned vertically and used to hold an arrangement of smaller pots.
Once containers are determined, make sure pots and planters have enough holes in the bottom to let out excess water. No matter the container, McCollum says proper drainage is critical. Containers don't have those problems.

Because of the Hill Country's shallow and rocky soil, many gardeners find container gardening more advantageous because they can better control the soil type and depth. Take time to get to know the dirt. Use potting soil that contains cedar flags and spagna moss that allow for good drainage instead of materials that retain moisture like clay and cheap topsoil. If potting soil doesn't include fertilizer, remember to add it periodically. The Horvaths adhere to the adage, "Spend a penny on your plant and a nickel on your soil."
With good soil and appropriate watering, almost any plant can grow in a container.
"Herbs are fantastic for container gardening," said Jennie. They can be planted in small individual pots or combined in larger containers. When planting fall vegetables, choose bigger pots of at least 12 inches in diameter to give the vegetables adequate room to grow.
In addition to gardening for food, containers are ideal for aesthetic arrangements both indoors and out, too. Cacti, snake plant and ZZ plant are popular choices for indoor container gardening.
McCollum advises that plants that are drought-tolerant when planted in the ground may not be suitable for planting in pots. "Lantana and crepe myrtles rely on deep growing taproots that would be constrained by containers," she said. "And vines need something to attach to."
Plants that require sunlight are ideal for containers. Such plants can be positioned to get maximum sun during the spring and then relocated to shadier spots when the Texas sun gets to be too much in the summer.
The ability to move containers as needed also aids in deterring pests like deer. And
having pots nearby on a porch or balcony makes it easy to grab a handful of cherry tomatoes or sprigs of herbs when needed.
Easy as 1, 2, 3

McCollum advises that gardeners use this "magic formula" to create beautiful containers: each pot should contain a thriller, a filler and a spiller. The "thriller" goes in the middle of the pot as the showcase. Then, arrange a "filler" plant around that, and add a "spiller" to grow over the sides. Her personal favorite is the spider plant because it works as both a filler and a spiller.
"We also create custom plantings with customer-provided containers," said McCollum. "The balancing act for container gardening is to have an eye for design and the knowledge of what plants will grow together well."
Both the Horvaths and McCollum encourage people to get ideas from social media sites like Pinterest and their stores' websites. Take pictures of plants and pairings, and try different combinations. Consider favorites to eat, and don't grow things if only eaten occasionally. Go to a nursery, friends' houses or community gardens to see what's growing.
"It's a lifetime of learning, and it's great therapy for us all," McCollum said.
Finding beauty

Even in trying times, nature serves to remind us of the beauty growing all around. When quarantine measures first went into effect in March, many of the nurseries' customers were anxious. They called asking for any vegetables and herbs, often taking anything that was available. Now Jennie compares the rise in container gardening's popularity to victory gardens.
The Horvaths, like other families, have also gotten to spend more time with their children in the garden. "It's really cool to see families and kids getting involved," said Matt.
"There are some beautiful things that have come out of this," said Jennie. "People are constantly coming in to show off their buds and blossoms. They are learning where their food comes from and getting back to their roots."
WHEN YOU GO:
Wimberley Gardens
419 FM 2325, Wimberley
(512) 842-1220
Plant Haus 2
604 Jefferson St., Kerrville
(830) 792-4444
Friendly Natives Nursery
1107 N. Llano St, Fredericksburg
(830) 997-6288