Situated a short distance away from the bustling Main Street of Fredericksburg and countless wineries, is a new globally-inspired, bespoke retreat named Ololo. Jill Elliott, owner of Haberdashery clothing boutique and Blackchalk Home + Laundry, shared her newest enterprise with Rock & Vine.
First the name – Ololo. "This is a local word in Kenya, it indicates a gathering place; it could be a tree or a bend in the river or a place that community gathers; it's a sort of landmark," Elliott explained. "While we were building, we were struggling with a name and wanted something that had a global feel. We have this giant cedar tree in the middle of our four units that seemed very magical to us and it just provided the perfect gathering place for our visitors."
Ololo has provided Elliott a platform to showcase her retail and design business in these one-of-a-kind cottages. "It's been a really creative process and limitless as far as what I get to do," she said. "What is fun is that they all have the same amenities, but they are completely different in style and global theme." Devotees of home décor that have wandered through her Blackchalk Home + Laundry will find Elliott's sense of style reflected at Ololo by the same textures and splashes of color.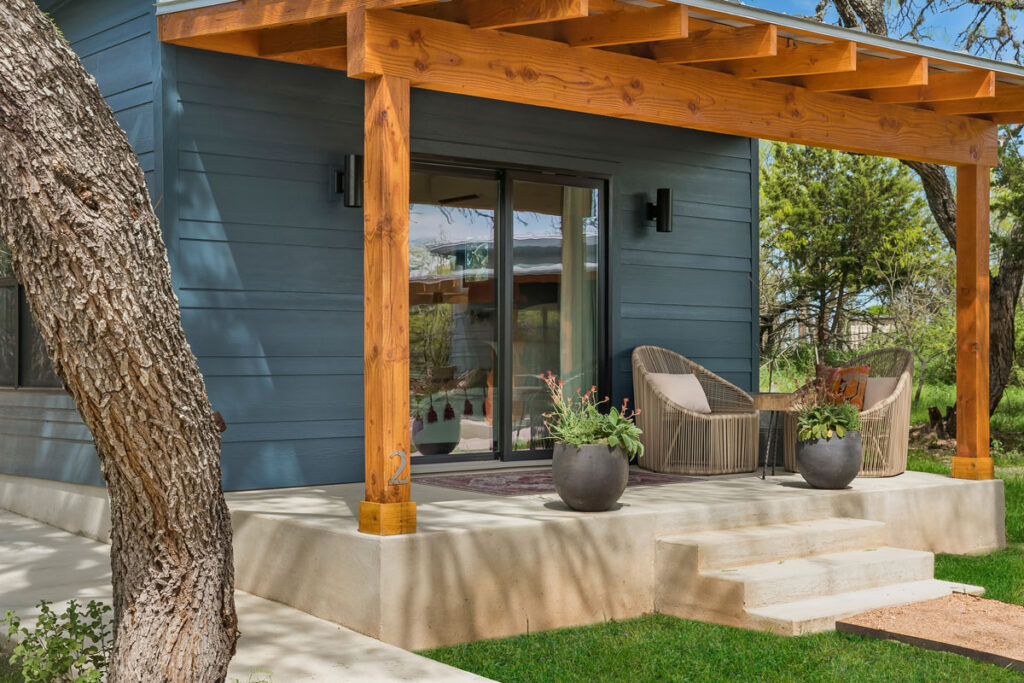 Most importantly, Elliot likes to relate to her guests and the relationship with the land that this Ololo sits on. "It's surrounded by large Texas skies filled with stars at night, and fresh air as well as some resident bucks, a wild turkey and some sheep in the back pasture."
Quiet and off the beaten track, its appeal lies for those wishing to escape the entrapments of the city and seek the solitude and luxury that Jill has created for her guests.