---
ECKHARDT ORCHARDS
2150 US 87 South • Fredericksburg, TX
---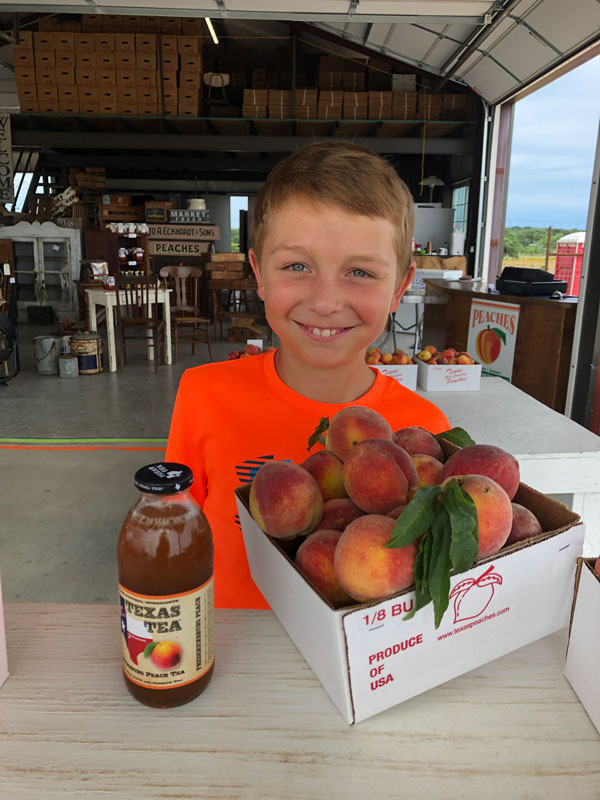 Otto and Antonie Eckhardt planted their first peach orchard in 1920 in Gillespie County, after Otto came home from World War I.
Their crops included peaches, plums, apricots, pears and grapes. In 1936, the Eckhardt family started commercial operations. As the peach market developed, the Eckhardts became co-organizers of the Hill Country Fruit Growers' Co-op.
Through the years, four of their sons — Gilbert, Victor, Clemens and Donald — continued the peach-growing operations.
Donald helped expand the orchard, and in 1981, he and his wife Carol left the Co-op and began selling their peaches directly to the public.
In 2002, Donald and Carol retired, and their daughters Dianne and Debbie continue to grow over 20 varieties of peaches.
The stand is open seasonally, selling peaches, cantaloupe, watermelon, tomatoes, squash, blackberries and plums. They also carry jams, salsas and honey.
---
BURG'S CORNER
15194 E US Highway 290 • Stonewall, TX • (830) 644-2604 • burgscorner.com
---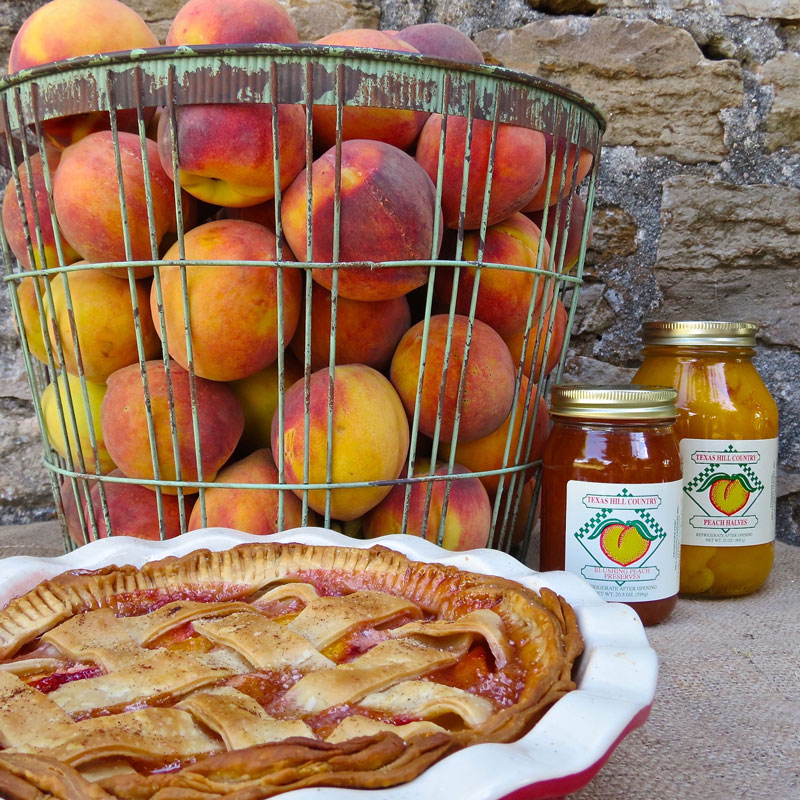 Edmund Duecker planted the first orchard for Burg's Corner in the early 1950s. He came to find that the thin, sandy loam that was good for peanuts was also good for peaches.
Burg's Corner, along with 30 other growers, sold peaches to the Hill Country Fruit Council.
In the 1970s and 1980s, Jimmy Duecker, Edmund's son, planted over 300 acres of peaches and supplied wholesale all over Texas.
In the late '90s, Duecker bought out the rest of the shares in the co-op.
Today, Burg's Corner has over 50 acres of peaches and supply to mostly retail and wholesale peddlers.
The family loves to bake with peaches, including a family favorite, peach cobbler. The family also makes peach pecan muffins, serving them to their bed and breakfast guests.
Jimmy prefers to eat fresh peaches plain or with ice cream. His favorite varieties are Dixieland, a July freestone.
---
JENSCHKE ORCHARDS
8381 E US Highway 290 • Fredericksburg, TX • (830) 998-7822
---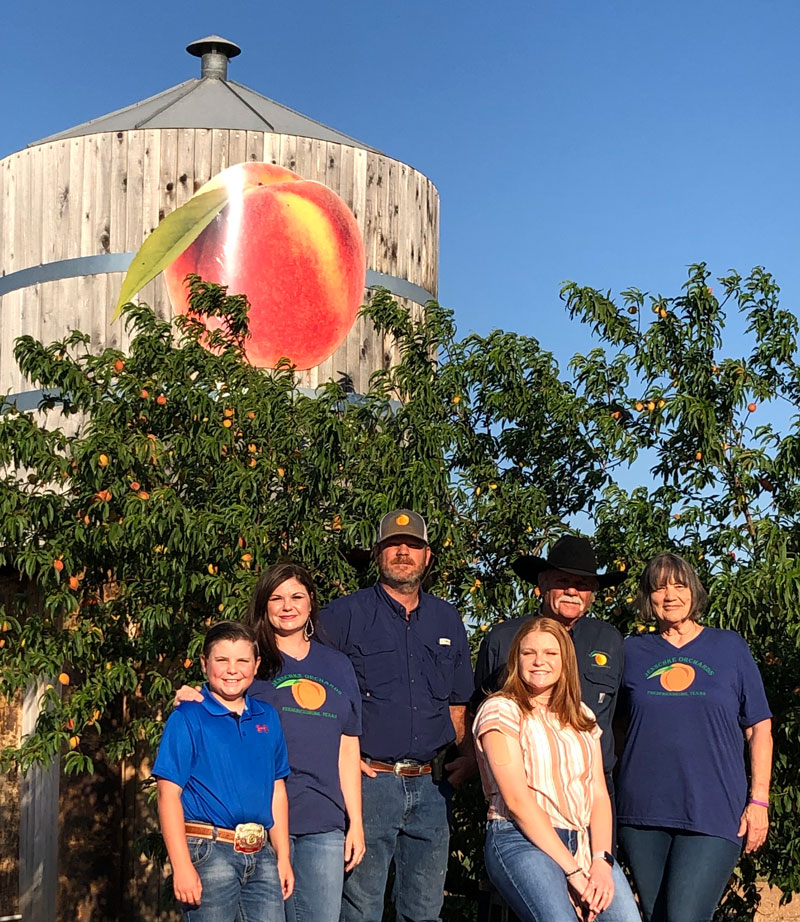 Established in 1961, Jenschke Orchards is the oldest self-serve stand in Gillespie County. Today, the stand is run by the father-and-son team Travis and Barrett Jenscke and their families.
Jenschke Orchards is best known for their pick-your-own experience, allowing small and large groups to pick fruit, from strawberries, to blackberries, to peaches. The experiences are offered from mid-May through August. The orchard grows 26 different varieties of peaches and has approximately 5,000 peach trees.
The road stand, located on Wine Road 290, sells peaches boxed from a 16th to a half bushel.
The stand also sells peach ice cream, jams, jellies and canned peaches.
When not out picking peaches, the family spends time cooking Peach Cream Kuchen, peach cobbler, peach pie and peach cake.
The family also owns a bed and breakfast near the grounds of the roadside stand.
---
HAT & HEART FARMS
3961 North Grape Creek Road • Fredericksburg, TX • hatandheart.com
---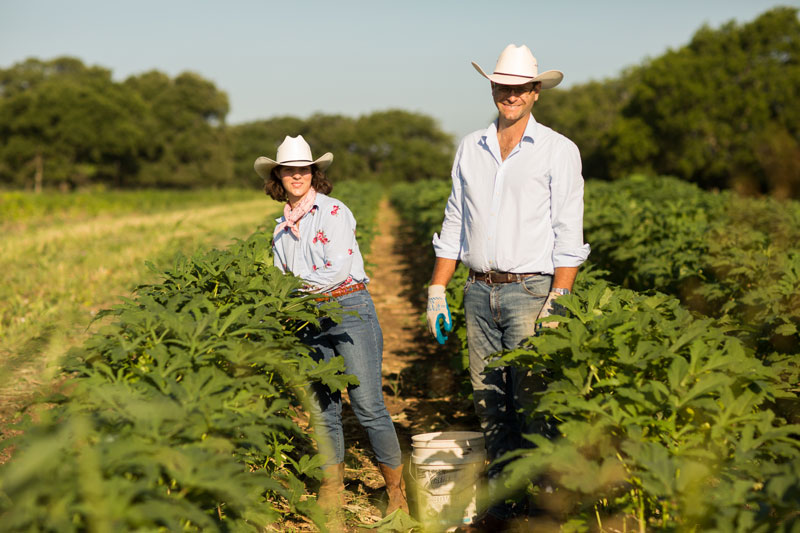 Sixth-generation German-Texan farmer Bradley Ottmers and business partner Katherine Tanner own and operate a 93-acre farm on North Grape Creek Road known has Hat & Heart. Bradley is rarely seen without a cowboy hat and Katherine hails from the area, also known as the heart of Texas. Together, they grow 45 varieties of vegetables in their fields. The duo works to eliminate the middle-man, selling directly to the consumer. No pesticides or conventional chemicals are used.
In addition to vegetables, they also have a goat meat and chicken egg operation. They have more than 550 laying chickens that spend 100% of their time in the pastures adding natural fertilizer. Some days, they average 280 eggs. Because of the large volume, they sell to restaurants and at farmer's markets. They also partner with chefs, providing tasting baskets to help them develop new flavors.
---
VOGEL ORCHARDS
12862 E US Highway 290 • Fredericksburg • (830) 644-2404
---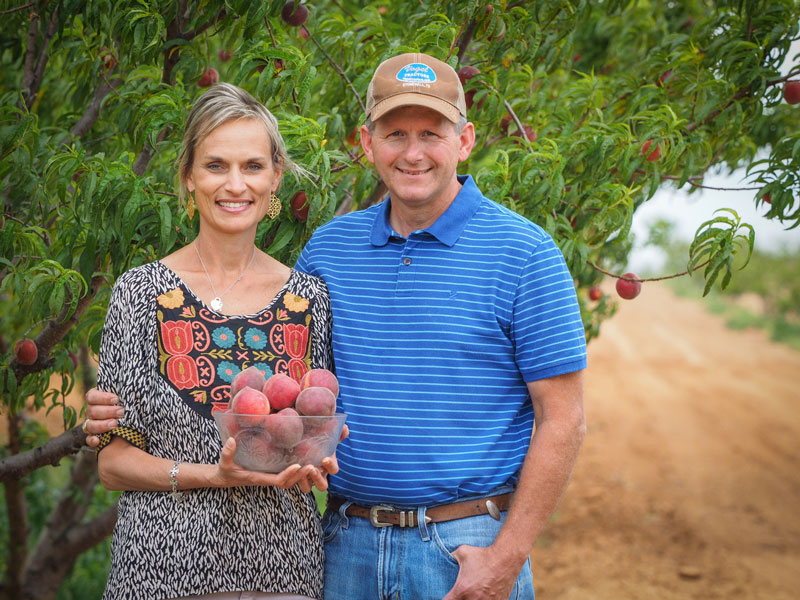 Vogel Orchards is owned by Jamey and Terri Vogel of Stonewall and was established in 1953 by George and Nelda Vogel.
Until 1972, peaches were sold at the Vogel house, through a pick-your-own experience or wholesale to larger markets. In 1972, they opened their current location, near where George's father used to sell eggs.
Jamey and Terri took over the family farm in 1998 and continue to run it after George's passing in 2019.
In addition to peaches, the stand also sells other locally grown fruits and vegetables including tomatoes, plums, blackberries, watermelons and cantaloupes. The store also sells peach cobbler, and Peach Butter ice cream, made with Nelda's famous Peach Butter.
In the fall, the orchard grows and sells pumpkins. The venture began in 2011 and has grown to nearly 10 different varieties. Visitors can pick their own during the fall months.
---
Nelda Vogel's Dessert Peach Enchiladas
Ingredients
4 4 cups fresh peaches, peeled and sliced
4 ½ cup sugar
4 12 to 15 flour or wheat tortillas (regular size)
4 ½ stick butter
4 Cinnamon sugar to taste
4 Tap water
4 9" x 13" pan – spray with cooking spray
Directions
Preheat oven to 400 degrees. Spray pan. Peel and slice peaches, then stir in sugar.
Spoon peaches into tortillas and tightly roll the tortillas. Place rolled tortillas into pan, seam down. Space the tortillas closely, filing entire pan. It is okay for some tortillas to line the sides of the pan.
Along the sides of the pan, pour water into the pan until water is approximately 3/4" high. Slice butter and scatter on top of enchiladas. Sprinkle cinnamon sugar on top of all enchiladas. Bake at 400 degrees in middle rack for 40 to 45 minutes. Serve with or without vanilla ice cream.
---
Burg's Peach Ice Cream
Ingredients
4 8 eggs
4 3 cups sugar & pinkch of salt
4 1 ½ teaspoons vanilla
4 1 ½ pint thick cream (or use Eagle Brand Milk)
4 1 quart peaches, sweetened and pureed
Directions
Beat eggs, add sugar a little at a time. Beat eggs and sugar about 10 min. Add vailla, salt, cream, or milk. Beat. Pour into freezer; add fruit and fill with milk till 1 in. from the top. Freeze according to freezer directions.