I came here with $3,000 in my pocket…and my horse," said Rozanna Afton Sasko, whose spunk tells you she's not kidding. Seeking a new environment and vibe, she left the central coast of California to move to Gillespie County in 2009.
She landed a job with the county as a jailer and dispatcher, where she met her husband, Heath Brady Sasko. "He was the hot new deputy," said Rozanna. "And he's a Fredericksburg boy, so that's how I ended up here."
Heath is the seventh generation on the property that is now Blue Moon Ranch, a horse sanctuary offering trail rides, glamping, and a taste of the cowboy life.
"His family came over in the 1840s with the Engels, who founded Luckenbach. Heath was a cattleman when I met him, but they worked their cows in the traditional German fashion—on foot—which was totally foreign to me. I brought horsemanship to the operation."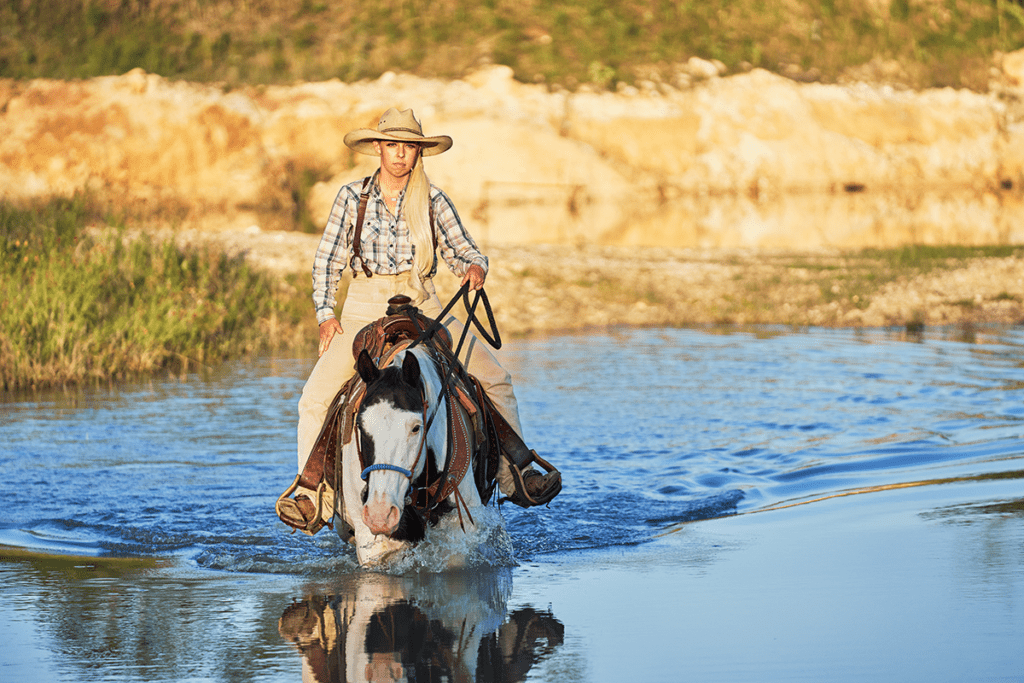 Rozanna surprised Heath on his birthday with his first horse, but both of their horses were rather old, and they passed on around the same time, so they began to look for two more. That's when she found out about the horses that go to slaughter. "I saw something about it on Facebook, and researched it thinking, 'No, this can't be.' I realized there's a loophole in the laws here. They don't slaughter horses in the United States, but they can send them to Mexico or Canada."
When it comes to beef and cattle ranching in this country, the hope is that slaughter involves a certain level of humaneness, that the process is regulated. The Saskos still have cows, which are ultimately sold for meat, but it's important to them to provide the cattle with happy, healthy lives and to respect them even in the way they're killed. "A cow should have the best life possible," Rozanna said.
In contrast, the slaughterhouses in Mexico are primarily owned by Germany, Kazakhstan, and Belgium, where horse meat is a delicacy and it's common for chefs to argue that the meat tastes better with adrenaline running through it. "The only way to achieve that is if the animal is scared and butchered while still alive," Rozanna explained.
The Saskos learned you can save horses from that fate by buying them from kill lots, where the cheapest horses from auction go. They started by rescuing two last summer and now have nine horses, who would have been on their way across the border. One is pregnant, so they'll soon have ten.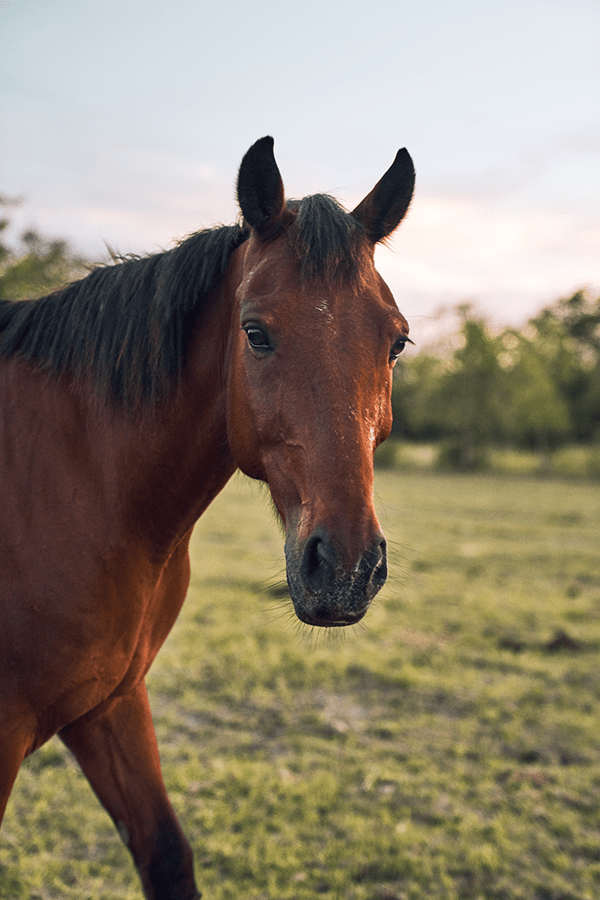 "We typically take horses that most people would be afraid of taking—the ones most at risk for going to slaughter. For instance, I have a really pretty Palomino Missouri Fox Trotter named Hoss. His hooves literally looked melted, a clear sign he'd been neglected and was predisposed to have foundered…the f-word for horses." When a horse founders, they're suffering a painful foot condition, and without treatment, they can become lame. Within a couple of weeks under Rozanna's care, Hoss was perfectly fine.
When the horses settle into Blue Moon Ranch, they seem to know and appreciate that they matter— that their lives are considered important—to the Saskos. All of them have thrived in their care.
"What's astonishing is the quality of these horses," Health said. Horses end up at auction for various reasons, often involving major life changes for their owners. "People have good intentions and think they're going to take their horse to auction, pray like the dickens he sells for thousands of dollars and finds the perfect home," explained Rozanna. But those owners can't prevent a "kill buyer" from ending up with the horse, when nobody else outbids them.
On the pastoral Sasko family property, Blue Moon Ranch provides these horses with a safe home with plenty of space, grass for grazing, and ponds for refreshing dips on their 150 acres. Rozanna's first career was in the veterinary industry, so they're able to provide a lot of the necessary care—like hoof trimming and shots—themselves. And their son, Brant, helps out as a wrangler.
"When horses come here, they don't leave. This is their permanent home. They're part of the herd, and part of our family."
They've held a few fundraisers to help with specific horses, like Copper—who didn't have much time before he was going to be shipped off and needed transportation to the ranch because he was so far away. Typically, though, Blue Moon handles the cost of buying the horses and caring for them as well.
"I'm never going to ask for something for free. If someone wants to help, they can book a trail ride, and I'll be more than happy to render a wonderful, fantastic experience," Rozanna said. "The horses would much rather be working. They love what they do."
Being around the horses tends to make people happy, too, so it's a win-win. Rozanna's constant glow and warm smile attest to the power of horses on a person's spirit, and she has no doubt in their therapeutic effect, even their ability to boost our immune systems. "There's an innate connection between a human and a horse," she said.
Visitors enjoy a peaceful environment where they begin by brushing the horse they'll ride, doing some bonding, while taking in beautiful views of the hills surrounding Luckenbach. A typical ride is a little over an hour through all sorts of flora and fauna.
Another way to help rescue horses from the fate of being sent off to slaughter is to stay informed. People can follow kill pens on Facebook, like the one in Stroud, Oklahoma that publicizes their horses in hopes of finding them homes. Rozanna warns you can see some difficult things, but you'll also learn about happy endings where horses who seemed untrained or "damaged" end up being perfect for their new owners.
Rozanna is also happy to help people navigate the process of looking at kill pens to adopt a horse. It's an affordable way to find a potentially wonderful companion. It can actually be quite easy—you pick out the horse online, contact the pen, and hire someone to haul the horse to you.
If all the trail ride companies in the country consider kill pens when they need horses, that could also do so much to save lives and cut down on unnecessary breeding. Blue Moon is the first establishment in the world to specifically host trail rides with horses rescued from slaughter.
They welcome riders, kids and adults, of all levels to spend time with these trustworthy horses. The experience gives people a chance to slow down and connect with nature as they ride through the beautiful scenery of the ranch.
For those looking for a true escape, the glamping barn is actually quite a step above "camping." The renovated two-bedroom barn features a full kitchen, air conditioning, and a charming wood stove. Just out the front door, visitors can enjoy an outdoor movie screen, stock tank swimming pool, and tiny goats for company.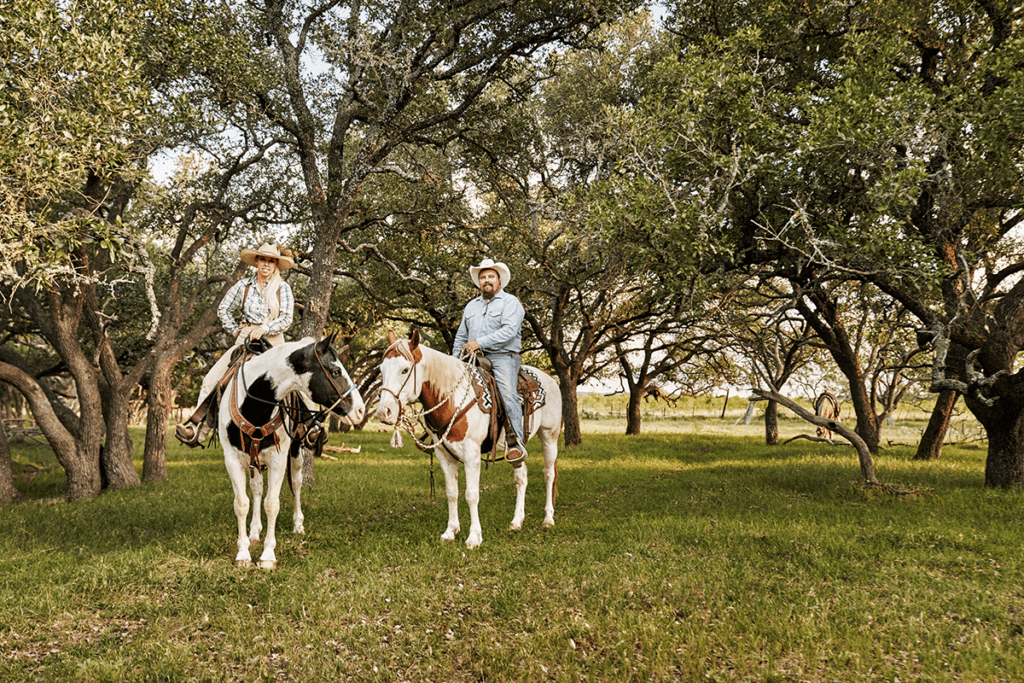 "When you do good things, you will have good things come back to you," Rozanna said. And they're doing many good things by giving these horses the lives they deserve and sharing their spirits with anyone who wants to stop by. "We're taking the cowboy lifestyle—and the freedom it embodied—into the 21st century in Fredericksburg."