Just three years ago, Phil Giglio was working as a corporate lawyer in Chicago. Now, he's living on a ranch in Fredericksburg — surrounded by water buffalo, pigs, sheep, and ducks — and he's about to open Texas's first water buffalo mozzarella creamery and gelateria in Blanco: Orobianco.
Giglio grew up in rural upstate New York and couldn't get to a bustling city fast enough. He moved to Sydney, Australia when he was sixteen and spent thirteen years living in cities all over the world. Then he was ready to return to country living. For family reasons, he moved to Texas, looked around, and realized it was the perfect place to do something in agriculture.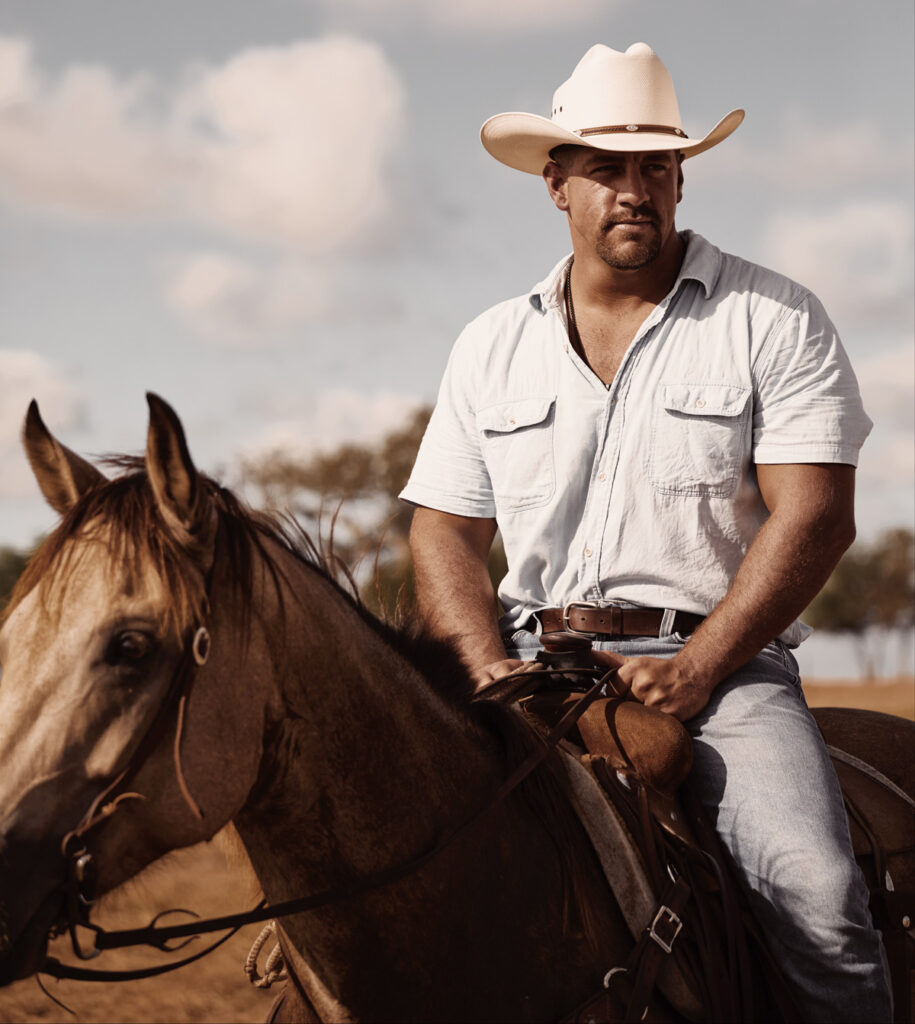 Several years ago, he spent months in the Campania region of southern Italy, where his family is originally from, and where they make Italy's most esteemed water buffalo mozzarella. Inspired by how delicious it was, he wondered if there was a way to bring that concept to the Hill Country. "I did research and found that Texas is a great environment for raising water buffalo. They like it hot!" That would be just the tip of the research-iceberg for Giglio.
Serendipitously, he found two partners with their own expertise, and they forged ahead with what Giglio would now certainly deem a crazy idea, but one he's very excited about.
Jason Peeler's family has been raising cattle in Texas since 1913, and when he met Giglio, Peeler happened to be caring for a herd of water buffalo. He was thrilled with Giglio 's idea — he'd been staring at this herd for four years, wishing he could do something productive with them. Giglio arranged to buy the nearly 200 water buffalo, who now live on Peeler's Floresville's ranch and Giglio's Fredericksburg property.
Peeler's wife Marianna introduced Giglio to Fiore Tedesco, owner and executive chef of Italian-inspired L'Oca d'Oro in Austin, where Giglio tasted the best cow's milk mozzarella he's had in America. "This guy knows what he's doing," Giglio said.
Fiore and Giglio returned to Italy in 2019 to spend a week in creameries (or caseificio), studying and practicing every step of the process of making water buffalo mozzarella and burrata. "It was awesome," said Giglio. "We were covered in hot water, learning exactly how to stretch and manipulate the curd and make it into the final product."
In Italy, the designation of Mozzarella di Bufala Campana is similar to that of Champagne in France. It has to come from certain select regions. "In the U.S., we don't have that rich history with water buffalo," explained Giglio. "They've been in Italy for about 1,000 years, and we've had them about 40, so we're playing catchup on rearing them and doing something with their milk."
The learning process has been intense. "I look back now, thinking over the past few years of every kind of trial and tribulation we've gone through and think had I known all this back then, there's no way I would have done it. Fortunately, I didn't know what I was getting into, so I just took it all in stride."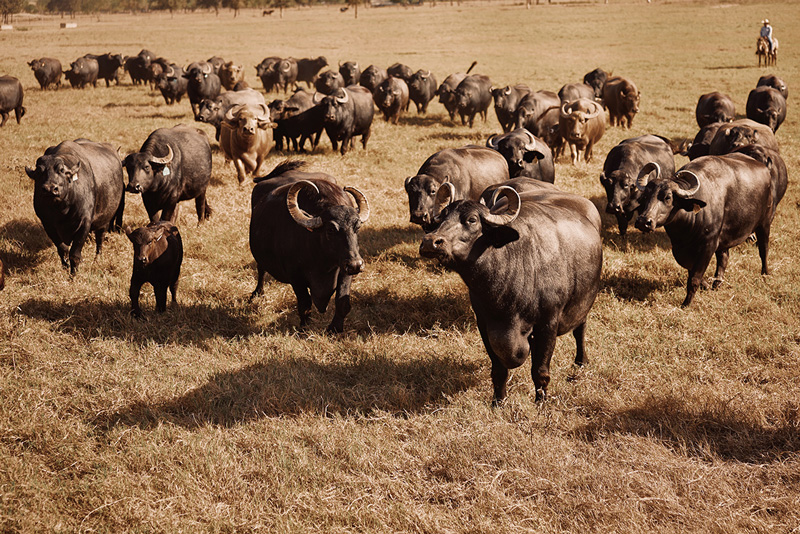 Making mozzarella — from milking the water buffalo in the morning, to having a fresh product ready to eat — takes only five hours. But it's an art form. "Consistency really is the hardest thing. You don't want it to be too chewy. It needs to be creamy, soft and supple, and to make that, it's all by touch. Fiore's got a gift with his hands, and anything culinary. He has a way of working with food and making it perfect."
At the Blanco storefront and creamery, visitors will be able to watch the cheese-making process, in the tradition of authentic Italian creameries. "I've tried to emulate Italy the best I could with all of it," said Giglio. "There, you always get to watch people making the cheese, and it's part of the experience."
The dairy part of the operation is on Peeler's ranch, where the herd currently resides. But at any given time, Giglio takes about twenty heifers onto his property in Fredericksburg, where it's his job to get them accustomed to people and handling before sending them back to the dairy for breeding and milking.
While actually milking the animals is messy — and not exactly fun — Giglio loves being around them. He still practices law from his home office, so time with them provides him a refreshing balance after a long day of work.
"I figured out the best way to get them to come to me is to sit on their hay, and I just wait. It's a war of attrition: who's got more time to kill. Ultimately, they get hungry, and I just sit there and pet them. It's really fun to watch big animals that could totally trample me get to be friendly enough to be close to me and to watch them change over a short period of time."
The way the water buffalo are raised is hugely important to Giglio for many reasons. Milk from grass-fed animals typically has the most flavor. And when you eat mozzarella, you're really tasting the milk; nothing else is added. "Our water buffalo are out on pastures grazing 365 days a year. That adds an earthy taste to the milk."
Without preconceived notions or a background in farming, Giglio's done a lot of reading and thinking through the principles that guide the Orobianco operation. In addition to honoring the Italian heritage, when it comes to animal husbandry, he works to foster a symbiotic environment driven, first and foremost, by the water buffalo. "I want to utilize every liability—anything discarded in one process — and turn it into an asset for something else," Giglio said. "We're not wasting anything."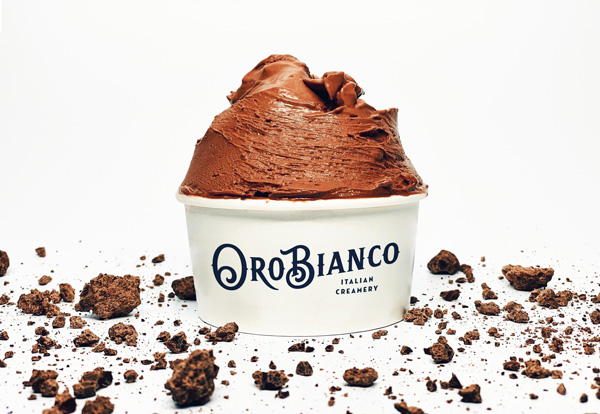 In that spirit, they hope to serve cured meat from the male water buffalo, showcasing a product not well-known in this country, at the storefront (along with the cheese and gelato). "We also use the skim milk, often wasted after the separation process, to feed my pigs. It's highly nutritious for them, and they lap it up." And that in turn makes for tasty pork.
After adding pigs — which attract a lot of flies — to the farm for this reason, Giglio learned that ducks are a great natural pesticide, so now he has a couple hundred ducks. And the sheep attract a parasite that is harmless to them but would be problematic for the cattle.
"If you let nature work its magic, without interfering, it's awesome what can happen."
Finally, it's essential to Giglio that all of his animals not only have a purpose but a good life. "The water buffalo are living the lives they were designed to live. They're out in the pasture, not in confinement, under the hot Texas sun, getting in water. They roam and eat grass, come in for milking and are back out on pasture."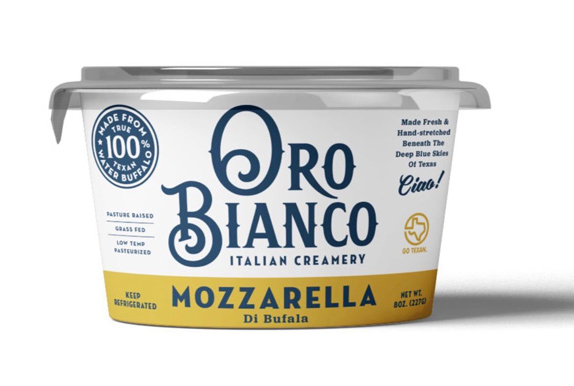 Giglio's gone from knowing little about agriculture to running a thriving farm and bringing unique products to the Hill Country. He's thrown himself into Orobianco with everything he has. And his patience and passion — along with his trusted partners — have brought it all to fruition.
By early fall, the creamery will be open for mozzarella, burrata, ricotta, and gelato at the shop, and visitors will be able to experience a little bit of Italy, Texas-style, here in Blanco.