An executive chef by the age of 23, Austin native Chandler Melia is now pouring his love of food, Texas, hunting, and creating memorable dining experiences into his restaurant Badu 1891 in Llano. Melia always enjoyed cooking for family and friends, so it was fitting that at age 15 he got a job as a busboy at Iguana Grill on Lake Travis. When he became a line cook, he immediately loved the energy and fast-paced environment of the kitchen and knew it's what he wanted to do.
He graduated high school a year early and went straight into Le Cordon Bleu Texas Culinary Academy while working at The Hills of Lakeway country club. He became the sous chef within a year and then executive chef of their sister club, Flint Rock Falls. During that time, Melia's culinary world was rocked when he discovered the upscale Lakeway restaurant, Hudson's on the Bend. "They were doing groundbreaking stuff," he said. The attention to detail and creativity he observed and tasted sparked in him a drive to excel in the fine dining industry.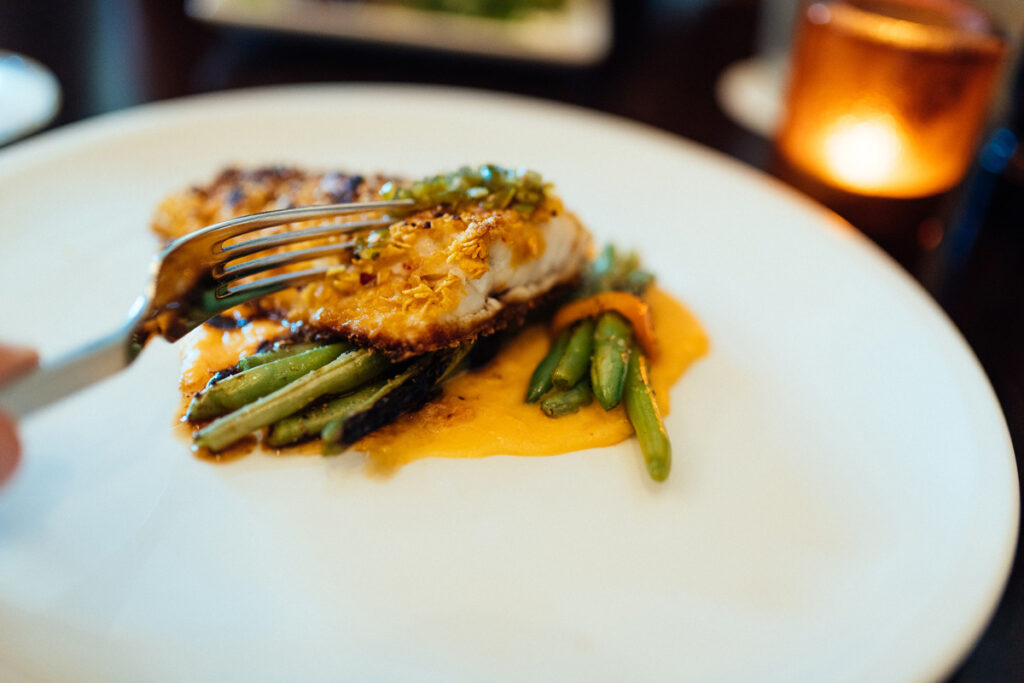 After ten years at the country club, Melia opened Aqua Brew in San Marcos. "That was one of my proudest accomplishments — designing, hiring, and executing the entire operation…and quickly changing the town's perception of brewery food." He also did private jet catering, serving business executives and celebrities like Beyonce and Jay-Z, Lady Gaga, and Chance the Rapper. Although stressful, the job left him with unforgettable stories, like receiving a personal letter of gratitude from Michelle Obama for setting her up with the best Texas barbeque (from Black's) she and her husband had ever tasted.
Melia never expected to leave Austin, but after consulting for the opening of a restaurant in Llano, he was asked to become part-owner and executive chef of Badu 1891, named for the professor who built what was the local bank in 1891, when Llano was expected to be the next boom town. The building's history is just part of the complete dining experience.
That experience begins when guests enter through the large courtyard and choose what vibe they want: the romantic dining room, lively indoor bar, or patio where they can enjoy the music stage, yard games, fireplace and cozy blankets when it's chilly out. Manager and beverage director Valerie Kernes loves their Airstream converted into a bar, where they serve up craft cocktails like the Watson Smoke Show, a smoked Old Fashioned named after the original architect of the building.
"We want to make people feel special and welcome here," said Valerie. "It's fine dining, but there's no dress code. You can come right in from the river or hunting and grab a steak and nice bottle of wine."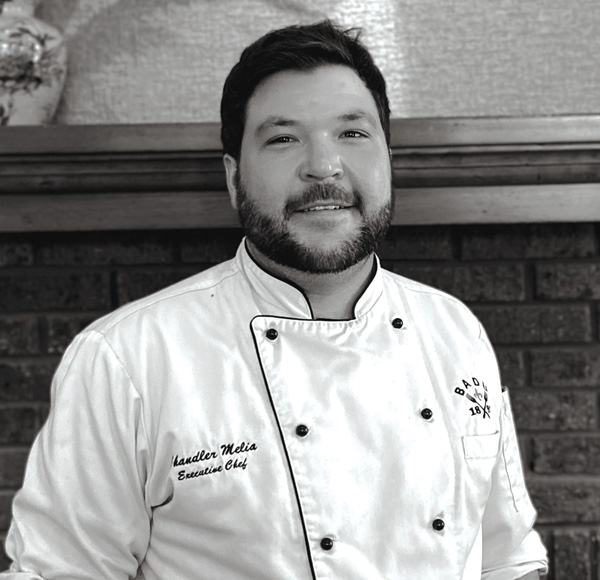 The Badu menu, highlighting locally sourced ingredients, is eclectic but centered on wild game like elk, duck, and venison. Llano is the deer hunting capital of Texas, so Melia loves to showcase some of the very foods people come to Texas to hunt. "We use a local company called Broken Arrow Ranch," he explained. "Whether it's South Texas antelope, axis deer, or wild boar, they're hunted on the open ranch using suppressed rifles from a long distance to eliminate fear or suffering. The ranch field-dresses the animals right there within minutes of the kill, resulting in tender, high-quality meat."
Melia enjoys putting a Texas twist on classics — like jalapeño crab spring rolls and charred edamame with Fresno peppers — and reinventing dishes without pretension. "It's cool to have queso on your menu but still offer a smoked prime rib." He's really excited about a new fall menu item: venison meatballs with pappardelle pasta, burrata and cojita cheese, and basil from their organic garden.
"Our drinks and food are so unique," said co-manager Arianna Brown. "The building is beautiful, there's artwork everywhere. All around, we're hitting all five senses. Dining here truly is a full experience."