By KEN ESTEN COOKE & KIMBERLY GILES
One focus of Rock & Vine is conservation and taking care of this region, which we call our slice of heaven. Our staff seeks out and shares sustainable land management practices. This edition, we partnered with Texas Hill Country chefs in an effort to learn how bounty from area farmers and ranchers meets our table each season.
Our teachers were Taylor Collins and Katie Forrest of Roam Ranch. They agreed to host us and some of our influential chef friends, movers and shakers, including: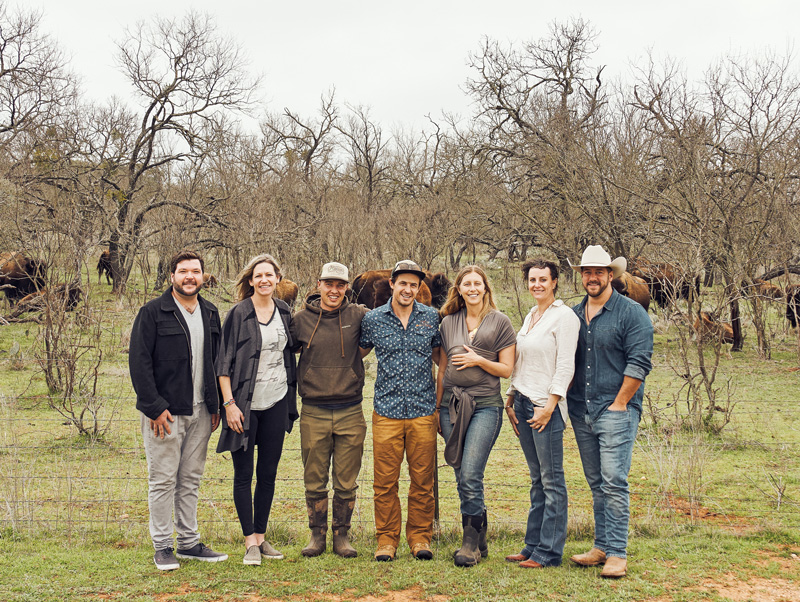 ---
Ashley Odom of Feast & Merriment in Stonewall
Ashley hosts farm-to-table events for private occasions and reserved winery and dinner excursions at her expansive site, adjacent to Narrow Path vineyards
---

Bridget Sym of Bridget's Basket in Hunt
Bridget is a remarkable grower herself and brings farm-fresh produce seasonally to her table breakfast, lunch and dinner. She is an avid proponent of freshly harvested proteins and indigenous meats that add a complex, creative localism to her menu offerings.
---
Phil Giglio of Orobianco Texan Dairy & Creamery in Blanco
Phil came to investigate another type of buffalo, as he has water buffalo on his ranch and has begun his own creamery, serving gelato and fresh water-packed Mozzarella.
---
Chandler Melia of Badu 1891 in Llano
Chandler is a chef that prides himself on sustainably harvested wild game meats, as well as having an overall interest in regenerative land management. His menu is seasonal and he likes to complement those offerings on his menu.
Inspired by a mission to maintain the relationship between healthy lands and healthy meats, the couple shares their passion with the public, other producers and ranch owners, and restaurateurs interested in serving up healthy harvests.
---
Collins and Forrest also always strive to learn more from sources ranging from locals to international operators. The two research the past, especially studying bison migration from the Permian Basin. They also constantly check soil temperatures and studies to see how chemistry affects grass and ground cover growth, and deciding what rebuilds the nitrogen back into the soil most effectively.
"The Roam Ranch team is an invaluable resource for other Texas ranchers looking to incorporate good practices in their enterprises," said Giglio, Oribanco chef. "Their success is a testament to the notion that livestock are a necessary component of a sustainable and regenerative agricultural enterprise."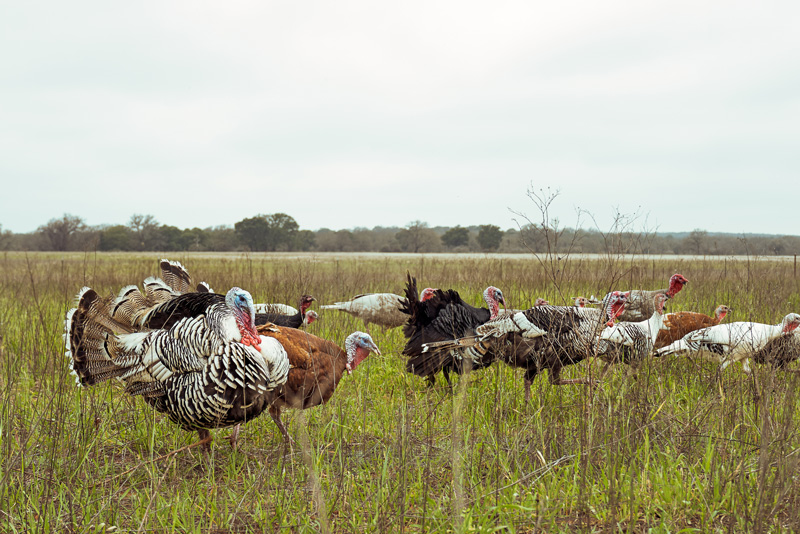 For animals, the pair raise free-range chickens and turkeys, and have added heritage pigs to study their land-clearing capabilities where weeds are concerned.
Sym liked what she saw as it relates to the producer to consumer simplified model.
"My biggest takeaway from that trip would be the importance of educating our communities and consumers," Sym said. "Making the connection between small producers — from farmers, to ranchers, to chefs — and the health of our planet, while allowing consumers to invest in the production of their food, is one of the most important aspects of a sustainable future."
But the couple is best known for their love of bison, those majestic animals that used to roam freely and en masse on the U.S. plains. The American Buffalo was not seen much in this region for the past century or more, and they are determined to bring them back and let them flourish on their 450 acres. "Along with native grasses these buffalo used to feed with, we are wondering and rethinking what more is missing from our past that is needed now," Collins said, citing modern ag practices that have stripped the land of much of its healthy and natural capacity.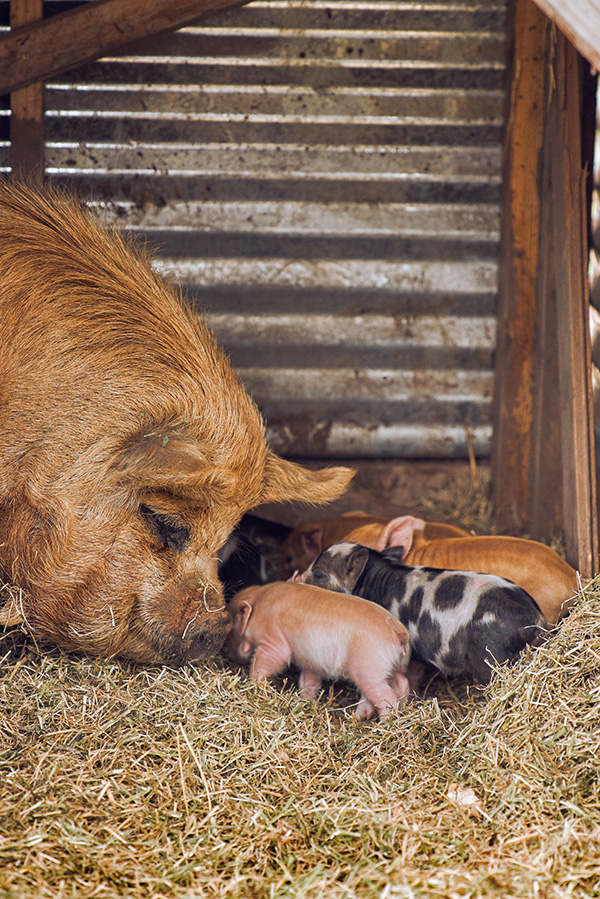 Buffalo are the keystone species to rebuilding their land, Collins said. In just the short time since Rock & Vine last covered Roam Ranch (spring issue, 2019), the couple has registered new bird wildlife (they keep a count on their website). The buffalo's hooves are unique for stirring up the land, effectively aerating and "tilling" it for native grasses to re-emerge.
Collins also studies and promotes the benefits of other types of animals, as well as rotational crop growing and ground cover planting. Going back to the basics is their recipe for treating the land well and allowing the flourishing of native flora and fauna.
Odom said Roam's owners meet her standards which keep a larger picture in mind.
"Visiting Roam and learning about how they are integrating regenerative techniques to over-grazed pastures in the heart of Texas is inspiring. This gets at the soul of what is needed to to continue to heal our planet of harmful farming techniques of the past. This modern approach ensures that the future of our food can survive and thrive, and will symbiotically provide health benefits to us and the animals, from soil to table and everything in between."
---
TOURS, CLASSES
Roam Ranch also hosts events and gatherings, from public tours, to a Regenerative Ag Bootcamp, to guided hunts, to a children's nature art workshop. For more information, visit roamranch.com.
ONLINE
RoamRanch.com
OrobiancoMilk.com
FeastandMerriment.net
Badu1891.com
BridgetsBasket.com