Mike and Melissa Maynard never expected that a trip to Walt Disney World might someday spark a business idea. And yet, on a family trip in 1996, it did just that. With their kids in tow, the Maynards saw Disney's impressive hydroponic garden, with its water-grown vegetables and Mickey Mouse-shaped watermelons, all of which were grown in the absence of soil. The experience planted a seed that would bloom roughly twenty years later as they launched Mikey's Garden in Hunt.
"That made a great impression on me," Mike said on a hot summer day in July. "It was always in the back of my mind to set up a little greenhouse and see what we could do with hydroponics."
Mike and Melissa's appreciation for food started years earlier when they met while working at Whole Foods in Austin. "We learned a lot about where food comes from, local farmers, the struggle of how to get food from one place to the next," she said.
In 2003, they started a small greenhouse operation in their backyard in Austin using both hydroponics and aquaponics. The latter system uses nitrogen-rich fish waste as a nutrient source to promote plant growth. At the same time, the couple educated themselves by reading books, watching YouTube videos, and enrolling in conferences around the country. One summer, they attended a class in Wisconsin and the proverbial lightbulb turned on. "Right there it all clicked for us," Mike remembered.

It wasn't long after that that their side-hustle proved prolific and they were supplying their neighbors with lettuces, tomatoes, and cucumbers from their garden.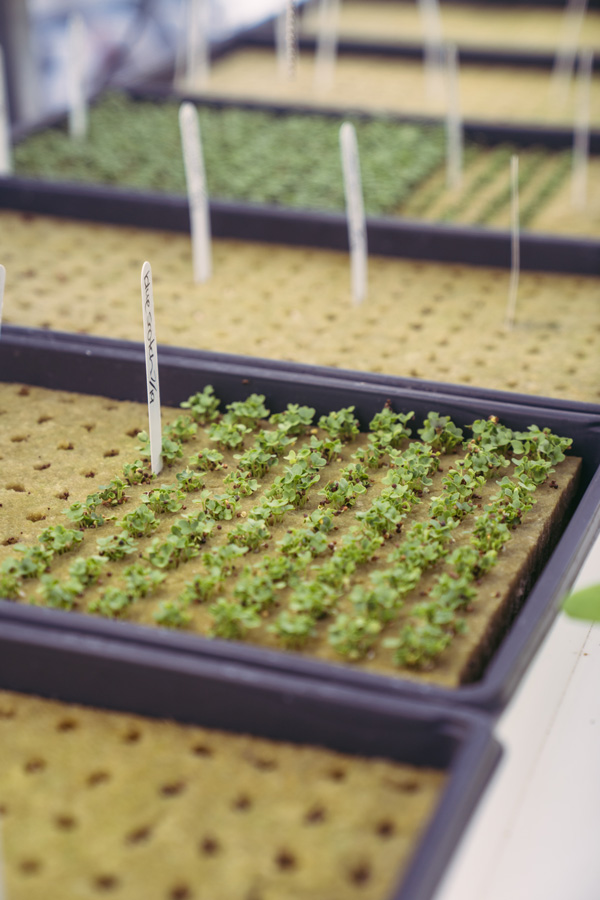 After Mike retired from Whole Foods and their youngest son graduated from high school, the Maynards left Austin and moved to their ranch in Hunt. They hired a company to design a greenhouse for both aquaponics and hydroponics, and the first seeds at Mikey's Garden were planted in March 2015.
A year and a half later, the catfish outgrew their tanks and the subsequent bluegills couldn't produce enough waste, and they struggled to keep the pH balance under control. Because these systems only work if the plants are supplied with the perfect environment, the Maynards decided to focus all of their attention on hydroponics moving forward.
"Hydroponics is beautiful – you give the plants exactly what they need," Melissa said. Every week, they add a mixture of nutrients to the water, like calcium, magnesium, and iron, while the electro-conductivity, pH balance, and the water temperature are measured daily.
The Maynard's greenhouse is a double poly insulated structure that's oriented from north to south to ensure the best sun exposure throughout the day. Inside, there's a 40-foot water wall on the south end, which turns on and off as needed. Water runs across the pads of the wall and draws through it with the help of four large fans, which keep the interiors cool. In the winter, there are four propane heaters to adjust the temperature, which is monitored year-round by a computer-controlled thermostat. Furthermore, the greenhouse's plastic cover inflates for insulation. "That's what got me hooked was all the technical stuff," admitted Mike adding, "There are all kinds of mechanics that go into a greenhouse."
Hydroponic farming has been around since the Aztecs, and continues to grow in popularity today. It presents a particular advantage for places with little arable land, such as the United Arab Emirates, for example. Even the International Space Station has its own hydroponic vegetable garden. Sustainability is the hallmark of hydroponic farming. There is no dirt nor tractor required, and while the up-front cost is expensive due to the greenhouse, the systems, the motors, fans, and air stones to name a few, the cost-savings long-term are considerable. For one, hydroponic systems use 90% less water than traditional soil-grown crops.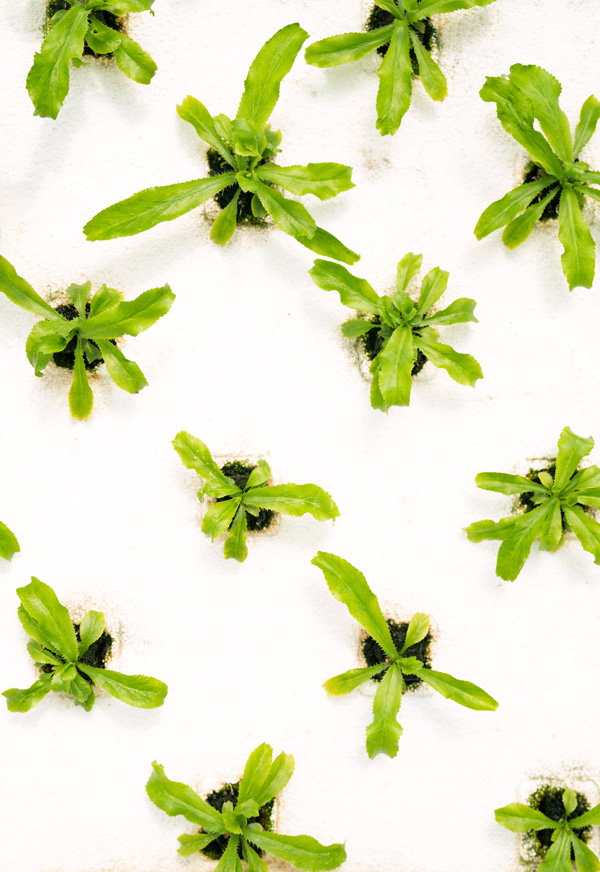 The Maynards recirculate 22,000 gallons of water at Mikey's Garden. Because their plantings are protected from the sun, the water stays contained and the plants take only the amount they need. Their plants are grown in eight troughs of water, each measuring 4 feet wide by 92 feet long and 1 foot deep. At any one time, nearly 13,000 plants are held in Styrofoam rafts which float on top of the water. The nursery has another 8,000 plants, and every one is recorded with a lot number, along with when it was seeded and when it left. The rafts are taken to the harvesting area and each new plant is removed and inspected before being tasted for quality control. "They all taste different – some are sweeter, some are nuttier," said Melissa. From seed to harvest, their wide-ranging selection of arugulas, lettuces, and kale cycles from six to eight weeks, depending on the type; herbs take six to twelve weeks.
Walking through the 6,000 square-foot greenhouse at Mikey's Garden, glimmers of green emerge in every shade imaginable – emerald, lime, olive and jade, chartreuse, moss, kelly, and sage. The room is aromatic and oxygen-enriched, and stepping inside feels like taking a deep breath in crisp, cool mountain air. "We love doing what we're doing," said Melissa. "We feel it is our purpose to provide really healthy and clean, safe food."
Melissa's palpable passion for plants and gardening is matched by that of her husband's. She wears a small lettuce charm around her neck, and walks briskly through the aisles of Stevia, Garlic Chives, Purple Basil, and Dandelion Greens. She passes Parsley, White Sage, Watercress, and lush rosettes of Salanova lettuce, pointing out each plant's unique characteristics, like Purslane, with its lemony flavor and rich Omega-3 profile, and Holy Basil, with its sacred Hindu history.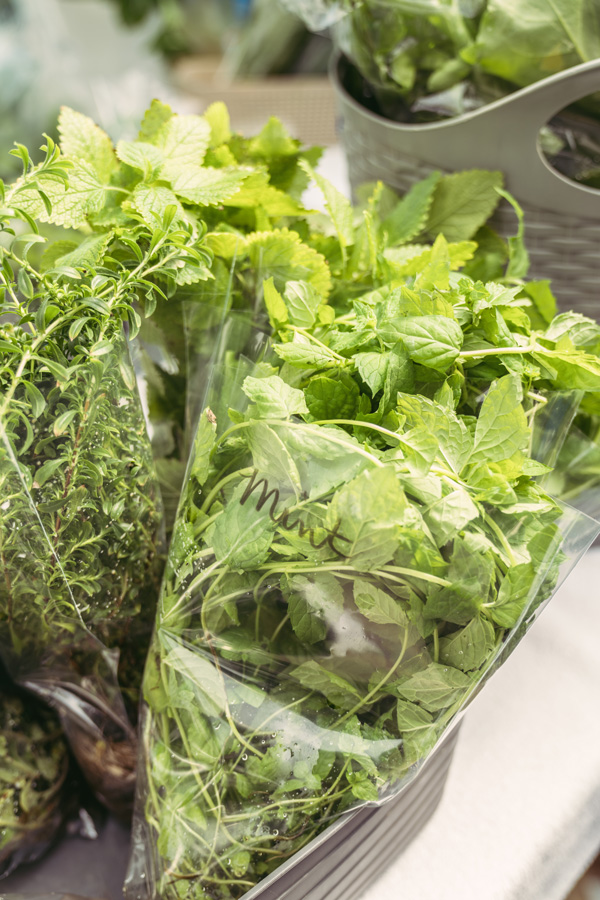 Though Mikey's Garden is not open to the public, you can find the Maynard's leafy greens and culinary herbs at the Pearl Farmer's Market in San Antonio on Saturdays and Sundays and the Kerrville Farmer's Market-Downtown every Friday. They also service restaurants in the region, like Otto's in Fredericksburg, and are looking into new markets like Austin due to increased demand.
"The more local the food system becomes the safer our food will be," said Melissa. "I want to help people understand that we need our farmers. We want to be part of the education."
The couple splits their daily responsibilities with Melissa taking charge of the garden's production, selection, and harvesting, along with arranging their popular lettuce bouquets. Mike is responsible for the chemistry, nutrients, and 'water whispering.' "I have a knack for seeing and feeling in the water what the plants need," he said.
Their teamwork is evident but perhaps never more so than their most recent hurdle, which came in 2019 after Mike's lung cancer diagnosis. "It's given me a whole new outlook on life," he shared. "The way this woman took care of this business and took care of me as was just amazing." Thankfully, today Mike is in remission and he and Melissa are devoted to their growing business, which continues to flourish five years since the first seeds were planted.
"Everyone has their thing in life," she said. "This is our contribution."
---
Where to buy:
Pearl Farmer's Market
San Antonio
Saturdays and Sundays
Kerrville Farmer's Market
Downtown every Friday
Hat & Heart farms
Fredericksburg
Bridgets Basket
Hunt