Inside Clint Orms Engravers and Silversmiths, a small team of craftsmen huddle over their benches, surrounded by tools and lamplight. Throughout the workshop, steer horns protrude from the walls flanked by framed magazine articles and glossy photos of engraved silver buckles.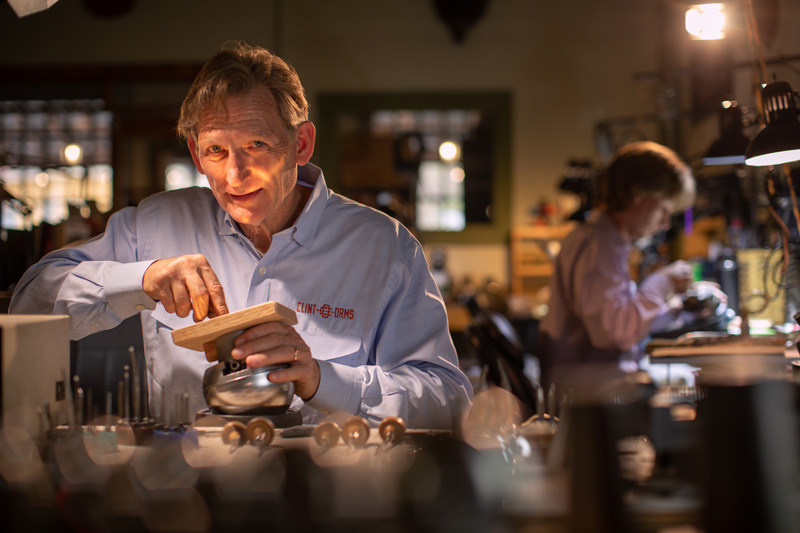 Over the years, Clint Orms has built a sterling reputation for his classic designs and heirloom-quality handiwork. The soft-spoken designer is best known for his hand-crafted belt buckles and silver jewelry, all of which is worn and collected by notable clientele, such as Lyle Lovett, Sylvester Stallone, Arnold Schwarzenegger, and Queen Noor of Jordan, to name a few.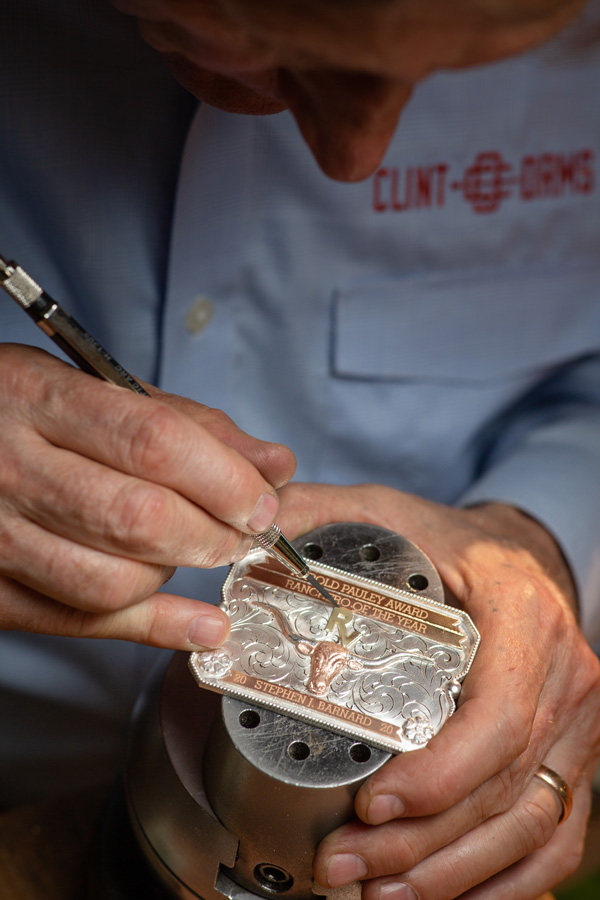 Orms grew up in Wichita Falls and got his start making hand-tooled belts in high school. "I've always been making stuff," he shared. He went on to apprentice under a handful of silver designers across the west, lured by the timelessness and longevity of the medium.
For the past seventeen years, his store in The Old Ingram Loop Shopping District has been a revered, under-the-radar boutique in this humble Hill Country community, and a place frequented by the state's most discerning shoppers. The street-front showroom is stocked with fine leather belts and a trove of hand-engraved buckles, bracelets, money clips, and bolo ties, all of which gleam inside glass displays.
Orms' designs are made to be passed down over generations. His buckles in particular – each named after Texas counties – are laden with symbolism and can be customized per the client's unique wishes and specifications. Commissioned items are all about telling stories, and Orms enjoys marking them in metal through ranch brands, initials, alma maters, and special motifs like hummingbirds and bluebonnets. Buckles can take anywhere from fifteen to eighty hours on average to make, depending on the detail involved. And while they may be his most popular item, Orms has worked with clients on a diversity of goods, from custom ball markers for golf enthusiasts to tiny pillboxes for storing dried chile pequins. "The sky is the limit," he shared of his customer's requests. "We just want to make something that's going to be a part of their family."
Behind the storefront, customers can watch as Orms' team works with grit and grace in their intimate workshop. "Everyone has their own style," he said of his engravers adding, "We train each other." Collectively, their skill and attention to detail imbues the work with a depth of character that's unique to the industry.
Part of that depth stems from the myriad materials that go into Orms' designs. Long cabinets with thin drawers conceal precious gemstones along with sheets of sterling silver and gold. One custom silver buckle might feature golden cactus with prickly pears made of rubies. Another might have sterling silver flowers with sapphire centers. The designer's own buckle boasts a diamond "C."
The elevated yet tasteful nature of the collection makes Orms' work a fine complement to lifestyles both on and off the ranch. Each piece is made with an appreciation for hard work and Western values. The designs are both nostalgic and on-trend, a timeless weaving of past and present. Slipping a Clint Orms' cuff around your wrist or buckling a hand-engraved belt around your waist, one can feel the weight of its maker. It is an homage to the craft and the craftsmen who made it, and the life it will live for generations to come.

---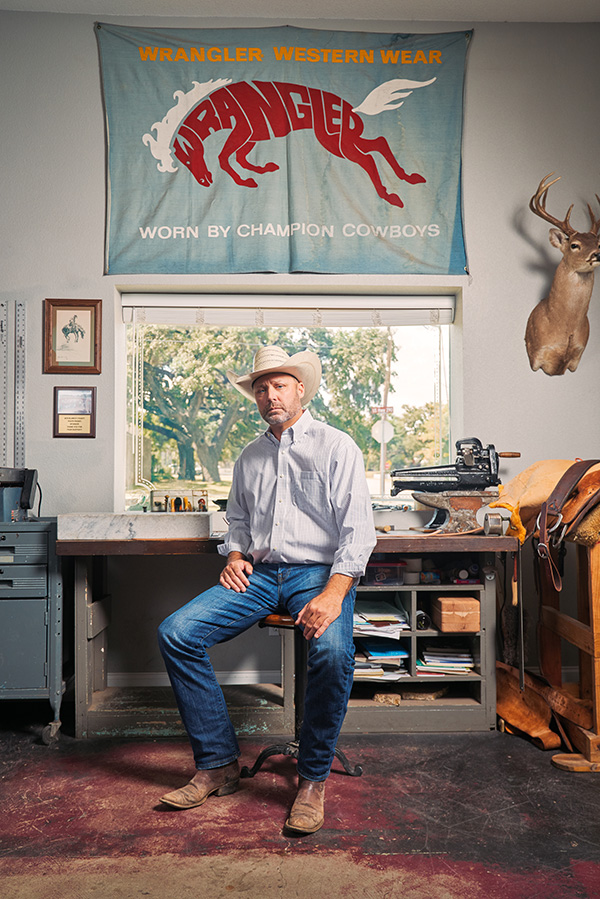 Sixty miles west of Ingram, Seth and Jasmin Stidham are putting their own stamp on hill country style. The couple moved from Georgetown to Johnson City ten years ago and started their leather goods business, Stidham Outfitters & Custom Leather, in 2014. Today, the brand has grown into a well-recognized brick-and-mortar destination with both men's and women's clothing, homewares, Western antiques, and unique hand-tooled leather goods. While Seth operates the leather production, Jasmin sources the antiques and manages the brand's social media marketing. Johnson City native Brittni Young, who came on as a buyer and a business partner in 2019, is responsible for buying the women's clothing and home goods.
Like Orms, the Stidham's clientele is wide-ranging. "It's typical hill country," said Seth, who is a fourth-generation maker and shop owner. "You might have a limo pull up with ladies going to a winery but five minutes later you have a guy with a cattle trailer walk in – it's a neat mix." That mix includes everyone from foreign dignitaries to politicians, rodeo cowboys, and musicians like Ronnie Dunn of Brooks & Dunn. Last year, Texas Governor Greg Abbott's office reached out to Seth prior to his meeting with the Prime Minister of Japan. Knowing of the Prime Minister's love of archery, Abbott solicited Seth to make him a custom leather quiver for his arrows.
Seth' custom work – be it leather belts, briefcases, wallets or saddles – makes up 75% of his business. His specialty is the Sheridan style, a renowned carving tradition originating in Wyoming featuring swirls and floral motifs.
Growing up in Georgetown, Seth was raised with an appreciation for artistry, and he was gifted his first set of carving tools as a young boy. "My grandma was an artist, she painted and my mom painted," he said. "I've always been drawn to handmade stuff, painting, silver, woodwork…" Later, Seth worked for Wildfire Saddlery in Salado and apprenticed with his friend and fellow leather carver, Wayne Decker of Bar U Custom Leather. "He took me under his wing and would teach me the correct way on everything," he said. "He really upped my game."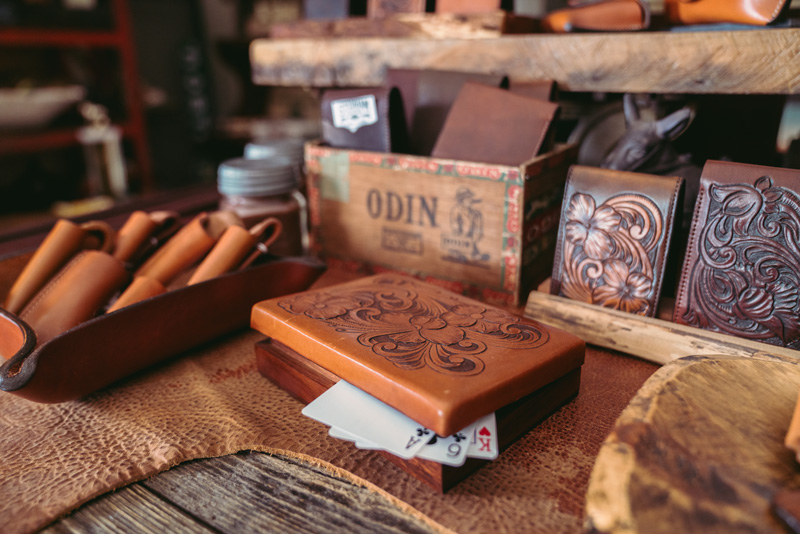 Today, people visiting Stidham Outfitters & Custom Leather can glimpse inside Seth's workshop and witness an age-old artistry firsthand. "I hand draw everything. Every piece is totally unique," he said. "You're not going to have the same piece as anyone else." He uses saddle skirting leather from Hermann Oak Leather Co. out of St. Louis, which holds its shape and lasts longer than thinner leather varietals.
"I don't skimp on material – I use the highest grade you can buy," he shared. "If you're going to put that much time into a piece you want it and the impressions you make – the tooling – to last as long as possible." Seth's commitment to his craft and his dedication to timelessness and tradition mirrors that of Orms'. "I take pride in what I do. I don't want to be stale," he said. "I want to be the best I can be."