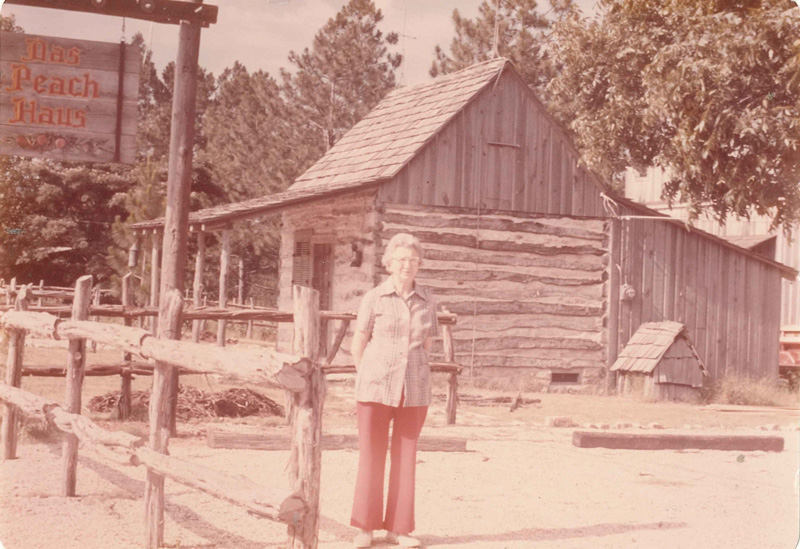 Inside Das Peach Haus on Highway 87, long shelves stocked with Fischer & Wieser's award-winning preserves, sauces, soups, and jellies surround a central registrar. Hot air balloons and vintage signs hung overhead as I strolled through the sunlit showroom with its posters asking visitors to "Keep One Cow Apart," a Fredericksburg standard of social distancing. I heard my stomach growl as I took in the bottles of smokey plum chipotle sauce, jars of tomato preserves, and merchandisers stocked with pumpkin pies and cobblers.

Today, Fischer & Wieser is a booming business with over 150 products and five unique brands available in national grocery stores like H-E-B, Walmart, and Safeway.
But its origin story begins humbly with Mark Wieser, who was born and raised on the farm surrounding Das Peach House. His father, J.B. Wieser, immigrated from Germany and was one of the first pioneers to bring peaches to Fredericksburg, after the boll weevil attacked the cotton crop in the 1920s.
Mr. Wieser planted his peach orchard on the family farm in 1928, and Mark, along with his mother and siblings, harvested the fruit every summer. Those early days picking and selling peaches and preserves made an indelible mark on Wieser, who went on to study history and horticulture at Texas A&M. After graduation, he moved to Seguin for a teaching job, though he returned home every summer, lured by the fruits of the farm. Over the years, he'd take parts of his paycheck and purchase more trees for the orchard.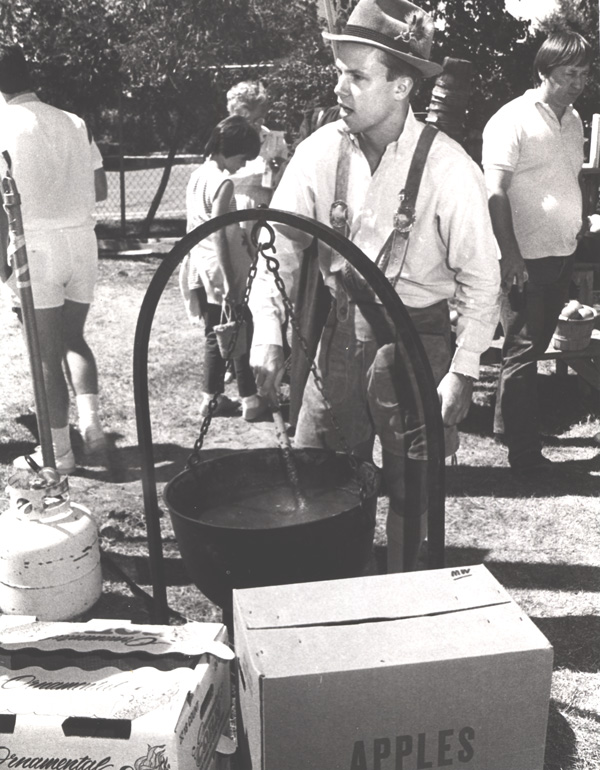 Determined to have the first permanent roadside fruit stand in Gillespie County, in 1969, Wieser opened a retail location in a restored log cabin from 1870. Today, that log cabin still stands in its original location, just steps from the family's old peach trees.
In 1977, Wieser moved back to Fredericksburg for a new teaching opportunity. During the summers, he solicited the help of students to come and work on the farm, one of which was a 15-year-old named Case Fischer.
Fischer took an early interest in the business after noticing how happy it made people to come and taste Fredericksburg's local fruit, and buy a jar of jam or preserves to take home. In 1986, after graduating from Texas A&M, he moved back home, partnered with Wieser, and the company became Fischer & Wieser Specialty Foods.
What started as a small fruit stand developed over the years as the duo began selling their products to specialty gift shops and participating in local markets and shows. Their growth happened organically, as they moved from selling peach preserves and grape jellies to more distinctive flavor combinations. "Case is very creative and was really the mastermind behind creating unique flavor profiles," said Deanna Fischer, Case's wife, who works today as the company's Chief Experience Officer.
Slowly, the company expanded as support for their products grew. An onion jelly intended for bagels and cream cheese was used by one customer on a pork dish, which inspired the team to create bottled, fruit-based sauces for protein pairings. Their sweet and savory onion glaze was followed by an experiment of raspberries and chipotle peppers that changed the course of the company.
The ensuing product, Fischer & Wieser's The Original Roasted Raspberry Chipotle Sauce, was an instant bestseller and has remained their number one product since its launch in 1996. In fact, for its 20th anniversary, the team dedicated a whole cookbook to its success. "That took us from a regional jelly company to a national specialty food company," said Deanna.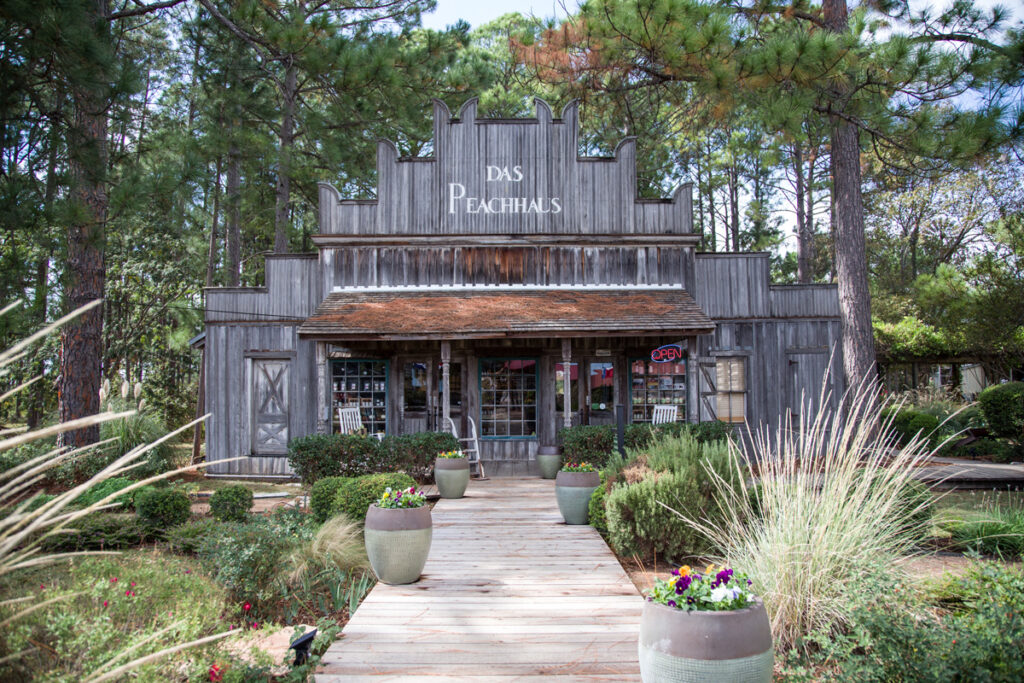 Today, the orchard on the 68-acre farm behind Das Peach Haus still produces peaches, though the company has partnered with farmers and growers to source other ingredients as well. "We source locally as much as possible and when that's not available we find the nearest grower with the highest quality product that meets our specifications," explained Case. "For example, raspberries are hard to find in Texas, so currently we buy them out of the Pacific Northwest and Mexico. We've even bought basil from a farm in Blanco."
Over its more than 50-year history, the company has diversified, launching two cookbooks and a collection of wine, which can be sampled in the tasting room at Das Peach Haus. Adjacent to this tasting room is the Fischer & Wieser Culinary Adventure Cooking School, which opened in 2016. Here, they offer private, hands-on classes and cooking demos for locals and visitors alike. "We have a core group we call 'The Habituals' that like to come. Others are coming over a weekend looking for something fun to do," said Deanna.
As the company has grown, so has the need for more space. Today, Fischer & Wieser's offices and production facilities are located in a 50,000 square foot warehouse complex located at 411 South Lincoln Street. To this day, everything is still locally produced and sold at Das Peach House along with their small storefront location on Main Street.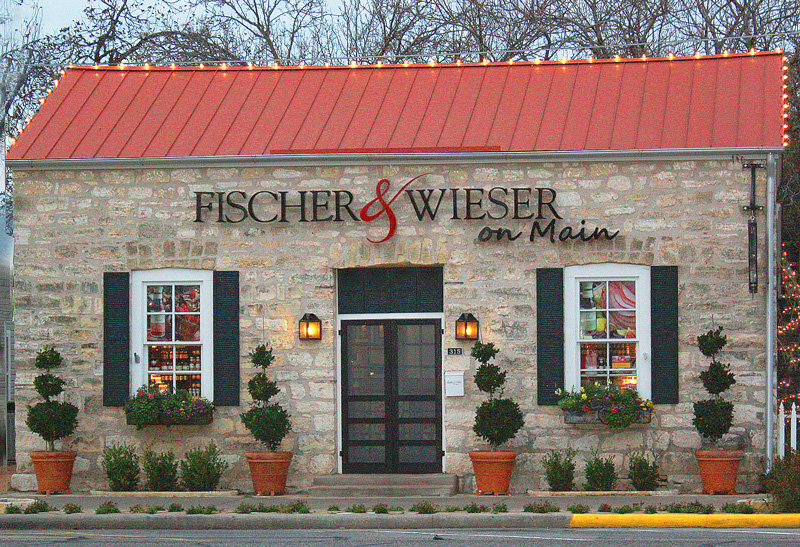 In addition to making their own products, Fischer & Wieser's excellence in product development has attracted outside contract work with grocers and retailers like H-E-B. "We're developing ten to twelve products a week … we're always creating," said Deanna.
It is an impressive resume for a company that started by selling peaches on the side of the road. Today, the family farm is still the heart and home of the operation, and the team has hopes to one day move the plant there and offer tours. In early 2021, Deanna and Case's oldest son, Dietz Fischer, will open his distillery next door to Das Peach Haus, giving visitors yet another reason to come and enjoy all that the farm has to offer. That experience of strolling the grounds, sampling products, and taking home a taste of Fredericksburg has been central to Fischer & Wieser's vision since the beginning.
Family is central to the brand's legacy. Just beyond the peach orchard is a four-bedroom farmhouse where Case and Deanna lived for fifteen years and brought home each of their three children from the hospital. Today, that farmhouse is a Bed & Breakfast, and the Fischers, along with Wieser, live in a neighboring home on the property.
"Mark is like a second father to my husband, a grandfather to our children, and a father to me of course," said Deanna. At seventy-nine, he is humbled by the success of their company. "It's wonderful to see him so pleased with what's happened here," she said.

Later that afternoon, I left Das Peach House with a bag full of goods to take back to my kitchen. Walking to my car, sunshine sifted through the towering pine trees, which were planted by Wieser's father in the 1940s as a reminder of his home near Germany's Black Forest.
Back home, I unwrapped the red tissue paper from my jars of Peach Preserves, Agarita Jelly, and Roasted Raspberry Chipotle Sauce. I thought then what a gift it was to have a pantry stocked with local goods, made by local Fredericksburg families.
"It is such a privilege and a pleasure for us to have our family business in the town that Mark and Case were born and raised in," said Deanna. "We are all very proud of Fredericksburg, it's history, and what it has been able to accomplish. We believe in lifting the whole town up and bragging on every single business and promoting everyone because it takes every single one of us to make this community what it is."
Das Peach Haus
1406 S US Hwy 87, Fredericksburg, TX
Fischer & Wieser on Main
315 E Main St, Fredericksburg, TX
jelly.com