When prospective landowners look for their slice of Hill Country, they may look for running water, mature trees, bluebonnets, a scenic vista, or a pristine canvas. Not Paula Stone.
When Stone first set eyes on her property at the edge of Fredericksburg, her realtor would not even step into the house. "There was nothing inside," she recalled, "but dead animals and rat droppings."
And the land surrounding the historic stone house sagged in a similar state, blanketed in thistles, second-growth mesquite, old washing machines, tires, and an odd number of golf balls. It was perfect.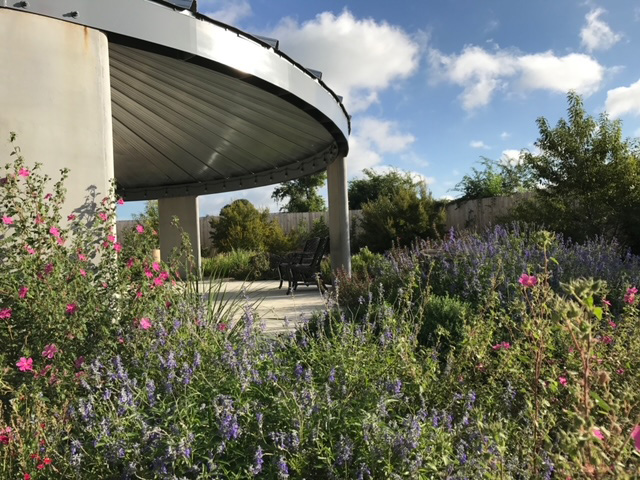 First, Stone focused on the structures. "With the house, I removed all the additions and started with the German settlers' original, high-quality work," Stone explained. "From there, I simply restored the house to mirror that 1882 craftsmanship."
For more than a decade, Stone has found joy in restoring the built infrastructure, as well as her piece of Hill Country land. Her experience as an interior designer — once with showrooms in Dallas and Houston, as well as a practice in San Antonio — have driven both aspects of restoration.
"Any form of design is a study of function. Make it as functional as possible, then the beauty is almost a byproduct." Looking out at her 10 acres, Stone affirmed, "Beauty comes in with balance, harmony, variety, repetition, and contrast."
Exterior
When studying the interior of a home, functionality will account for where people want to eat, relax, or perhaps set something down. When considering an ecosystem (or backyard), ecological function considers how living organisms interact with each other and their non-living environment over time to create a productive, resilient ecosystem.
Stone has sought to improve the ecological function of her 10 acres using native plants. "This piece of land, like so many others, had been abused. It needed much more diversity than a couple of species of grasses and a few scattered Live Oak trees."
To find out what was missing functionally and how to restore her piece of the Hill Country, Stone joined the local chapter of the Native Plant Society of Texas (NPSOT), a statewide non-profit organization.
"Joining the plant society was the smartest thing I've done for my land. Anyone from a different climate — be it Dallas, Houston, or California — should join NPSOT to learn what the land here really needs. And they should do it before they do any land work, at all. So many times, people 'clear the land' first, only to realize later all of the wonderful small understory trees and shrubs that they have destroyed."
While the Native Plant Society of Texas offers a variety of resources, including classes, videos, and bi-annual plant sales, Stone believes the friendships have proven most invaluable. "Friends come over for a glass of wine, and their offhanded comments have been so helpful" for restoring the land."
Those knowledgeable friends share more than casual advice and a similar philosophy; they also share seeds from their native plants. "Why native plants? Because anything else would be more work, more money, and less interesting," Stone avers.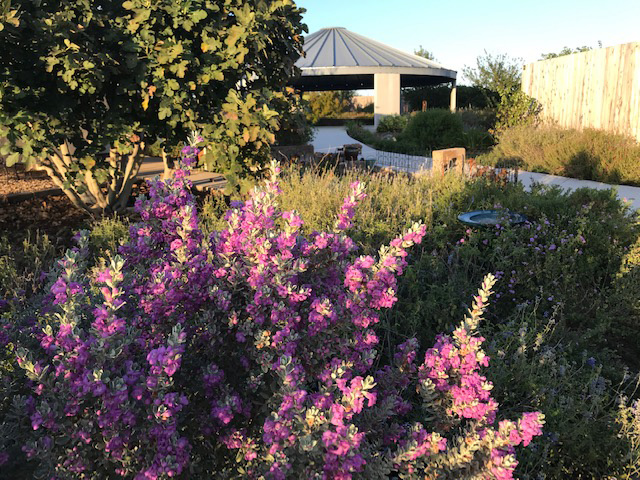 History
Stone has always lived an interesting life. As a child growing up in Central Oklahoma, she and her siblings were allowed to have any pet that would follow them home. "I had pet armadillos, raccoons, horny toads, and a squirrel from my sixth-grade boyfriend."
One side of her family ranched and the other farmed; hard work came naturally. While she always thought of Oklahoma as a suburb of Texas, Stone was quick to move south of the Red River when she graduated from Oklahoma University.
She moved to Dallas, where she met her future husband, a showroom owner in the World Trade Center. After their marriage, they built an Arabian horse breeding business named Gilbriar Arabian horses. She sold out of the horse business 22 years later but kept the name. Whether with horses, furniture, or homes, she has always taken great pleasure in improving things that others would disregard and walk away from.
In 2009, Stone began her search for a place in the Hill Country. She had visited Fredericksburg before and really liked it as a place for retirement.
When she discovered a real estate posting online for a property on the west side of town, she scoured the internet and was 80% sure she would buy the place before even seeing it. The site visit — earmarked by nauseating smells, a warry realtor, and fossilized washing machines — sealed the deal. "If you can improve something that's truly horrible, that's a lot more fun — and if I'm not having fun, I go do something else."
After restoring the 1882 stone house along with a Gasthaus and large barn (which she converted into a wedding venue), Stone turned her attention increasingly toward the land. To showcase the abundance and diversity of the Hill Country, she has split her property into four quadrants: the homesite, the woodlands, the shrublands, and the grasslands. A maintained walking path provides access to each of these elements.
As Stone learned more about Hill Country ecology and native plants, she discovered all the wonderful native trees, shrubs, and forbs missing from her property. This is a common phenomenon across the Hill Country that may be attributed to a variety of factors, including an overabundance of native white-tailed deer, as well as exotic species such as Axis deer and feral hogs.
"We have so many wonderful shrubs and understory trees that you just don't see in the wild anymore," she said. In fact, the Texas A&M Forest Service estimates that there are more than 140 species of trees and shrubs native to the Central Texas Hill Country. What we typically find, however, are a handful of plant species less palatable to browsers."
When asked her favorite tree species that she has planted on her property, Stone laughed. "You want me to pick my favorite child?"
Her list is long, including Escarpment Cherry, Big Toothed Maple, Redbud, Kidney Wood, Flameleaf Sumac, and Evergreen Sumac. "I've never met a sumac I didn't like."
Stone believes firmly that the idea of "the whole country growing the same few plants" is outdated. "Nothing says, 'I'm new to the Hill Country' like importing a bunch of plants from somewhere else."
Restoring the health, function, and beauty of the Hill Country will look different for each landowner. Goals and property conditions, for example, will vary. However, identifying and appropriately managing stressors — overabundance of deer, excessive grazing or mowing, and infestations of non-native plants — is usually a good, early step.
Stone has effectively managed non-native species such as Malta Star thistle, as well as protected her plantings from deer with fencing. Ultimately, she hopes to make her property into a park, where she can showcase the diversity of native grasses, shrubs, forbs, and trees to landowners seeking examples for designing their properties.
She hopes that her experience will underscore how anyone can incorporate design principles — balance, harmony, variety, repetition, and contrast — into their land stewardship. "Nature loves diversity and yet there's something in us that wants to standardize things. I try to resist that whenever possible."