Carefully chosen wines and beers, delicious dishes featuring local wild game, and thoughtful design…all without the snobbery—that's Grape Juice. It's a wine retail shop where customers can count on owner Patrick Wilt to hand-pick affordable wines for their palates, a bar featuring an ever-changing menu of wine and mostly local beers, and a restaurant serving up fan favorites that have been "Grape Juicified." Patrick and wife Keri want the food to be fun, so the menu is full of familiar fare, but with unexpected twists.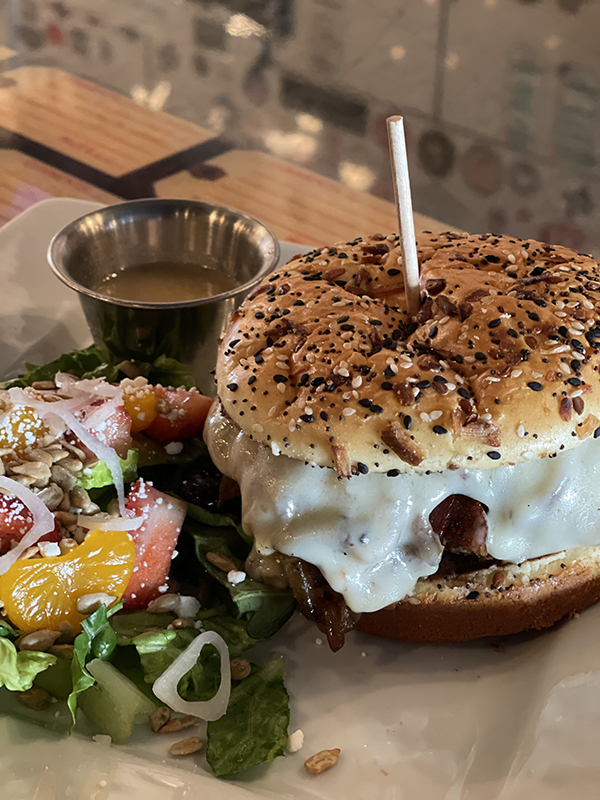 Patrick grew up around food and drink, working in the kitchen with his mom who was a food service officer in the United States Marine Corps. "My parents would have dinner parties just to get together and try a scotch or a port or the latest release of Messina Hof wines," said Wilt. "Wine brought everyone together, and I picked up on that early in life. To me, wine is a feeling affecting all the senses." He described the way wine and food excite the palate as "euphoric."
The Wilts now share that euphoria with Kerrville residents and visitors. Grape Juice first opened in Ingram as a retail wine shop. A year later, they introduced a small wine bar, and in 2009, they moved to downtown Kerrville. "Pat's the wine guy, and I'm the marketing girl," said Keri. "I also handle 'what you see inside.'" The year they opened, they won an award from Main Street for their exceptional design. Curtains hanging throughout allow them to create distinct, intimate spaces. All along the bar, there are handwritten wine tags inlaid under glass—tags Patrick created over the years to describe each bottle of wine for sale. "Our beer taps are drilled into an old meat locker from the first grocery store in town. The Freidrich fridge still runs on the original motor and keeps our beer the perfect temp! They made things to last back then."
Daric Easton, the beer and front of house manager, is on a mission to make people feel comfortable with beer, just like Wilt is with wine. "Craft beer can be intimidating, like this hoity-toity, mustache-curling experience, to some," explained Easton. His philosophy, though, is that good beer is whatever beer you like. "The Texas beer scene has gotten really cool and inclusive…it's not all IPAs." He stays on top of that scene, loves sharing the stories behind the beer and breweries, and enjoys listening to what people like and then introducing them to new local beers that will appeal. "If you like Dos Equis, I'd recommend this Mexican-style lager, Franconia [Mckinney, Texas], that has a lemon-lime twist to it." The beer and wine lists—living, breathing, ever-changing—are both a blend of familiar standards along with "odd balls" that introduce you to something new.
We try to play with at least 25% of our wine inventory. We're constantly showing you new things and letting you explore.
– Keri Wilt
Customers might enjoy a flight of wine or beer while they peruse the menu, that will always have some surprises: tacos…with quail; nachos…with antelope. There's an entire "Crack"eroni section on the menu, offering amped-up mac n' cheese dishes like "The Honey Badger" with antelope chili, green onions, and Fritos. Of course, the burgers are hugely popular, especially the juicy Boom Boom Burger. As if a brisket burger with bacon weren't enough, it's topped off with their Sweet Heat Schmear (cream cheese, jalepeños, caramelized onions). "We like to play with our food," laughed Keri.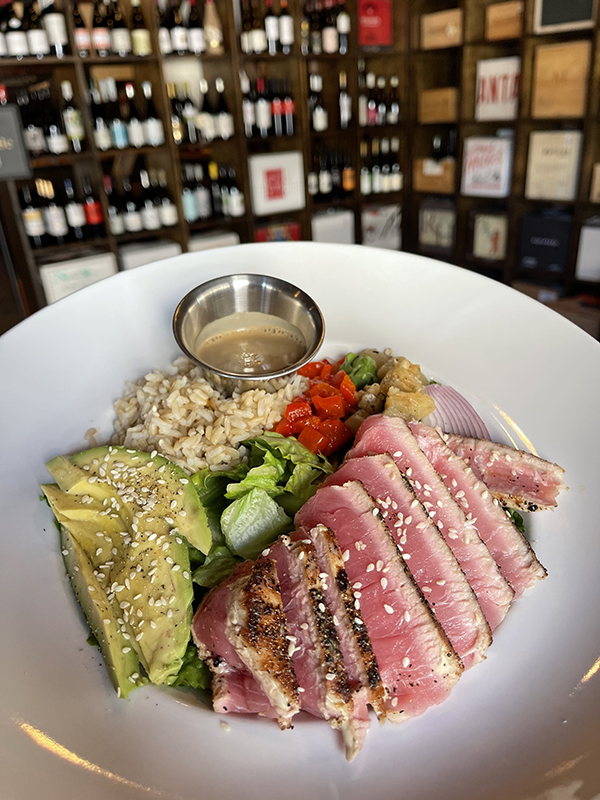 At their original location, they were across the street from Broken Arrow Ranch an artisanal purveyor of high quality, free-range meat from truly wild animals—in Ingram. They formed a relationship and continue to get most of the game from them, including nilgai—referred to as both antelope and venison—used in their chili, nachos, burgers, and burritos.
In lieu of the term "chef," Patrick refers to Hunter Treat's position as "chaos." He explained, "If you have ever been in that food throwing, fire burning, knife wielding environment on a Friday night, you know it is utter chaos, but if you watch the chaos long enough you will actually see that it's an orchestrated dance of five individuals all working together to achieve the goal." Treat is the successful choreographer and conductor of this orchestra, made up of their talented, hard-working team.
The heart of Grape Juice, as the name implies, remains the wine. Patrick loves all kinds of wine but is drawn to value and wines that pair well with wild game: Syrah, Grenache, Mourvèdre, blends from Spain, France, and Argentina. "The wines we focus on are based on the premise that these are the people I have come across in my career that keep me passionate about selling wine. I've been blessed to travel the world chasing grapes, meet a slew of awesome people, and taste some of the most remarkable wines. I've jumbled all that up and wrapped it into Grape Juice."
"We try to play with at least 25% of our wine inventory," added Keri. "We're constantly showing you new things and letting you explore." When visiting Grape Juice, it's immediately apparent how much the whole staff loves the community and enjoys building relationships around food and drink. When Patrick buys wine, for the shop or for the menu, he's thinking about specific customers and what they like. He even puts together boxes of wine for them based on their preferences.
Early on, a customer commented that Grape Juice felt like Kerrville's living room. "The atmosphere we have created is what I like to call five stars in flip flops," said Patrick. "Certainly, back in '09 when we opened, it was like walking into a bar in New York City. It was such a different place for Kerrville. Once the dust settled, it just became the place to be."