On a bright, sunny morning in early March, I strolled into Schreiner Goods in downtown Kerrville. This fall will mark the store's tenth anniversary, and after a decade of business, it remains one of the Hill Country's most beloved shopping destinations.
Over the years, Schreiner Goods has earned a reputation for its worldly edit of clothing and jewelry, all of which is thoughtfully curated in a spacious, historic showroom. Sunlight streamed through the street-front windows as I walked past sumptuous cashmere shawls by English designer, Sabina Savage, and mannequins draped in crystal-embellished caftans by the Australian womenswear brand, Camilla.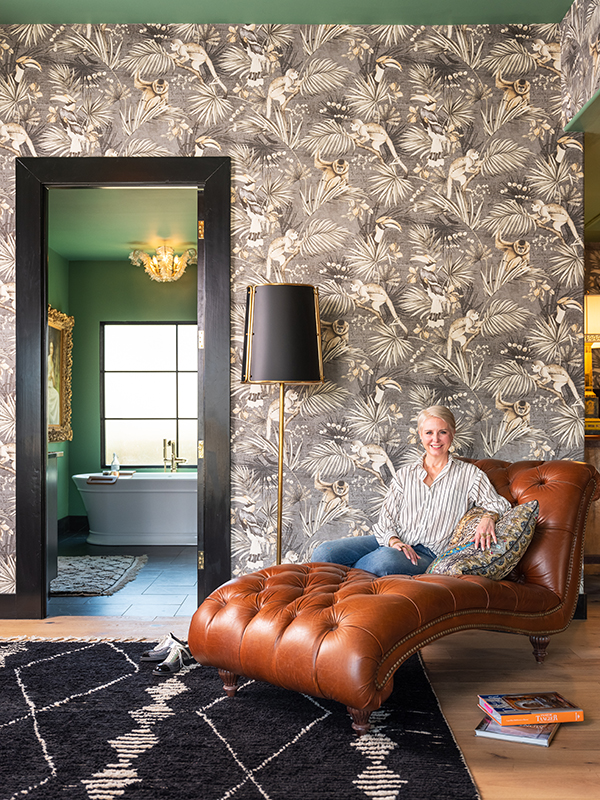 After quickly perusing, I took a seat on a black-and-white sofa layered with heather-hued sheepskins. Marveling the store's Art Deco interiors, it occurred to me that the only thing more stylish than the space itself was the creative visionary behind it.
The first time I met Schreiner Goods' owner, Keri Kropp, I was struck by her platinum pixie cut and bright blue eyes, which appeared even bluer beneath her teal-framed glasses. She wore jeans with white ankle boots, and a relaxed pink checkered blouse, with delicate strands of gold jewelry layered around her neck, wrists, and fingers.
"The thing that is really special about Schreiner Goods," she said is, "I have people come in from across the country and they always comment on how it is curated. I have the ability to do that because I don't have a whole lot of stores around me that carry the same brands." Furthermore, as a shop owner with many years of experience, her point of view is constantly changing. "When I opened the store I had young children and was forty-three," she said. "Now I have older children and am fifty-three, so it is evolving with me."
Long before opening the doors of Schreiner Goods, Keri grew up in Sonora, Texas. Following graduation from The University of Texas at Austin, she moved to New York City and juggled work in editorial styling, interior decorating, and handbag design. "I have always worked in design or retail in some way," she shared. After September 11th, Keri and her now-husband moved back home, settling in Kerrville to be closer to her parents.
It was during this time that she toured a newly-restored historic building on Earl Garrett Street downtown and decided to start her business. "The building was my inspiration," she said, recalling that the Art Deco façade and terrazzo floors, along with the open, industrial ambiance reminded her of New York, with its iconic buildings, like the Saks 5th Avenue flagship.
"When I opened the store, I wanted it to be like when I was little and my grandmother lived in Odessa," she explained. "We would go to Dunlap's Department Store at Easter to buy dresses … that was the 'fancy store.'" Over the past decade, Keri has created her own shopping experience in town, one that makes people feel good when they visit, much like the memories from her youth.
Three years after establishing Schreiner Goods, the building next door, located on the corner of Earl Garrett and Water Street, sat vacant. At the time, the burgeoning business owner was managing an influx of requests for interior design work and consultation. Seeing an opportunity, she expanded into the neighboring showroom, opening her retail store, Schreiner Goods Home (SG Home) in 2014, and her interior design studio, Keri Kropp Design, soon thereafter.
Today, the entrepreneur credits her late mother and a lifetime of travel for her deep-seeded appreciation for design and interiors. "My mother had a great eye and was a great picker," she said. "She and I would scour the world together and carry things back in her lap."
Travel continues to be a foremost passion for the multi-hyphenate business woman, and a steady source of inspiration in her personal life.
One of her favorite design mantras was overheard on a trip to Morocco, when a woman she met wisely whispered that, "Quality Always Matches." It is a philosophy Keri refers to regularly in her practice, as she mixes and matches materials and textures into a style uniquely her own. "When it comes to being a purist with anything, I can't," she shared. "There has to be a mix."
Today, the designer's wide-ranging projects boast a blend of influences, many of which are readily seen at SG Home. The sunlit space is curated with elegant home goods, like candles from French candle maker, Cire Trudon, along with one-of-a-kind vintage treasures and modern furniture and lighting.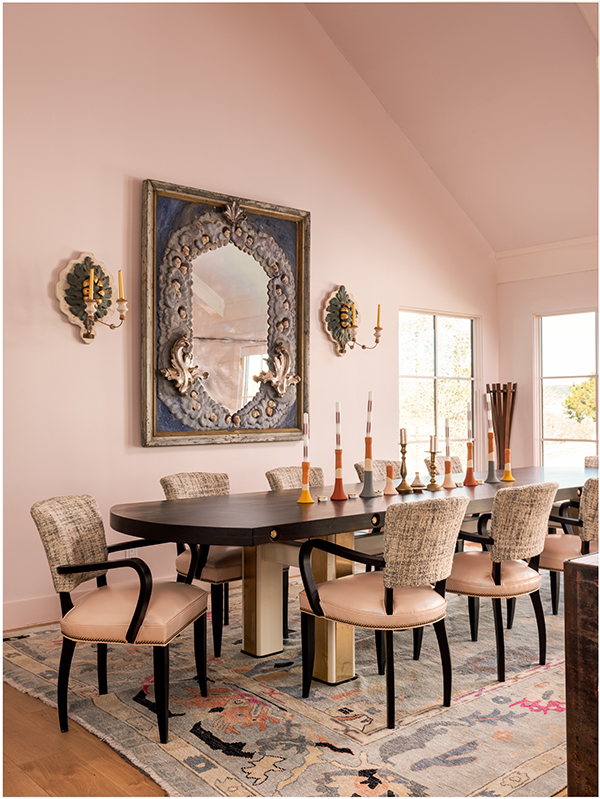 As I walked through the shop, it occurred to me that I could be anywhere – Dallas, Los Angeles, even New York City. Her curation is indicative of an upscale, urban shopping experience, which makes it all the more special to stumble upon in this quaint Hill Country community.
Also special is Keri's keen eye for vintage, her knack for local-sourcing, and her ability to tailor a project to the widespread wishes of her clientele. Regardless of the patron, be it commercial or residential, in-state or out-of-state, "Every project is personal," she shared. "My job is to curate (the client's) favorite things and make it come together and sing."
When she isn't helping others design their dream spaces, the mother of two is working on her own home in Kerrville. Keri, her husband, and their sons finally moved in last Thanksgiving after an extensive renovation.
Walking inside, I took in the pale pink living room with its eye-catching art by the likes of Elizabeth Chapin and Ashley Longshore. My senses eased when I entered her newly-painted kitchen, with its soft, shell pink walls laden with estate sale paintings and photographs by Denise Prince.
"I am a big cook," Keri told me as we stepped inside her enviable butler's pantry, where long drawers and deep cupboards conceal candles and glassware, crystal and china. "We have dinner for eleven probably five nights a week." The kitchen overlooks the family's open dining room, where a prized, 17th century French mirror adorned with angels hangs by a long table crafted by Keri's brother-in-law.
Beyond the dining room, the designer's two sons take up residence in a wing that is both colorful and masculine, with vibrant tilework in the bathrooms, and decorative motifs reflective of each of the boy's personalities.
At the opposite wing awaits the piece de resistance of Keri's Kerrville cocoon: the master-suite. For the bedroom, she chose a dramatic, show-stopping wallcovering by Arte International, with monkeys, birds, and tropical flora. The green-painted ceiling draws the eye upward to a gilded chandelier, while on the floor, a giant geometric rug from Morocco finds its place amidst the bronze and lavender bed lamps, and salvaged benches reupholstered in a crocodile-print leather.
"Tasteful is super easy," she told me as we walked through her personal sanctuary. "I like to take risks, whether it is opening four businesses in downtown Kerrville or painting my walls pink. I like bold choices … That is what takes something to the next level."