After thirty years of sitting empty, Kerrville's iconic Arcadia Theatre has reopened to the public. Local architecture firm, A3 Studio, along with JK Bernhard Construction, and countless volunteers across Kerrville have come together to reimagine this Water Street institution and Hill Country hot-spot for the modern age.
On a crisp morning in March, I met Executive Director Michael Kelliher for a tour outside the theatre. With arm outstretched, he pointed to a slab of concrete carved with flowers. This decorative relic was preserved from the original 1926 façade, though the rest of the frontage was recently reconstructed to reflect the Mission-Style architecture of the time.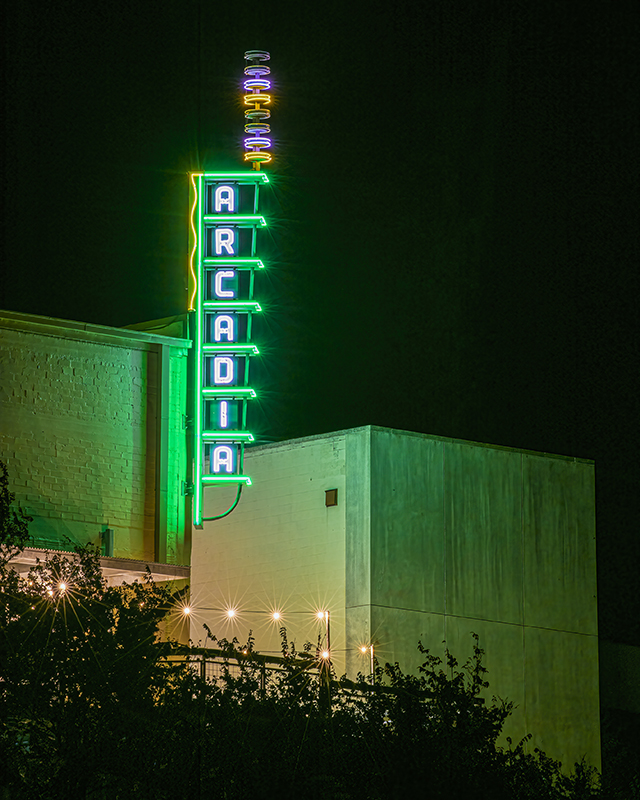 "We tried to keep as much as we could find," he said. Later, he showed me the theatre's red brick walls, which were recently exposed from beneath layers of plaster, and the longleaf pine ceilings that remain original to the building.
The renovation process began back in 2019 and reached completion last September. "To do this during COVID shows the tenacity of the board and how passionate they are about this project," said Kelliher adding, "Everyone brought their expertise – it was a very diverse group."
Grasping the extent of the theatre's rebirth requires an appreciation for its history. In 1926, the venue began as a vaudeville before silent films came along and changed it. "By and large it was mostly a movie theatre," Kelliher said. "It kept adapting as it grew."
Over the years, the Arcadia Theatre went through many iterations. In the 1980s, it was a full-time movie theatre. And this chapter of its history – along with its Art Deco past – sings in the newly-revamped lobby.
Inside, original pictures from its near century-long history flank the recessed display cases in the entry hallway. Overhead, illuminated ceiling pendants by Duane Simpson from Lone Star Ironworks in Center Point, Texas, are fashioned like oversized movie reels.
The primary objective for refurbishing the theatre was to make it a multi-use, ADA-accessible facility for wide-ranging events. In order to make it so, the space was redesigned with tiered seating and dancing areas that cater to flexibility, versatility, and easy movability. Many historic spaces were transformed and retrofitted, like the old "Cry Room." This once-sound-proofed space, where parents could take children outside the main auditorium while still watching their shows, now exists as a full-service bar.
Upstairs there is a secondary bar, a private VIP room, along with cozy booths and balcony viewing areas looking out to the stage below. Existing spaces on the second level have been reimagined as well, like the old film room, which is now a bathroom. Despite the shifting walls and functions therein, architectural elements like the film room windows remain as an homage to the landmark's distinct history, underscoring the team's commitment to both modernization and preservation.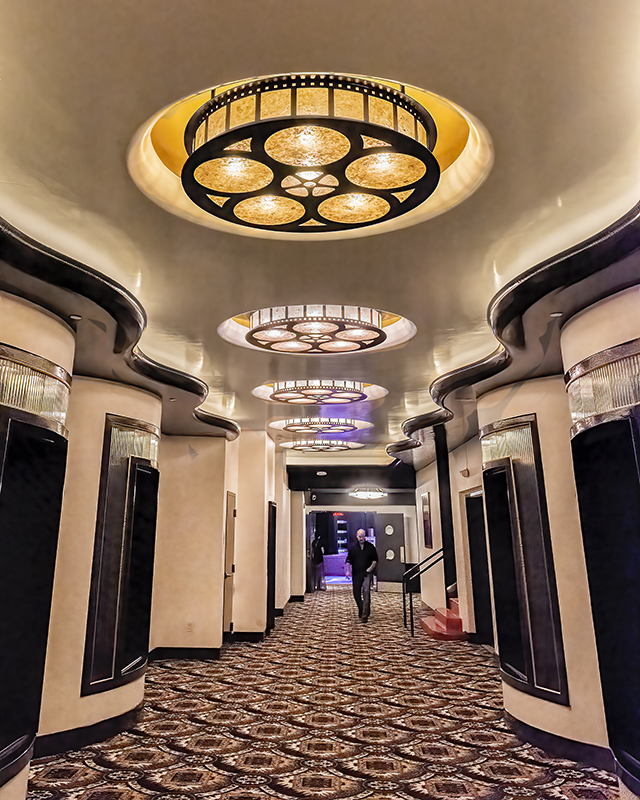 Since re-opening in October, the team at Arcadia Theatre has hosted events such as birthday parties and wedding receptions, country musicians like Charley Crockett, and there are more plans in store. This summer, the venue will feature a line-up of comedy shows, with talks of movie viewings coming later this year. From animated shorts to classic films, the movies will be played on a dramatic 24-foot screen.
"If you can think of it, we're going to try it," Kelliher said. "If people are interested, we're 100% behind it."
Kerrville has long been home to a rife musical heritage, between the Kerrville Folk Fest and performing arts venues like the Cailloux Theater. At Arcadia, Kelliher and his team are continuing that tradition with a new 32-foot stage and a focus on live entertainment. "We wanted to make sure we were filling another niche," he said. The building is equipped with a state-of-the-art sound and lighting system that ensures all who come have a memorable experience.
Beneath the stage, I submerged myself into what was once the orchestra pit, a vestige from the theatre's vaudeville days, and entered the new green room. Here in this cozy den, with its sprawling sectional and mini-fridge, artists can relax before and after their shows. Scribbled on the walls, I made out the signatures of musicians like Jack Ingram, John Baumann, and Scott Sean White, all of whom left a piece of themselves behind.
Unbeknownst to many, the Arcadia Theatre might be the best-kept secret in Kerrville for its gorgeous views of the Guadalupe River. As part of its reconstruction, an expansive rear deck was built with glass garage doors that roll up, giving future guests an unparalleled indoor-outdoor experience. Remnants of the theatre's Art Deco heritage – like the original neon blade from the 1940s – are evident from this picturesque perch overlooking the town's stately cypress trees, its sparkling river, and the nearby Louise Hays Park.
As the theatre approaches its second century, the venue's 501(c)3 nonprofit, Arcadia Live, is working hard to reclaim its reputation as a cultural cornerstone in the Kerrville community. For Kelliher, the support from locals has already been deeply felt.
"So many people have come," he said. "The community has been so involved and supportive."