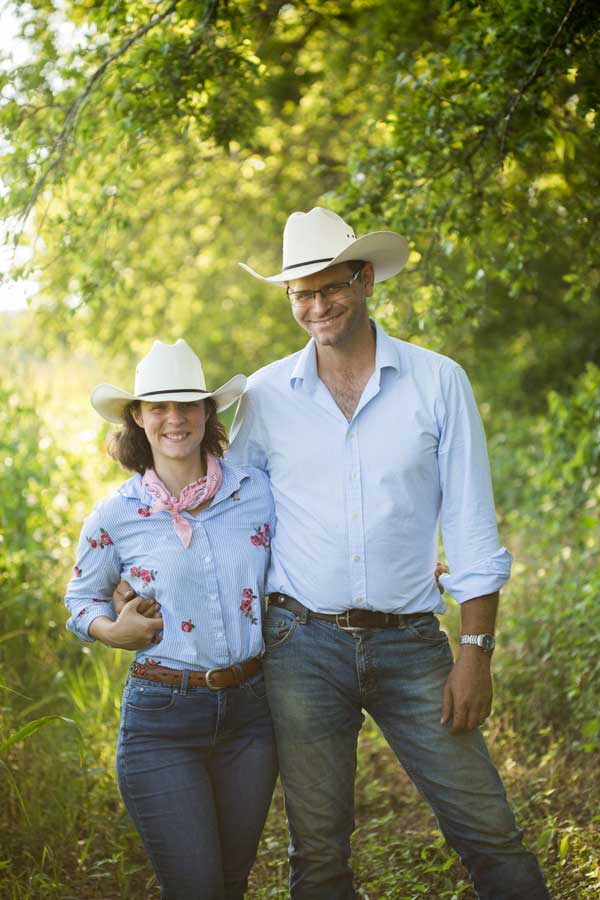 On a recent Thursday evening, I swung by the Fredericksburg home of Bradley Ottmers and Katherine Tanner, owners of Hat & Heart Farm in Stonewall, to pick up a dozen eggs. They don't usually sell eggs from their porch, but it's an exception they happily made, not only because – full disclosure – I'm an (former) employee and (current) friend, but also because it's who they are. I've seen them make similar accommodations, and even weirder ones, for other customers. 
If you know Bradley and Katherine, it's likely in the context of a farmers' market (they attend the Kerrville market on Fridays and the Pedernales Market on Sundays) or maybe from the Fredericksburg Farm Club Pickup. On these occasions, the two usually don happy florals and clean button ups – the stage set for Katherine's outgoing personality and Bradley's quiet wit to greet the community.
But on the day I scooped up my eggs, Bradley and Katherine were pure farmer. Exhausted, melted into wicker chairs and wearing denim thick with the day's work – mud, sweat, and who knows, maybe some tears. Vegetable farming is laborious, and after a spring delayed by snow and rain, they're in the throes of planting, harvesting, hiring, and delivering.
The couple, who met at a farmers market in 2018, have been the owner/operators of Hat & Heart Farm for just over 2 years. Bradley is a sixth-generation Stonewall farmer, and though Hat & Heart has its roots in the Ottmers family operation, the farm's current success is all his and Katherine's own. Since the couple officially took the business over from Bradley's parents, Katherine tells me the farm has seen a 110% increase in gross sales each year. As someone who has witnessed that evolution up close, I can emphatically confirm that their impressive business growth is directly proportional to the energy and hours they've poured into their fields, distribution program, employee training, post-harvest handling efficiency, tractor maintenance, crop planning and all the other parts that go into running a diversified, chemical-free vegetable and egg operation.
A big pivot
Perhaps the biggest development for Hat & Heart over the past two is the genesis of its Farm Club – an online shop where local-loving consumers can buy vegetables and herbs directly from the farm. This buying club was born in March of 2019 when the pandemic momentarily flipped our nation's food system on its head. Hat & Heart's previous sales outlets – Austin and San Antonio farmers' markets and restaurants – were suddenly not an option. Hundreds of pounds of vegetables waited in the fields, and as comments rolled in to one single Facebook post, it became apparent that Fredericksburg wanted the goods.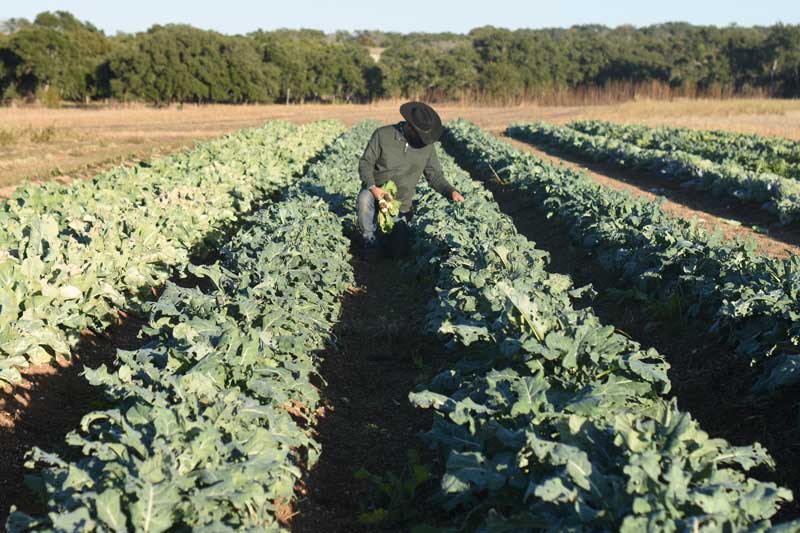 Katherine put her business savvy to the test, and within a couple days, she very quickly pivoted the farm's entire sales model to reach local consumers directly.
"We're thrilled that we're still doing [the Farm Club]," Katherine reflects, "I don't know if I'm surprised or not. I maybe haven't even had the time to process it in those ways. But we feel closer to our actual hometown – a lot closer to the people who, you know, cook with and enjoy the stuff that we labor to grow. We know these people and we get to share our story with them as things happen."
In addition to selling boxes of their farm's seasonal produce and pasture-raised eggs, the Farm Club distributes other local products like Mother Culture yogurt, Joju Bakery bread, and Zanzenberg Farm pork, just to name a few favorites from their ever-expanding larder.
Increase thy flock
Growth has happened in other areas of the farm, as well. Over the past two years, Hat and Heart has increased its lively flock of laying hens from about 500 to over 1,300 birds. The birds shelter each night mobile chicken houses dubbed things like "Cluckingham Palace" and "Yolkswagon," names the Hat and Heart employees happily deliberated on for days. "We move them on pasture to fresh ground about once a week – sometimes as fast as three days," Katherine explains, "They're on pasture 100% of time, so they eat grass and bugs and all the yummy things that chickens are supposed to eat. We supplementary feed them with a non-GMO, non-soy feed that we get from Hügelland Feed in Llano." There are meat goats on the property, too, and the whole barnyard is regularly rotated through healthy pasture, just adjacent to the farm's (around) 5 acres of vegetables, herbs, and a large greenhouse.
On and off the farm, Hat & Heart values creating a closed-loop system that minimizes waste and connects them with like-minded community partners. Coffee grounds from Johnson City Coffee and vegetable scraps from Frish Juicerie in Fredericksburg are welcome additions to their composting program. Last season, Bradley and Katherine experimented using grape castings from several nearby wineries as a sort of mulch on a production field – a successful pairing which they hope to repeat seasonally. Used fry oil from their restaurant partners is given another life to heat their greenhouse in the cold months, and whatever produce doesn't get sold fresh is quickly turned into pickles, of which they have a whole line. Even empty feed sacks are saved and either upcycled into new upholstery for the four-wheeler seat, or made into sandbags and used to weigh down tarps (which are actually recycled billboards), there to solarize fields battling perennial weed pressure. It's these efforts towards sustainability that make Bradley and Katherine not only great farmers, but great business people and citizens, too.
Hitchin' post
Katherine and Bradley are engaged to be married, but their wedding keeps taking a back seat to all-things-farm. In addition to being compatible partners, the two are a perfect foil for each other in the professional sense – a benefit not only to the health of their farm business, but to our local food system, as well. The more food they grow, the more food is funneled onto Hill Country tables and restaurant menus, alike.
Like Hill Country development itself, Hat & Heart is anything but a stagnant operation, and Katherine tells me about her future ambitions for the farm. "My goal is to build a diverse ecosystem with rich soil that supports healthy wildlife… I want to harvest rainwater. To utilize solar… We want to build an orchard that's incredibly diverse…. We want to host workshops and have yoga in the fields. And have plein air art workshops… I want to not only reach out, but invite people in."
---
For more info, follow Hat & Heart's Instagram page or sign up for their newsletter where they announce things like pop-up events and forthcoming volunteer days.
Hill Country Partners:
Hill & Vine, Fredericksburg
Other Mother vinegar, Fredericksburg
Prometheus, Fredericksburg
Frisch Juicerie, Fredericksburg
Bakery JoJu, Fredericksburg
Emma and Ollie, Fredericksburg
Hye Market, Hye
Bryan's on 290, Johnson City
Leaning Pear, Wimberley
Pint and Plow, Kerrville
The Kitchen at Southold, Stonewall
Ab Astris, Stonewall
Rosehill Manor, Stonewall
Feast and Merriment, Albert
T Bo's Mercantile, Mason