Real, honest-to-goodness barbecue, afficionados will say, is meat cooked in some way by natural wood coals. In the Czech Belt of Central Texas, most of the barbecue is smoked. In the Hill Country and West Texas, the wood can be cooked down to coals in a firebox, and then transferred to a pit. The meat is cooked on the pit directly over the coals without a flame. Anything else, as they say, is just grillin'.
Whether the meat is smoked or cooked over coals, the process is both science and art. A good pitmaster has to have a feel for his craft. When asked the best temperature for cooking meat, Terry Wootan, owner of Cooper's Barbecue in Llano, says "You hold your hand over the grill, and after three seconds, you'd better move it. That's a perfect temperature."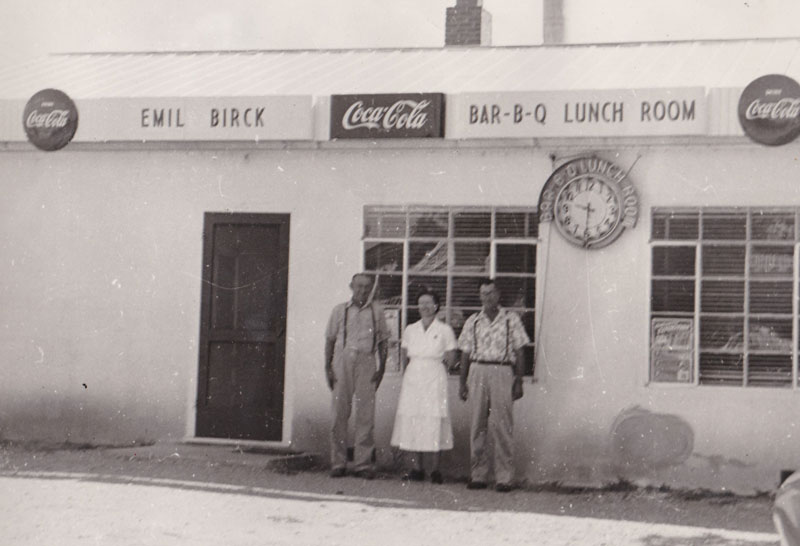 HISTORY
Barbecue is both noun and verb, and in either form it invites passionate and long-winded debate. Brisket, sausage, ribs, or chicken? Mesquite or oak? Slow-cooked or hot and fast? With or without sauce?
And there are as many ways to season barbecue as there are people who cook it. The ingredients in sauces and rubs are secrets as closely guarded as the launch code at the Pentagon.
Even the word barbecue is mysterious. It may have blown in on a hurricane from the Caribbean where "barbacoa" wasn't just the name of the meat cooked over an outdoor pit, but the method used to cook it. One theory says that Mexican vaqueros brought the word to Texas, where cowboys tongue-twisted barbacoa into barbecue.
When it comes to barbecue, it's hard to find two people who agree on anything. Some can't even agree on a way to spell it – using a c or a q, or just the initials BBQ.
What we do know is that sometime in the late 20th century, barbecue moved uptown.
No one knows who sliced the first delectable burnt end off a quivering hunk of charred brisket, but barbecue in the Texas Hill Country likely evolved just as it did in many of other places across the southern United States. What seems fairly certain is that Hill Country barbecue owes its beginnings in part to a long tradition of pit-style cooking, and early 20th century meat markets.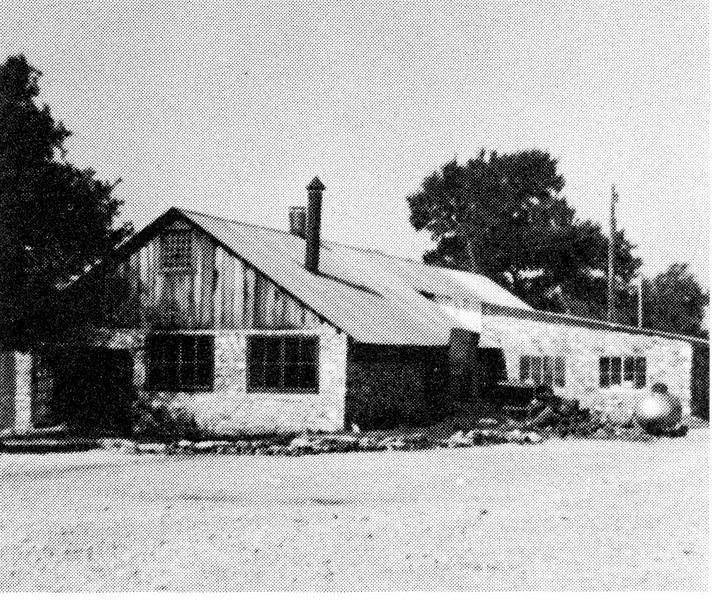 HILL COUNTRY 'CUE
Cooking meat outdoors on a pit has been going on in the Hill Country since long before anyone can remember.
"My dad learned to cook barbecue as a youngster," says Milton Birck, son of Hill Country barbecue pioneer Emil Birck. "His family made barbecue at home. I'm not sure when they started, but they'd been doing it for a long time. They burned the wood down to coals in a hole in the ground. Then they cooked the meat on wire mesh above the coals."
In Fredericksburg, early 20th century meat markets picked up on the idea and began cooking their leftover meat in pits and selling it to the public. Crenwelge's Meat Market, Henke's Meat Market and Fredericksburg Lockers, all made barbecue.
"Francis Heep at Fredericksburg Lockers (today Opa's Smoked Meats) made barbecue every Wednesday and Saturday," Milton Birck recalls. "Francis and Ben Henke made it out of the meat they couldn't sell. People stood in line to get it."
In 1938, Emil Birck began cooking barbecue on an outdoor pit at his Conoco station at the curve on the Austin Highway in Fredericksburg. Four years later he bought the Gulf Station at the corner of East Main and Elk Street. He continued to make barbecue at his new location.
"He had a barbecue pit under a tree next to the gas station," Milton Birck says. "Arthur Dietz did a lot of the cooking. There were six picnic tables next to the pit. People could eat there or take it home."
Emil Birck's pit barbecue earned a following. Business grew. People stopped at the gas station for barbecue and even bought a little gasoline.
In 1950 Emil Birck built a small lunchroom next to the gas station. He expanded in 1954 and 1956.
INTERNATIONAL EYE
Barbecue really got a boost when Lyndon Johnson gave it the presidential seal of approval. On December 29, 1963, President Johnson threw a Texas-style barbecue for German Chancellor Ludwig Erhard at the gym in Stonewall. Pitmaster Walter Jetton of Fort Worth did the cooking. That event introduced barbecue to the world.
Then on August 29, 1964, Emil Birck supervised the cooking of 7,000 lbs. of beef for LBJs birthday bash at the Stonewall Rodeo Arena. Suddenly barbecue was in the national spotlight. People who dismissed barbecue as junk food were starting to pay attention.
Two years later, Emil Birck built his restaurant on Main Street in Fredericksburg. Birck's Barbecue, the red barn with the windmill out front, wasn't a joint with a few mismatched tables and rickety chairs. It was a comfortable, modern restaurant, with air-conditioning, that seated 150 in the main dining room and 125 more upstairs in the banquet hall.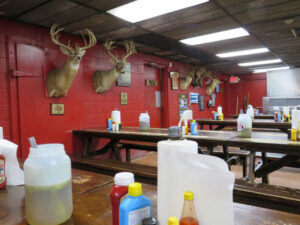 "We served beef, chicken, sausage and ribs," Milton Birck explains. "Clinton Klaerner at Crenwelge's Meat Market made the sausage.
"We also served mutton. We bought five sheep every week from a guy in Comfort and had them butchered at Crenwelge's."
REGIONAL FAVES
Over in Llano, Tommy Cooper started Cooper's Barbecue back in 1962. At first business was slow enough to bankrupt Rockefeller, but persistence paid off. Today, Cooper's Barbecue, now owned by the Wootan family, is a barbecue empire with six locations and a mail order business.
Meanwhile the Salt Lick in Driftwood, the mega-church of Hill Country barbecue joints, began cooking meat on an open pit in 1967. Today the enormous restaurant seats 800. It feeds 2,000 on an average Saturday. On special occasions, like University of Texas graduation, it's hard to find a parking place within hiking distance.
STAR POWER
In recent years, the popularity of barbecue has exploded. On weekends hungry carnivores stand in line all morning for a plate of brisket at some of the trendier barbecue establishments. Food Channel superstar Aaron Franklin sold barbecue out of a truck in East Austin before smoking his way to the top of the food chain.
And barbecue is big business all over the country. Yelp lists at least 40 barbecue joints – in Manhattan.
By the 21st century, a funny thing happened. Barbecue, once dismissed as hick food, became fashionable. After decades of hiding in the shadows this once humble outdoor dish slipped into the house through the back door, but even then it took a while for it to be invited into the formal dining room.