Years ago, in a Sunday School class in Wichita, Kansas, Jon Flaming (actually pronounced Fleming) was baptized into the world of art. He was just five years old when he saw one of his peers drawing jet airplanes and felt his inner artist take off.
"I thought that was so cool he could draw," he shared. "Something clicked creatively … Ever since I have been trying to draw a better jet airplane."
Growing up, Flaming spent much of his childhood at his grandparents' 2,000-acre cattle ranch in southeast Kansas. "Some of my earliest memories are of being on the farm around cattle and crops, farmers and ranchers," he said. "I have a really soft spot in my heart, a real fondness for small towns and blue-collar workers."
Flaming's family moved to Irving when he was still a child, and though he never took art classes growing up, a spirit of creativity was fostered by his parents, both of whom were musicians. Flaming's father was the music director at their church and his mother taught piano to young students during the week. "They are very creative and a lot of the creative spark came from them," he explained.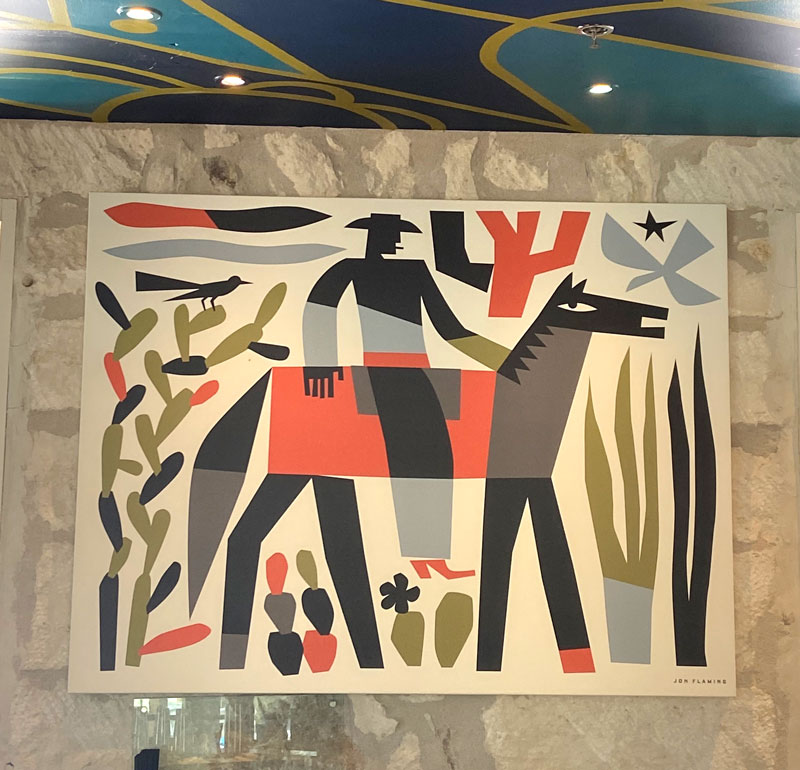 Today, the artist says music is still an integral part of his creative routine. A well-loved Spotify playlist reveals an eclectic interest in music, from classical and old school country to Indian pop, all of which fuels him while working. "It is a real mixed bag of music and that is on purpose," he shared.
Before Flaming was painting full time, he ran a successful design and illustration studio in Dallas. That vocation ignited after a high school career day. "I remember one of the options on this list of things a person could be when they grow up was a graphic designer," he said. "I thought, that sounds like something I might enjoy."
He went on to study advertising and design at Southwest Texas State University (Texas State) in San Marcos and took a job with Sullivan Perkins in Dallas after graduation.
In 1993, he opened his own studio, going on to create branding for companies like Sony and FedEx, Neiman Marcus and American Airlines for the next twenty-five years.
Throughout this time, Flaming and his wife were raising their family, putting their three kids through private school, and keeping up with the rigors of daily life, though he never lost his desire to create. "Creating in some form or another has been there for many, many years," he said.
Heeding to the whispers, he began harnessing the evening hours to pursue his early artistic ambitions. "I would spend time with family around the dinner table and then about 9 or 10 p.m., once the house was quiet and I'd tucked the last kid in bed, read books and said prayers, I had a choice to make," he shared. "I said, nobody else is going to do this."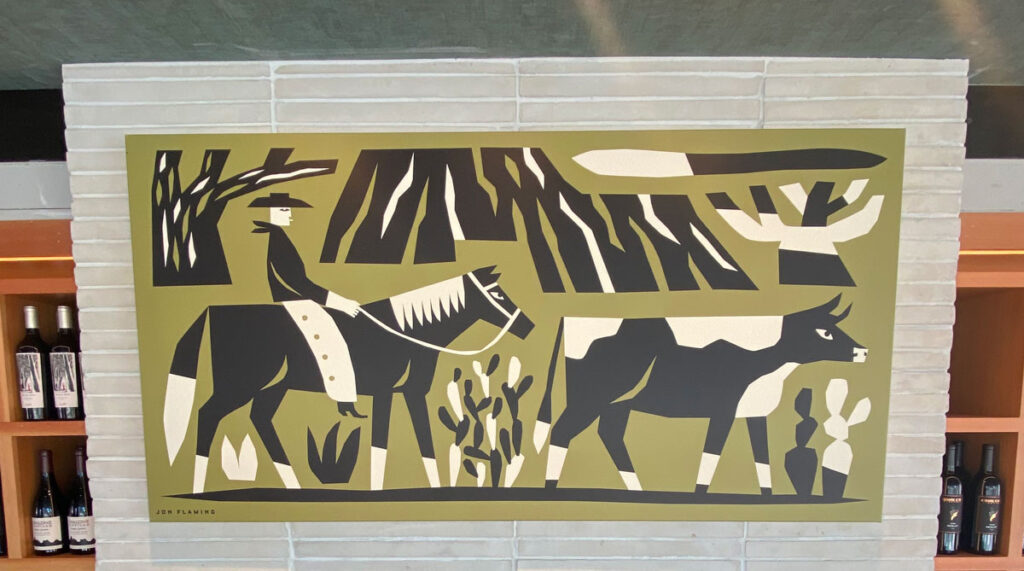 Walking into his garage, he'd turn on the lights, play some music, and begin to paint, sculpt, and nurture the creative spark that flickered within him. From the hours of 10 p.m. to 1 or 2 in the morning, he started working his second job, building equity in his fine art brand, knowing that one day he might get to do it full time.
With Flaming's dogged dedication came gallery representation and increasing interest in his work. By 2017, when his kids had grown up and left home, he decided to leave the branding world behind and pursue his art whole-heartedly. "I had a running head start for sure but that was very intentional and purposeful," he shared. "There is risk involved with all that and it is certainly scary but those were things I knew I wanted to do."
Today, those risks are paying off for the artist, whose original, one-of-a-kind canvases are resonating with collectors both new and old. In his most recent "Modern Cowboy" series, Flaming is pushing boundaries, reimagining the genre of western art in an entirely new way.
"I love the western artists like Remington, Russell, and Dixon … they are geniuses and their art is beautiful but that horse has already been ridden," he said. "I wanted to get a fresh horse and make a new trail."
Through his angular, modern studies of western subjects, remnants of Flaming's graphic design past shine through. "My style has certainly evolved over the years. It has been a very evolutionary process and things keep getting simpler," he said. While his earlier work leans more toward realism, his latest material distills subjects down into simplified representations. Flaming draws inspiration from modernist masters like graphic designers Paul Rand and Saul Bass, two of his self-proclaimed design heroes. Their bold, graphic, and minimalistic approach to design echoes in Flaming's fine art, albeit with a very distinctive end result.
"Creativity is subtraction for me," he said noting that "At some point it may evolve into something that is abstract."
Today, the artist describes his look as an amalgamation of styles: primitive, contemporary, folk, and outsider, to name a few. "I love so many different genres of music and it is the same thing with art," he said. "There are so many genres that have spoken to me that I love and you'll see a lot of those mixed in to what I'm doing. My brain is constantly visualizing and thinking about art and composition and the next painting so it never really gets turned off. There is always something creatively happening inside. Even if I see a scrap piece of cardboard, I pick it up and do something with it."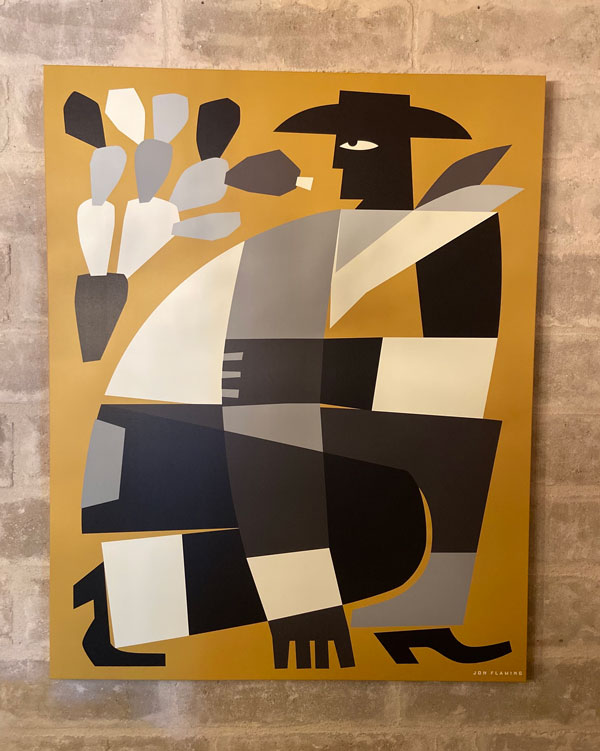 These days, Flaming is busy painting, juggling his growing business, and dabbling in different mediums, like photography and sculpture. He always keeps a sketch pad close, ready for inspiration to strike. "The creative process never really stops – even when I'm sleeping, I'll wake up at night with an idea. I don't have normal working hours at all," he said.
That commitment to the craft is the mark of a true artist as is his voracious appetite to keep learning and growing. "I am a big fan of continuing education so I'm constantly reading about different artists and how they worked, their thought process…" he shared. One such artist is Picasso.
"His work was very realistic and as he progressed and evolved it became simplified," he shared. Parallels can be drawn in Flaming's own artistic journey and creative process.
"I always start with an idea. It is in the head first and then with pencil and paper I start to sketch. Once I have a sketch, I like I scan that into my computer and pull it up in Illustrator and start doing color studies and then those color studies evolve and get simplified and moved around. I truly think Matisse, Cezanne, Picasso would have taken advantage of the computer if they had it," he said. Through the technology, he is able to experiment with multiple color studies before the painting begins.
Color is a cornerstone of Flaming's popular "Modern Cowboy" series. His pointed, almost cubist graphics are emboldened with brushstrokes of ochre and orange, sage and sky blue. Simply looking at his paintings prickles all the senses of cowboy culture, from the smell of dust and cigarette smoke to the sounds of a fiddle and a rattling snake.
Much like the Western figures he has come to paint, Flaming himself embodies the heroism of the West, boldly taking the genre into new and unchartered territory.