Inside Herb's Hat Shop in San Antonio, a plume of steam billows high over a central workstation. Through the fog, a bearded craftsman shapes a straw hat, softening the crown with his bare fingers.
Visiting this nostalgic store, located at 4922 Rigsby Avenue, feels akin to going back in time. From the front door, a cowbell announces the arrival of weather-worn ranchers and cowboys, many of whom have been coming here for decades.
The shop was founded in the early 1980s by a gentleman named Herb Carroll. In 2015, four years after his passing in 2011, Kay Maynard of Big Springs purchased the business alongside her husband, Bryan. Today, they run the company from their San Antonio flagship and a new, second location in Blanco.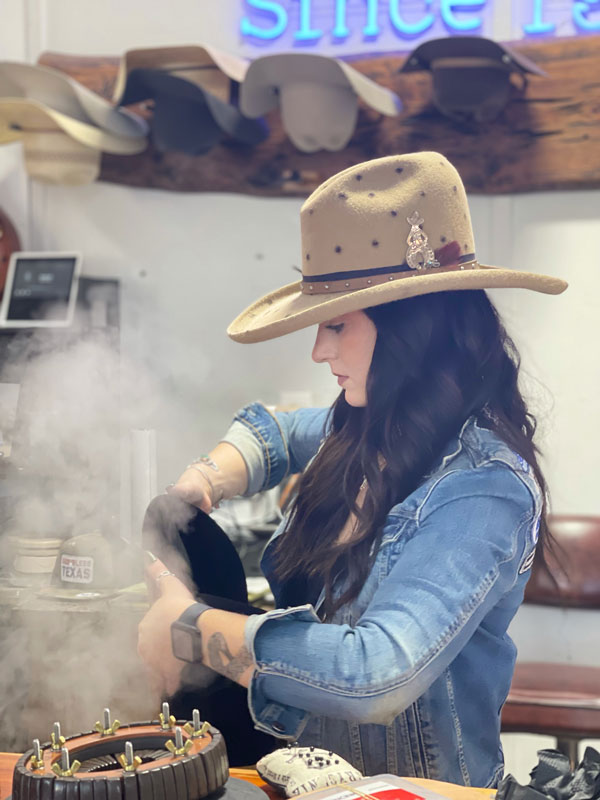 On the morning of my visit, I strolled through the old, wood-paneled showroom, passing boxes baring brand names like Stetson, Resistol, and Rodeo King.
"Hats are like white pants," she told me as we mazed through the inventory. "Labor Day to Easter is felt season, Easter to Labor Day is straw season."
Today, Herb's specializes in hand shaping and sizing, along with spot cleaning, re-blocking, restoring and repairing the finest cowboy hats in the business. On any given day, the team of master hatters could be washing a loved one's beloved hat, re-sizing a special heirloom, or hand-stitching a sweat band made of soft, sturdy lamb's skin. "We have the best hatters in the state," said Kay. Ongoing education is an important priority for her team, and they are constantly training at revered landmarks, like Greeley Hat Works in Colorado.
Shaping is done on a case-by-case basis and modified to each customer's unique facial features. "The hat is so much of your personality," she said, pointing out a selection of elegant pins, feathers, and trims available for purchase. In one corner of the shop, a collection of velvet and vintage ribbon lies coiled up like snakes. "Pretty much anything you can envision we can create."
Today, the ubiquitous cowboy hat is an icon of the West, an unmistakable emblem of American culture and identity. The shape alone, with its bent brim and creased crown inspires daydreams. Throughout history, humans have worn headwear to protect themselves from the elements. Mongolian riders from the 13th century donned tall-crowned, wide-brimmed hats to keep their heads insulated and their necks shielded from the sun. In Mexico, vaqueros wore sombreros for the same reasons while herding cattle.
John B. Stetson of Philadelphia is credited for designing the first cowboy hat in 1865. The story goes that Stetson, the son of a hat-maker, set out west in search of healing and adventure after being diagnosed with tuberculosis.
On a particular expedition to Pikes Peak, the young hatter used techniques he had learned back home to turn animal skins into tents for he and his companions' protection. By felting the skins, the tents provided a barrier against the sun, wind, and rain. What eventually followed was a hat design using the same techniques. Unlike the coonskin caps of yore, Stetson's felted "Boss of the Plains" variation was both durable and dependable, and the use of beaver felt made them waterproof, unlike the straw hats of the time.
Over the years, the design became known for its multipurpose utility, creating protection from the elements, while doubling as a fan on a hot day and even a bowl for drinking water.
Today, Stetson remains a household name made famous for its unparalleled quality and comfort, fit and style. Over the years, celebrities of all stripes have embraced the brand, from Western heroes like John Wayne to country singers such as Garth Brooks and Trisha Yearwood.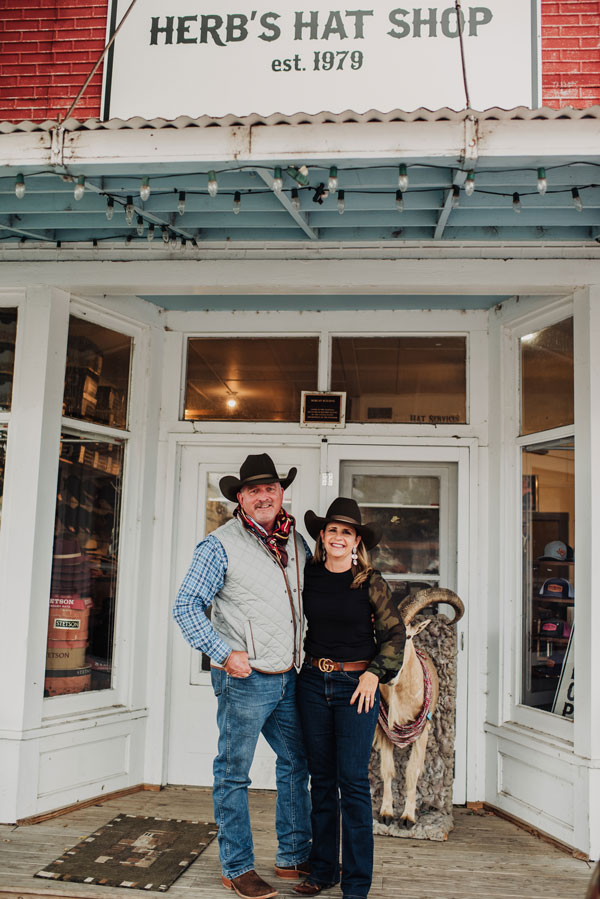 The making of these iconic headpieces is a meticulous, multi-step process that begins with mixing, blending, and felting fine fur from small animals like beavers, rabbits, and wild hare. When the felting is completed, the hat is died, soaked, stretched, sanded, steamed, blocked and shaped before being finished off with leather sweat bands, liners, and decorative accents.
While Stetson's age-old artisan craftsmanship undoubtedly adds to its allure, a well-loved hat regardless of the brand is an heirloom through and through; every stain and smudge shows the wear and tear of its life.
Like any art form, making, shaping, and personalizing a cowboy hat requires specific skills. In many ways, the craft is a language unto its own with a vocabulary made up of creases and crowns, styles and names like the Cattleman, the Gus, and the Pinched Front, to name a few.
For many, these hats remain purely functional in nature, a necessary tool for work and daily life. For others, however, finding the perfect topper is a declaration of style. No matter which way you lean, there are a plethora of places across the state ready to help you find the one.
Aristotle once said that "the hand is the tool of tools" and the team at Catalena Hatters in Bryan knows this all too well. In their workshop, each hat is made by hand with the utmost quality and attention to detail. Most of the equipment they employ, like plating, blocking and pouncing machines, is antique and has been used by professional hatters for more than one-hundred years.
Gruene Hat Co is another Texas favorite, located next to the state's oldest dance hall. At just under 250 square feet in size, this pocket-sized treasure, deemed "The Best Little Hat House in Texas" offers a nice variety of fully customizable open crown hats made of felt, straw, hemp and palm leaf.
Recently, I visited The Briscoe Western Art Museum in downtown San Antonio. As I paced the soft, sunlit galleries upstairs, I stopped at a 1991 painting by Bruce Greene titled, "With No Roof but a Resistol." In it, two cowboys donning weathered Resistol hats stare off into a dark and stormy sky. As I took in the brushstrokes and the scene that they formed, I realized that much like this painting, the cowboy hat has come to symbolize something larger, like the Old West, with its cactus and cattle, ranches and pump-jacks, wide open spaces and long country roads. Its values of conquest and courage. Substance and strength. True grit and raw adventure. The gratification of a hard day's work and the feeling that in the end, anything is possible – with a cowboy hat in hand.