Jay and Heather Mallinckrodt are heating up the Hill Country at the Fredericksburg Cast Iron Co. A few years before launching their new venture in 2021, the couple moved to Fredericksburg to take over Heartland Enterprises, a full-service production CNC machine shop that makes large-diameter parts for everything from jet engines to fracking equipment.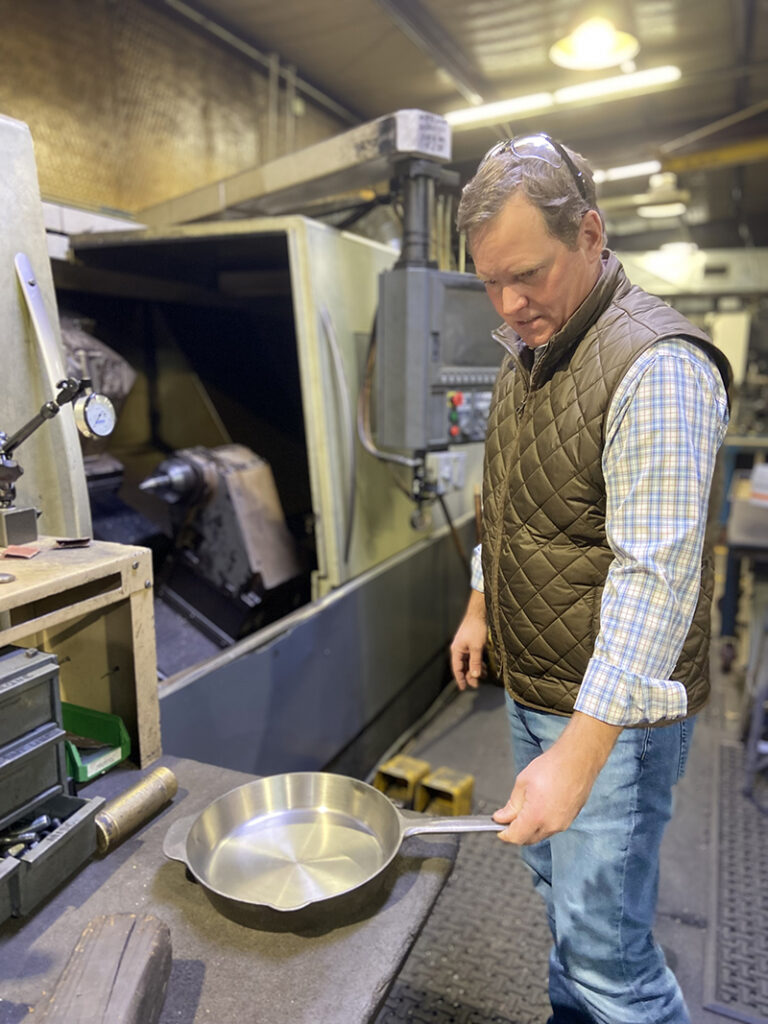 At the start of the pandemic, the entrepreneurial couple began thinking about ways they could leverage their Texas-German heritage, diversify their product offering, and use their experience and expertise in the machining industry to create something new.
As parents to three kids, both Heather and Jay admittedly spend a lot of time in the kitchen preparing meals for their growing family. "We have been in search of the right pan for a long time, and we had this idea," said Heather. "It was somewhat pandemic-driven because our core businesses were a little bit slow, and we were cooking a lot."
After studying the competition, the couple felt confident in their abilities to make a simplified, easy-to-use cast iron skillet for families that would stand the test of time. Unlike the coarse, sandpapery skillets that pervade the iron market, the prototype at Fredericksburg Cast Iron Co. was designed with a machine-polished interior surface, thereby creating an extremely smooth, non-stick experience. Ergonomics also came into play with the addition of an oversized handle, a generous helper handle, and an easy-to-use pour spout.
Aside from the casting, which is done in Corsicana, every skillet from Fredericksburg Cast Iron Co. is made from start to finish in the Mallinckrodt's facilities on Kerr Road and Tivydale. There, it undergoes a 10-step, hand-crafted production process, and every one is seasoned by hand so customers can start cooking as soon as they get home.
"It is a completely different experience," said Jay, who has found that both the handmade construction and the heirloom quality of their product has attracted more and more customers both in and out of the state. Last year, the brand sold roughly 400 skillets online with 25% of sales taking place outside of Texas. Recently, they announced their first retail partner with Fredericksburg's Blackchalk Home and Laundry on South Lincoln Street.
"Obviously we love this community – we are trying to celebrate it," he said. "What is really fun is having a quality product with Texas and Fredericksburg branding. There isn't another cast iron product made in Texas."
Since their first sale in the summer of 2021, the couple has released just one product: The classic No. 10 skillet, a 10-inch cast iron pan weighing around six pounds and retailing at $160. Furthermore, the website is home to a handful of accessories, like leather trivets and handle sleeves that complement the investment. Currently, they are working on a Comal-sized skillet called the No. 14, and a slightly smaller version, the No. 12.
Until then, Heather admits the No. 10 is a mainstay in their family kitchen. "We cook every day in it," she said adding, "One of our favorite things to do on a Saturday morning is a frittata, it is like a fridge clean-out." On their website, the couple shares their special family recipes, from lemon pies and peach cobblers to Texas sheet cake and Cornish hen. Much like these dishes, the cast iron they make them in is meant to be shared and passed down to loved ones for generations.
"I really wanted to keep it simple," said Jay. "If you take care of this it will last forever."