When Amy Beicker and her family moved to Greenville, South Carolina, a neighbor gave her a book called "Mice on Main" and encouraged her to take the kids for a scavenger hunt. She remembers standing in front of a building when a man said, "You lookin' for Millie?" She nodded, and he said, "Look up."
Looking for the mice was a fun introduction to their new town. So when the Beickers moved to Fredericksburg, she saw potential for a historical scavenger hunt.
"I thought, 'Wow, this is a really charming Main Street, but there's not a lot for kids to do.' Then I fell in love with the history of the town. Our story's so good: friendship and respect and trust and hard work. I hope history stays on Main Street and kids stay on Main Street. And I had an idea for how to make it happen," she said. "Not realizing the work it would take."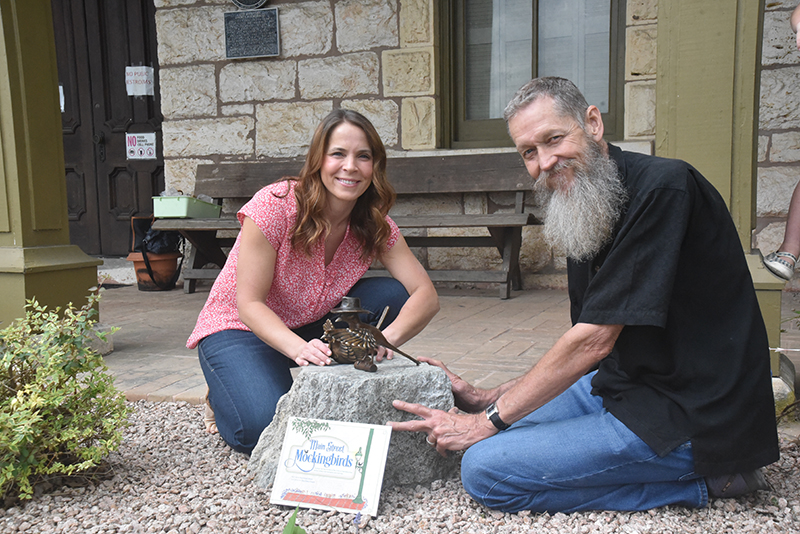 The resulting picture book, "Main Street Mockingbirds," tells the history of Fredericksburg through nine charming birds.
"I didn't want the names to be too Indian or too German," Beicker said. "Scout, for the peace treaty. Marriette — I always knew she was Marriette, someone who sings."
And then there's shifty-eyed Ace, the gambler, at the former White Elephant Saloon.
Sculptor John Bennett brought the mockingbirds to life — off the page and into hiding places at Main Street's iconic buildings.
"We formed a nonprofit, Gillespie County Children's Foundation. Our goal is to get kids interested in history on Main Street, then to provide a multigenerational learning experience," Beicker said. "A little girl ran up to me at the farmers market and said, 'I found Fiddle!' and then ran off."
The original idea was to do a Hansel and Gretel theme, with wildflower seeds as the clues, but that idea had artistic limitations.
"When it came to sculptures, that would mean flowers, and we'd be limited in where we could put them because they would have to be on the ground. Also an inanimate object is not as relatable to kids," Beicker said. "Then we settled on the state bird of Texas. I like to say we started with the bluebonnet and ended with the mockingbird."
The book is a collaborative effort, not only between author and artists, but also with the community. Fredericksburg City Council gave a grant to the project as part of the city's 175th celebration. Historical information was provided by the Pioneer Museum.
"There was so much I had to leave out. When I take people on the walking tour I get to fill in some of those details," Beicker said. "We talk about how a building got robbed. It was a shoot-out, and they took $200!"
The illustrator, Diana Godwin Schwede, is Beicker's mom. The first bird Schwede drew was Buck, for the bank.
"More than anything I wanted it colorful because my grandkids respond to colorful things," Schwede said.
She found a way to incorporate the bluebonnet in her drawings of the parent birds, Willow and Silver Wing.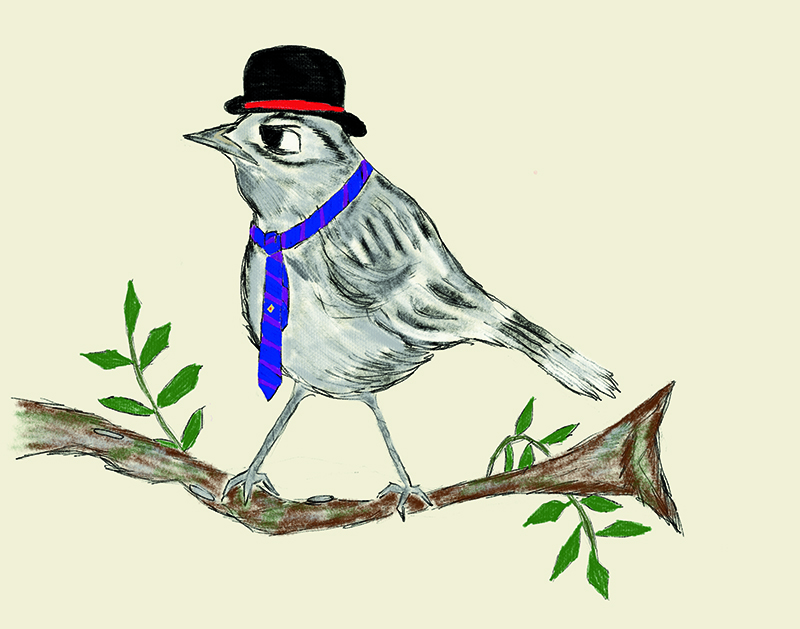 "I wanted to show how the parents transitioned. She goes from a willow on her head to a bonnet (of course it's a blue bonnet), and he goes from a bear claw necklace to an old hat. And he grew a moustache, like an old German farmer," Schwede said.
Why a bear claw? Because bears once roamed the Texas Hill Country. That's one of the historical details not mentioned in the story but found in the illustrations.
Ranger, at the Admiral Nimitz Gallery, ties together Nimitz family history.
"Amy [Beicker] named him Ranger because his grandfather had been a Texas Ranger, but I wanted a nod to Admiral Nimitz, so that's why I put the admiral hat on him. In the book, my Ranger's more stoic-looking, but John Bennett pulled that wing out as if he's barking out commands," Schwede said. "I love the extra movement he brought to my little birds."
As a physician's assistant and dietician, a self-described "math and science person," Beicker was new to the study of history and art.
"It gave me insight into this artistic world that I hadn't been a part of — the care and intent that goes into creating," she said. "John [Bennett], he's got a toothpick working on a hole in a beak. Every detail on those birds! I'm thinking, 'No one's gonna see that!'"
"Well, I do," Bennett said. "We don't know, down the road, they may be in a museum and seen up close. That's why you need toothpicks for tools."
John Bennett was designated Texas State Artist in 2010. He used Schwede's drawings to first build with clay, then send the results to the foundry, where molds were made of the nine mockingbirds, which were cast and bronzed.
"My part was easy because I could reference the pictures that were already done. The costumes, the characters — each one has a persona of their own," Bennett said. "Like the nurse bird, Albertina, with the hat and cape and the thermometer."
When he mounted Albertina at Der Küchen Laden, the old Keidel Hospital, he was connecting personal history to building history. Dr. Wilhelm Keidel's wife, Albertina, who died in childbirth, is now represented with a nurse mockingbird.
"It's all first-hand accounts from every location, not just out of a book," Bennett said. "People got emotional, sharing the history. People are connected to these buildings."
The first time he got to see young people react to these small works of art was when he and Beicker presented the sculptures to pre-kindergarteners and kindergarteners.
"They were enamored with the birds. They wanted to know, 'Can we go see them now?' No, they're right here," he said. "They were rarin' to go!"
In addition to sculpting the birds, Bennett had to install them, which was a feat of creativity.
"I had to climb on a roof at the White Elephant. I was hanging out over the edge," he said. "You can't get a book from Walmart on how to install mockingbirds."
Beicker's only regret is that she limited the book to Main Street. Venturing one block away would have opened up other possibilities.
"The old jail — I wish we could've had a jail bird," she said.
"Main Street Mockingbirds" is available at the Pioneer Museum, the National Museum of the Pacific War, and Gallery 330, which represents John Bennett. His signed copies include this inscription: "Matthew 6:26, Look at the birds…"
Visit mainstreetmockingbirds.com for a full list of retailers.