San Saba Soap Company in downtown Fredericksburg perks the senses with crystal geodes that sparkle near sunlit windows, bowls of bundled sage, and glass bottles filled with liquid gold.
Marcus and Leanne Holley are the creative couple behind San Saba Soap Company, Texas' premier pecan oil fragrance, bath, and skincare brand. Growing up near San Saba, the duo possessed an early appreciation for the city known as "The Pecan Capital of the World." "My husband and I are pecan lovers, and we have access to the best quality pecans in the world," says Leanne. "Being fifth- and sixth-generation Texans, that alone was enough to investigate their potential."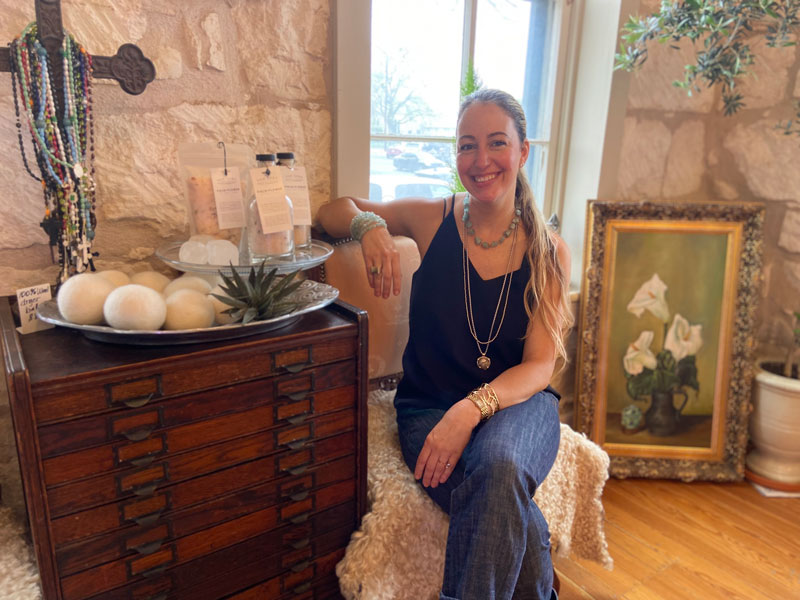 What they ultimately found through that investigative process was illuminating and inspiring. "Pecans are exquisite," Leanne said. "The oil is very fine and non-comedogenic which means it doesn't leave anything behind to clog your pores." Furthermore, she adds, it has a stable and long-lasting shelf life, is rich in fatty acids, and contains the highest antioxidants of all tree nuts, resulting in an oil that leaves the skin soft but never greasy.
In 2015, the Holley's started their business with the dream of introducing the world's first pecan oil bath, skincare, and fragrance brand. They opened their first retail location in the original post office in downtown San Saba, later moving their operations to Fredericksburg in 2020, after the onslaught of the pandemic. Just one block off Main Street and the central Marktplatz, they purchased the Van der Stucken-Wilke house, a historic 1891 home nicknamed the "Grande Dame" of Fredericksburg for its double balconies, exterior staircase, and gingerbread trimmings that look like fine lace.
Today, the couple sells everything from bar soaps, sugar scrubs, and bath salts to specialty items like pecan face cream, rose milk toner, and pecan cooking oils, which provide the same great benefits when taken internally.
Regardless of the product, the Holleys are committed to slow, small batch, made-in-Texas luxury, where everything is created fresh and free of any preservatives, sulphates, parabens, phthalates, and dyes. "Our intention behind every product is to encourage your body's natural oil production, not be a substitute for it," she explains. "So many products inhibit your natural oils, so your body becomes dependent on that product which isn't healthy or efficient."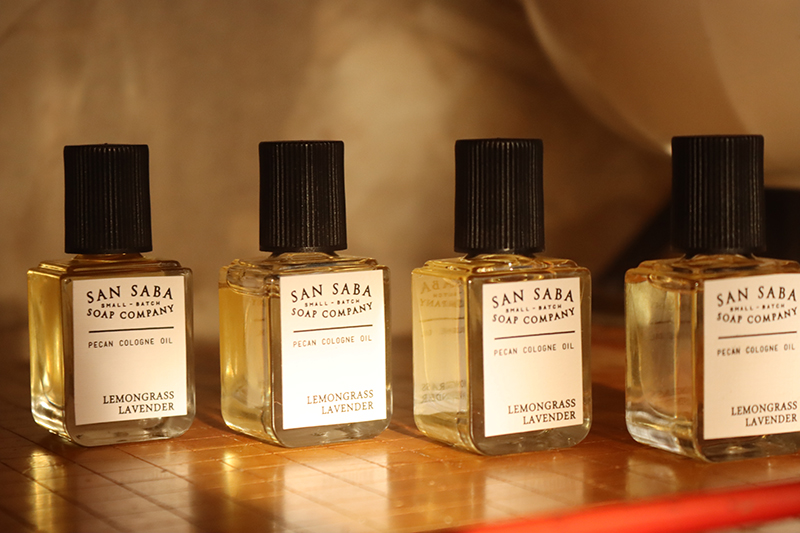 In addition to their bath and skincare selection, the couple also crafts uniquely scented colognes, perfumes, and body oils using a blend of fragrant botanicals and cold-pressed pecan oils. Achieving a balance of woody notes, exotic citrus, fruits, and fine florals requires an old-world sensibility that comes natural to Marcus, who was previously a commercial wine maker before starting his family business. His acute nose and refined talent have proven fruitful in the launch of their newest venture, San Saba Alchemic, a premier private parfumier of colognes and perfumes using sought-after oils such as Noir de Chavannes, Damiana Cypress, and Tartarian Lily, to name a few.
Due to its explosive popularity, the couple is devoting much of their attention today on growing the San Saba Alchemic line and creating custom bespoke fragrances for private clientele, boutique hotels, and award-winning resorts, including The Commodore Perry Estate, Auberge Resorts Collection in Austin and La Cantera Resort & Spa in San Antonio, not to mention celebrity designers such as Ken Fulk in San Francisco. "The entire process of crafting high end fragrance is very rewarding because scent memories can last a lifetime," Leanne said. "Every detail of the project is crucial."
Looking back, many of the Holley's most personal scent memories were formed in Brazil. Marcus, who is half-Brazilian, and Leanne spent the early days of their relationship there on his family's estate, walking amongst the verdant gardens. Little did they know then that their time there together, immersed in the beauty of the botanical world, with its trees, florals, fruits, and cacti, would influence their professional lives years later.
Back in the showroom at 102 W. Austin St., visitors flock inside every Friday, Saturday, and Sunday when the doors open to the public. Every weekend, patrons come to scoop up the newest batch of fresh-made goods, like the brand's best-selling Tobacco Bloom soap, with its kaolin rose clay and calendula oil that reduces inflammation and improves elasticity.
"We wanted to create a small sanctuary where our customers could have a little respite," Leanne affirms of the space. Mixed among the products are books on world religions along with rosaries and paintings, a subtle homage to the company's namesake, the Cappadocian Greek monk and priest, Saint Sabas. Inside, the ambiance is eclectic and calming, with a spiritual aspect that puts visitors at ease. "Almost everything in the space is a piece from our collection or a family heirloom," she says.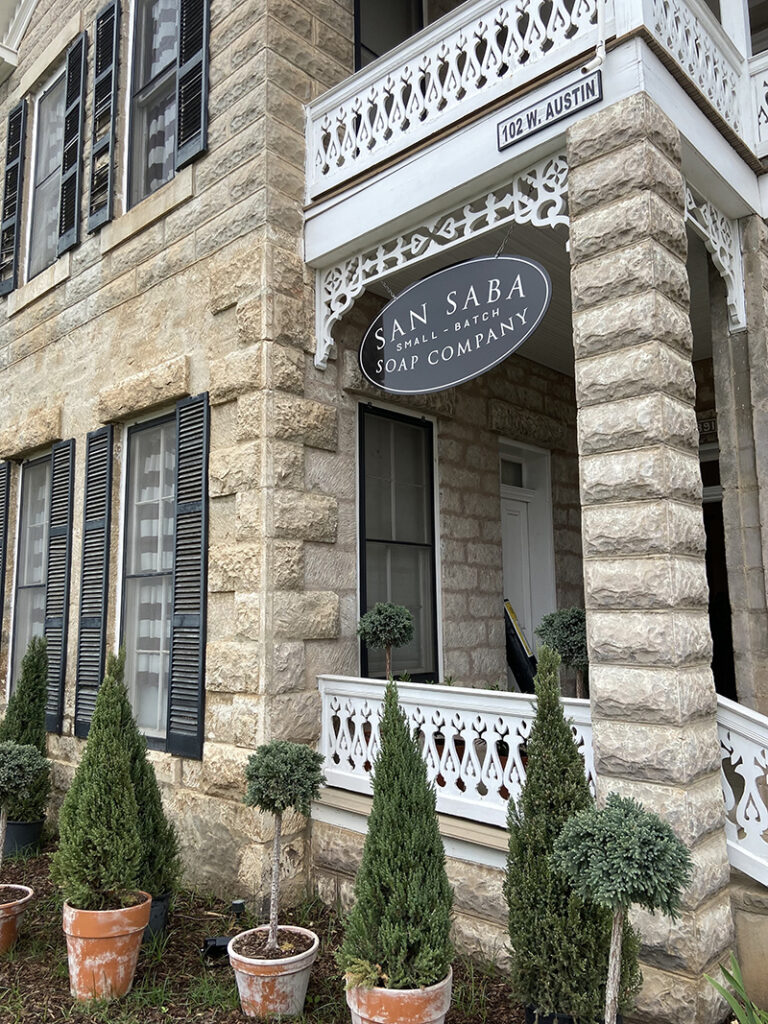 Whether they are running their fast-growing business or raising their five children, the Holleys remain humbled by the life they are leading and the community that has embraced them here in their new Hill Country home. "Texas is a friendly state, but Fredericksburg is indescribably special," shares Leanne. "Living and working in the 'Grande Dame' is a daily reminder that working hard, staying grateful, and prioritizing your family first truly makes every day a gift."
Visit San Saba Soap Company at 102 W. Austin St., Fredericksburg, Texas 78624 on Fridays and Saturdays from 10:30 to 5:30, Sunday from 11 to 3, or shop online
at sansabasoap.com.