Picture any map showing Texas and Mexico: Texas is north, Mexico is south, and the Rio Grande is the clear border. But that's not how it looked 10,000 years ago. Back then it wasn't Anglos in the north and Indigenous people in the south. It was all one land, made of many peoples, who ate similar foods based on the plants and animals around them. That cuisine was — and still is — Texas Mexican.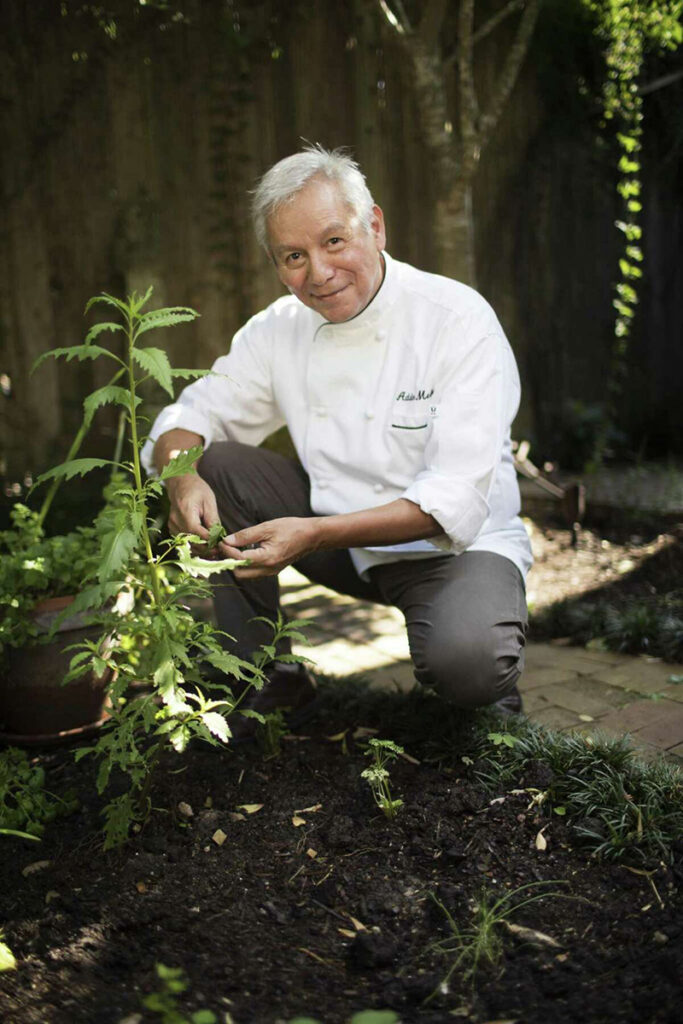 Which is not at all the same as Tex-Mex.
Originally Tex-Mex referred to the Texas and Mexican Railway, connecting Corpus Christi to Laredo, with links to Mexico City. The term was applied to food in the early 1900s by white restaurant owners and, later, by white food writers. They noticed the popularity of the dishes sold on San Antonio's plazas by the Chili Queens, then forced them out and created their own Anglicized versions.
Texas Mexican food is Indigenous food.
"Texas Mexican is our state's first food. The two main differences are the history of the food and the second is the flavor profile," said Adán Medrano, a Culinary Institute of America-trained chef, a filmmaker and the author of two cookbooks about Texas Mexican food (with a third one on the way, featuring plant-based recipes).
Texas Mexican cuisine is sourced from the land and includes things like mushrooms, onions, pecans, and nopalitos, along with plants that have fallen into disuse, like the tuber of wild sunflower, known as the Jerusalem artichoke. It includes regional game and fish. It also includes cooking utensils still found in many a Mexican-American kitchen, like a molcajete mortar used for making guacamole or chili paste.
The term Medrano prefers for this food is comida casera, home cooking. It's locally sourced, handed down through generations. It's not fast food.
"Tex-Mex is fried, high fat, lots of sour cream, lots of cheese," he said. "Carne guisada, which is basically a stovetop stew, in Tex-Mex it's ladled with yellow cheese. If my mother ever saw that, she would throw a shoe at you. We don't eat that way."
Another difference between Texas Mexican and Tex-Mex is in the approach to chili peppers. Tex-Mex emphasizes the heat of the pepper — the hotter the better. Texas Mexican emphasizes the peppers' color and flavor.
In the cooking classes he teaches around the world, Medrano says he sometimes tells his students, "If you ever have a restaurant, and your vendor approaches you, describing the chiles by the Scofield number, you know you don't have a good vendor. A good vendor will describe chiles in terms of color, aroma, flavor."
Take enchiladas, a staple in both Tex-Mex and Texas Mexican cooking. Here's how Medrano approaches his recipe:
"One understands the verb inherent in enchilada — it's the past participle of enchilar, to infuse with chile. I take the tortilla, dip it into the chile sauce I made, let the chile sauce infuse into the tortilla until it becomes flavorful and soft. I use chile ancho for the earthy, deep flavor and chile guajillo to give it a red tinge," he said. "It's not a wraparound, not a Greek moussaka, not lasagna. It's a tortilla suffused with a beautifully made chile sauce."
In his film "Truly Texas Mexican," Medrano visits kitchens and comida casera restaurants throughout the southern part of the state that have kept alive the old ways. The film has won best documentary and people's choice awards at regional and international festivals. He says good cooking and good filmmaking both embody experience.
"If you're an engineer type, you just follow the directions, you're not going to make a beautiful dish," he said. "When you cook, you need to be constantly tasting. Your body is involved. You see the texture of the sauce, you make adjustments. That needs to be in film."
One of those embodied moments in "Truly Texas Mexican" comes when Medrano visits his niece, Christine Ortega, who hosts a traditional cabeza de pozo pit barbeque. She said she'd hosted one for several years in order to "reclaim knowledge and part of our history" of a dish that had been mostly forgotten.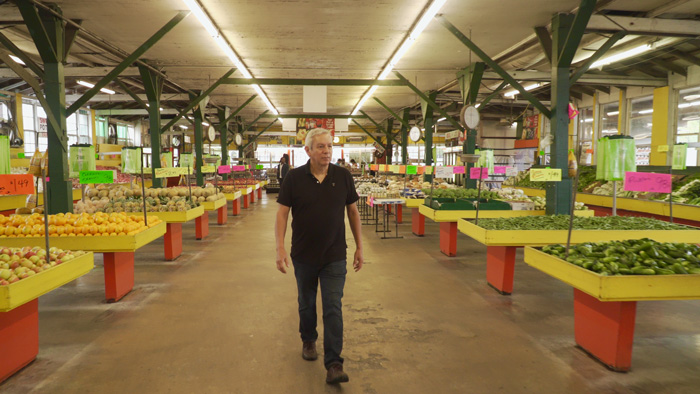 "I asked my family members if they knew how to cook it. I'd ask my brothers, my uncles, get a little advice. Ask my aunts, get a little more advice," Ortega said.
She says the process is about more than cooking and eating. It's about family.
"It taught me conviviality. I cannot do this alone. It requires a lot of help," she said. "I need someone to help me dig the hole, someone to find the rocks, prepare the rocks, heat them at least eight hours before we put them in the pit, people to prepare the beef head before we put it in the ground."
These ancient cooking techniques are often part of oral history and, therefore, not written down. When people pass away, the knowledge may pass away too.
In addition, Ortega says some older people who remember their Indigenous heritage do not share them with their children. Although her own grandmother, Medrano's mother, told Ortega about their family history as Chichimeca people, Medrano only found out through DNA testing.
"I said to him, 'It's interesting that you're finding this out through science, when your mother has already told us [grandchildren] that,'" Ortega said. "She had never told him."
Ortega prefers to call herself a Tejana because the term incorporates all the aspects of her identity: Indigenous, Texan, Mexican, American. She acknowledges that not everyone who could use the label does so, often because they don't know their full history.
"How many people know about it? Probably not a lot. But how many people feel it, maybe on a spiritual level? A lot," she said. "Being a Tejana describes me better than any other terms that have been created for our people. It has a sense of indigeneity."
As a business and social impact advisor, Ortega serves as vice president of the Texas Indigenous Food Project, which studies the development of the foods of Texas Indians. She hopes to help people connect with their Indigenous identity.
"When a culture is erased, one of the few things that survives is food," she said. "That's the beauty of the dynamic of food. It's about reconnecting with who you are and who you want to be. Reconnecting grounds us a bit to keep moving forward,"
Reconnecting is what her uncle Medrano's first cookbook is all about. "Truly Texas Mexican: A Native Culinary History in Recipes," is about the history of the food and first peoples of Texas.
"Every dish I remember eating in my childhood is there. I had to cook it and take it to my brothers and sisters and ask, 'Is this the flavor you remember?'" Medrano said. "When it hits your palette, you know you're home."
His second cookbook, "Don't Count the Tortillas: The Art of Texas Mexican Cooking," is about how the cuisine evolves while remaining authentic to its Native American roots.
"I make a chile con queso souffle! It's a regular souffle, but more contemporary," Medrano said. "Food narrates our history every time we cook."
Because when we cook, we tell stories.
"The cook will conjure memories and people in a dish. There's emotion in the memory," he said. "We don't think of food that way."
But we do know it. When we make, say, our mother's pralines for the holidays, the same ones her mother made and maybe her mother before her, we not only remember these women, but we also bring them into our kitchen. And the generations gathered around the table, eating those pralines, remember too.
Medrano says a lot of Texas Mexican-Americans are unfamiliar with their Indigenous heritage, but when they learn the truth, they write him letters.
"They say, 'My eyes have been opened. I always knew this but didn't know how to say it,'" he said.
Medrano hopes to open more eyes May 19-20, in Houston, when he participates in Encuentro, a gathering of scholars and Texas Mexican food chefs, some of whom are James Beard semifinalists. The City of Houston will co-host the event. Medrano's goal is to bring together truly great chefs who feel isolated.
"I travel a lot and have come to know many comida casera restaurants. They feel like they're the only ones who love this food and want to share it," he said. "My friends say the reason I did the film was a scam — to eat this great food. It's the same with the conference!"
Texas history has often been taught with a narrow focus, redrawing the map to honor the pioneers who came to this land while ignoring the tribes who were here already. But they are still with us. Every time we eat an enchilada or spoon an extra helping of salsa onto our plate, we conjure those who came before us.
Although Medrano acknowledges the colonization and discrimination inherent in Texas history, he doesn't bring up the past in order to disparage people, but to describe and celebrate delicious food.
"The goal of all of this is ultimately to build a table where all are welcome," he said. "That's the whole point."