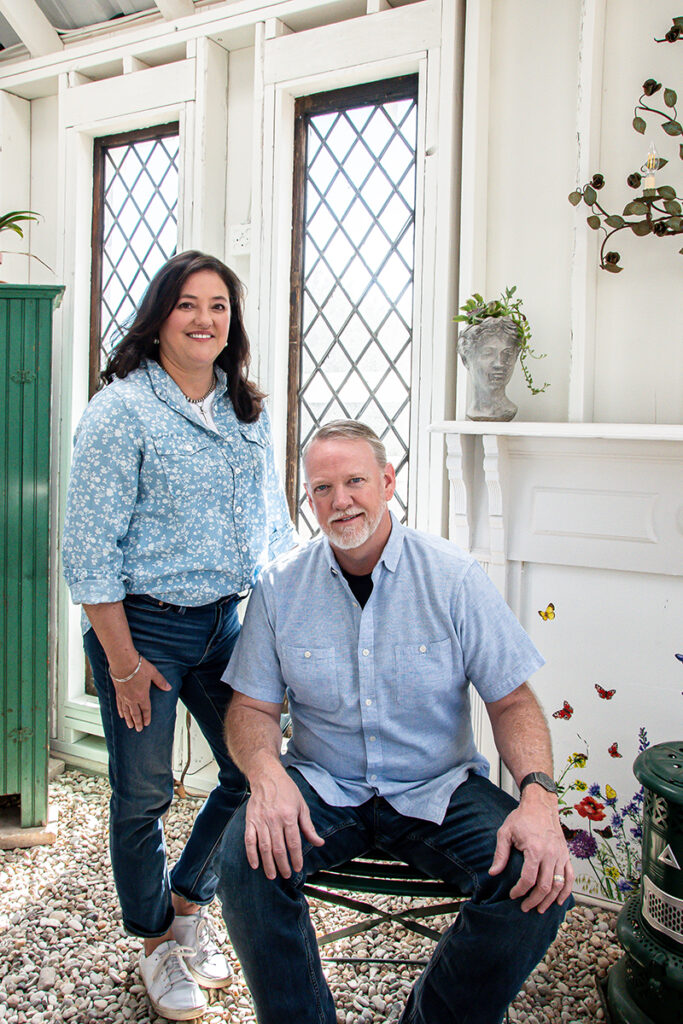 A poem written by John and Cindy Hathaway's son, Connor, when he was in eighth grade, provided the name for their property outside Johnson City: "Sun Chaser Ranch." And the sun theme is incorporated throughout the three buildings — a piece of ironwork here, a painting there. On the Hathaways' 38 acres they can watch the sunlight move through the trees, over the windmill and wooden cistern, and around the custom-built farmhouse and barn the Hathaways call home. A new home that looks like it's been here for ages.
"We had this place done to still look old. We wanted to design something with new bones but add old things in it," John Hathaway said. "We have people come out and look at this and say, 'Did you build this or was it already here?' We want this to feel like it's always been here."
The Hathaways started with one building — Sun Chaser Farmhouse — as their weekend retreat, but during the pandemic they moved to the Hill Country full time. Soon they needed more space, especially when their son brought home college friends for a visit, so they added Starlight Barn. Later came the Garden Shed (aka Cindy's Pickin's), a spot for food, wine, sunsets, and soon, Cindy Hathaway's garden.
For both John and Cindy, rural life is a return to their roots. Cindy grew up on a farm outside Plainview, and John spent much of his youth hunting in the Johnson City area.
"When I was I kid, I'd eat at the Hill Country Cupboard," he said.
John is an architect and owner of Vanguard Studio in Austin, a firm which designs high-end custom homes, from European villa, to modern, to an eclectic mix of traditional and contemporary. One of the things he liked about designing the buildings on his ranch was working with the landscape, rather than within the guidelines of a suburban subdivision or HOA.
"You want to make the land the star of the show. You stand here, and there's a panoramic view. We use a lot of windows, so you feel like you're living amongst the trees and you're part of the site," he said.
Cindy is a former social studies teacher who loves old things — furniture, art, and architectural objects. Their home reflects her love of unique vintage objects, most of which came from within a two-hour radius of their ranch, including shops in Blanco, Comfort, Fredericksburg, Georgetown, Kerrville, Marble Falls, and Round Top.
All the pieces —

we look around and we remember how we found them. Part of it is the fun of us going and picking together.

– John Hathaway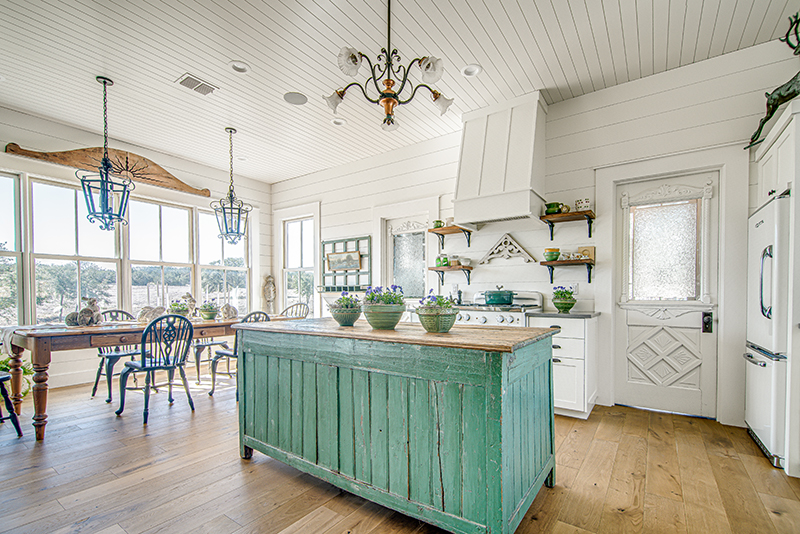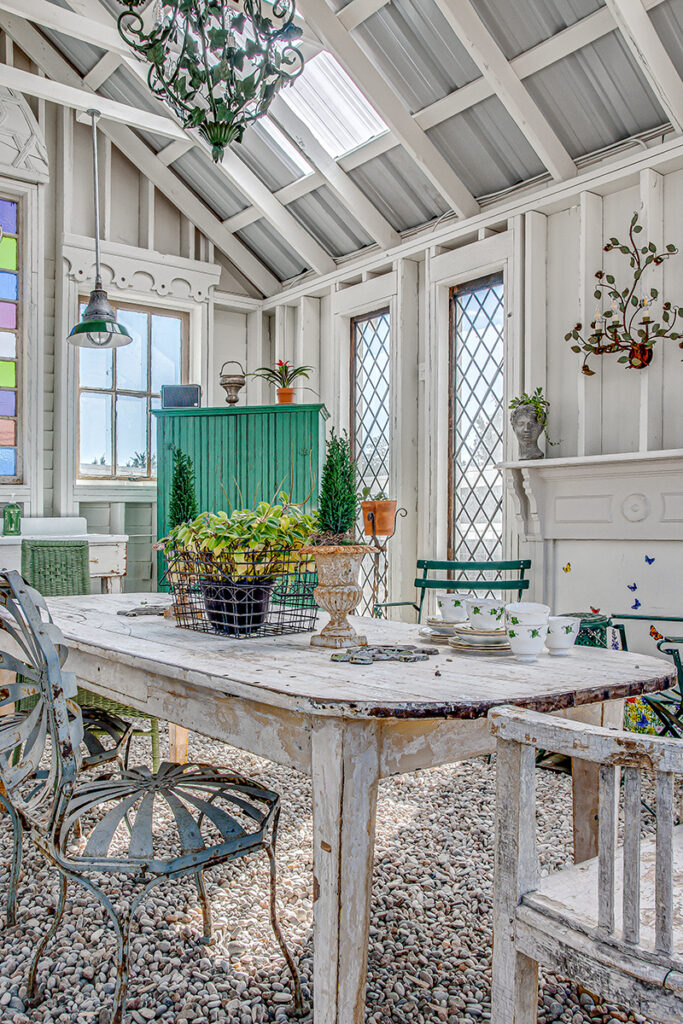 "We have things here from France, England, Texas, Maine, but it all comes together in one look, and it creates a story," she said. "It creates more depth of character in a home."
Finding these old objects is something the Hathaways, married 30 years, enjoy doing together.
"All the pieces — we look around and we remember how we found them. Part of it is the fun of us going and picking together," John said. "We have a shared vision as husband and wife. That's something we've always loved to do together is go out in the Hill Country, find a new winery, a new antique store."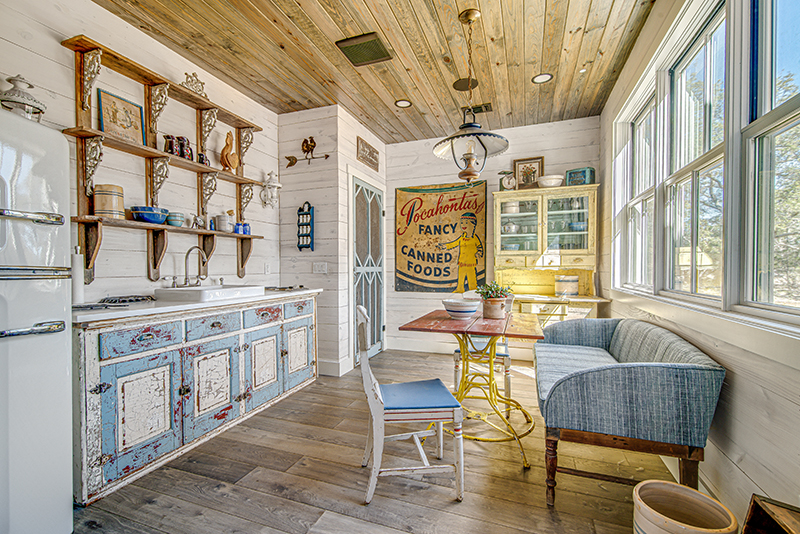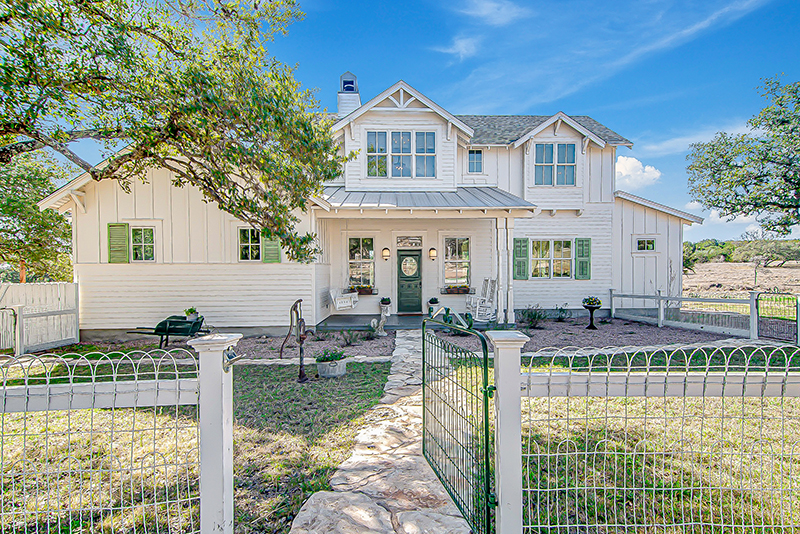 Cindy started collecting pieces for their home three years before construction started.
"It's much easier to integrate things into your design," she said. "John can measure and not surprise the construction workers."
But occasionally John has to change architectural plans to make Cindy happy. Such was the case with the large Pocahontas sign she picked out for the kitchenette in Starlight Barn. She planned the whole room around the sign, but the only wall where it would fit had a large window.
"I went to the builder and said, 'I need you to take out that window and save my marriage,'" John said jokingly.
He has an office upstairs in the barn, where he meets with clients a couple days a week, especially those who don't live in Austin. Cindy's office is next to his, but hers has a door.
"Everybody needs a space to get messy," she said.
The Hathaways' home combines the benefits of a new build with the rustic connection gained from filling it with old things.
"The furniture is made better. You have wood that is old-growth wood, and it's really solid. People made things really special," Cindy said.
The craftsmanship of the items in their home shows up piece by piece — vintage door by kitchen cabinet block by cupola-turned-chandelier. With each find the Hathaways are doing exactly what the sign in their farmhouse says: "And so they built a life they loved."