Clem Villars wasn't even supposed to be a brewer. Not professionally, anyway.
He first applied for employment at Bell Springs Winery in 2019 intending to be, of course, a winemaker. But life, especially in the business world, often takes people down unexpected paths. Bell Springs owner Nate Pruitt knew not everyone in a group of friends (or a marriage) is into wine, and decided offering a little bit of beer might be a crowd-pleaser.
"Nate just wanted to augment the wine sales by having some beer on tap," Villars said. "When I was first hired, I was hired as the cellar master to help run the winery, but also to grow a brewery. I don't think either of us realized it was going to take off in the way it did."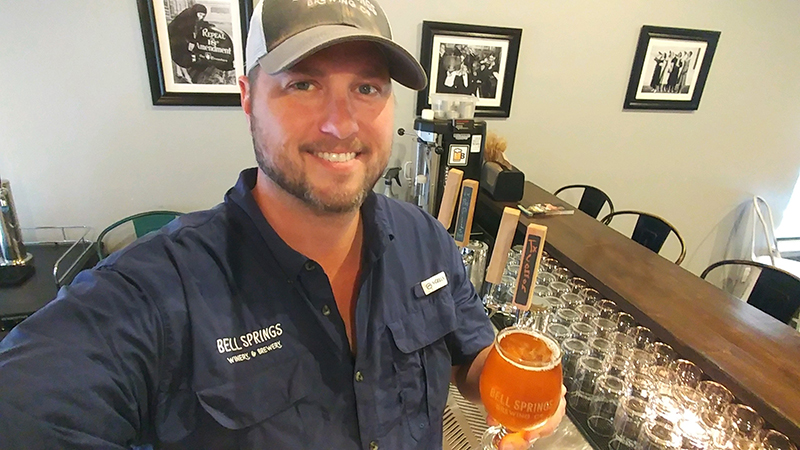 Boy, did it take off. Bell Springs — which has been producing wine since 2010 — is now garnering renown as a brewery. At this year's Fredericksburg Craft Beer Festival, the almost-new beermaker topped the competition by winning four medals — the most of any Hill Country brewer and a total matched only by San Antonio's Back Unturned Brewing and Austin's Infamous Brewing.
The prize-winning beers included gold medalists Wee Heavy (in the category of English/Scottish/Irish) and Helles (Pale Malty European Lager), silver medalist Pre-Prohibition Pilsner (International Lager) and Bourbon Barrel Aged Imperial Stout (American Porter and Stout). The awards were presented at the festival on June 9. "I saw Clem's head get bigger and bigger with each medal," laughed Pruitt.
The awards — as well as sales — validated Pruitt's product and hiring decisions. Pruitt himself was a hobbyist winemaker and then did the same with beer. Initially, when the former high-tech professional decided to enter the libations business, "I really felt there was a bigger opportunity in wine. There were already some really good craft breweries [in the Hill Country]. I started on the wine side with the intention of always bringing in the beer side.
"We grew our reputation as a really approachable place to come and drink wine," Pruitt said. "Naturally, it made sense that not everybody drinks wine, so we started experimenting with beer in 2016 and had a couple of beers on tap that I made just to get an idea of what we wanted to do, and then brought Clem in to run beer."
"Approachable" is putting it modestly when describing Bell Springs' facilities. The heavily shaded spread on Bell Spring Road — a winding connection that conveniently connects Dripping Springs with the increasingly well-known libations scene of Fitzhugh Road — would make for a lovely day with or without adult beverages. Even during our visit, during June's scorching heat wave, it was perfectly pleasant. (And augmented by good food — adding brisket to a grilled cheese sandwich might be the best idea ever.)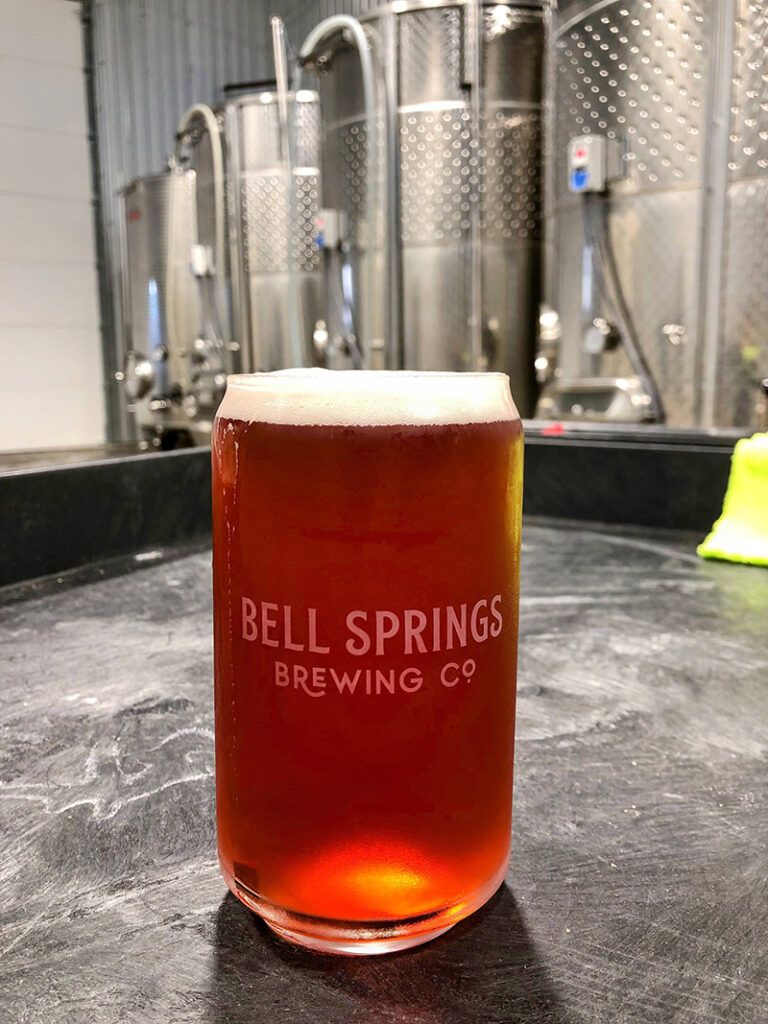 A big part of that perfection was that award-winning Pre-Prohibition Pilsner. If wine pairs with food … well, that beer was a perfect match with the weather. Clean, crisp, and satisfying. It's almost as if it was engineered to be so.
It was. Villars said he constantly brews — more than most beermakers — so that he can constantly adjust his recipes. "I have a one-barrel brewhouse and I brew six batches a week," Villars said. "That's how I do it every week. I know brewers out there that might be brewing twice a month. But I might brew pilsner six times in a month, or IPA 30 times in a year. It's an immense amount of work, but it's given me an edge because I'm able to brew that beer and a month later, try it out and tweak things.
"Like yesterday, I was drinking the Helles and thinking, instead of eight ounces of these various hops at 20 minutes, let me try just six ounces at 20 minutes and compare and continue to develop world-class beer," Villars said. "Frankly, I think our beer took off in the way it did because I'm not satisfied with 'okay' beer. It's great that we're going to grow wine sales and entice people to stay here longer simply because we have beer as an offering, but I'm not content to sit in the back seat. Some of that goes back to childhood, a lot goes back to my military experience. I'm just not okay with being okay. I want to be the best."
That attitude also informs Villars' choice of ingredients. "I use authentic ingredients in all this stuff," Villars said. For his Wee Heavy, he uses malts and hops from England. In the Helles, he uses traditional German malts and hops. "You can cut corners and save money and produce a great product, but if I'm going to do it, I want to do it the way it should be done."
The task of producing both wine and beer might seem daunting. Wine and beer drinkers have some overlap but often are separate audiences. There are a few other combo wineries/breweries in the Hill Country, but most businesses choose to "stay in their lane" and go with what they know best. But to hear Pruitt talk, it's been easy. "I wouldn't say it's necessarily a challenge," Pruitt said. "For me as an owner, I think it's because we have the most talented winemaker and brewmaster in the Hill Country."
For Villars, the change in path has unquestionably been the right one. "I'm so happy I got the beer position," Villars said. "The wine guys, you have three or four months out of the year where it's absolutely nuts. It's harvest time, and you're harvesting, you're processing, you're barreling, etc., and the rest of the year you don't have a lot to do. For me and my guys, every day is harvest for us. Every day is exciting."
Bell Springs Brewing Company
(and Bell Springs Winery)
3700 Bell Springs Rd.
Dripping Springs, TX 78620
512-777-0018
bellspringsbrewing.com
Wed-Sat, noon-8pm
Sun, 11am-7pm