In Chloe Hedden's Blanco studio, sunlight pours over a colossal quartz crystal sketched on canvas. This may not be a real crystal, but from the looks of its jagged teeth and pointed clusters, one could easily be deceived. Soon, the artist's painting will be sealed and layered with luminescent oils, where it'll sparkle in perpetuity.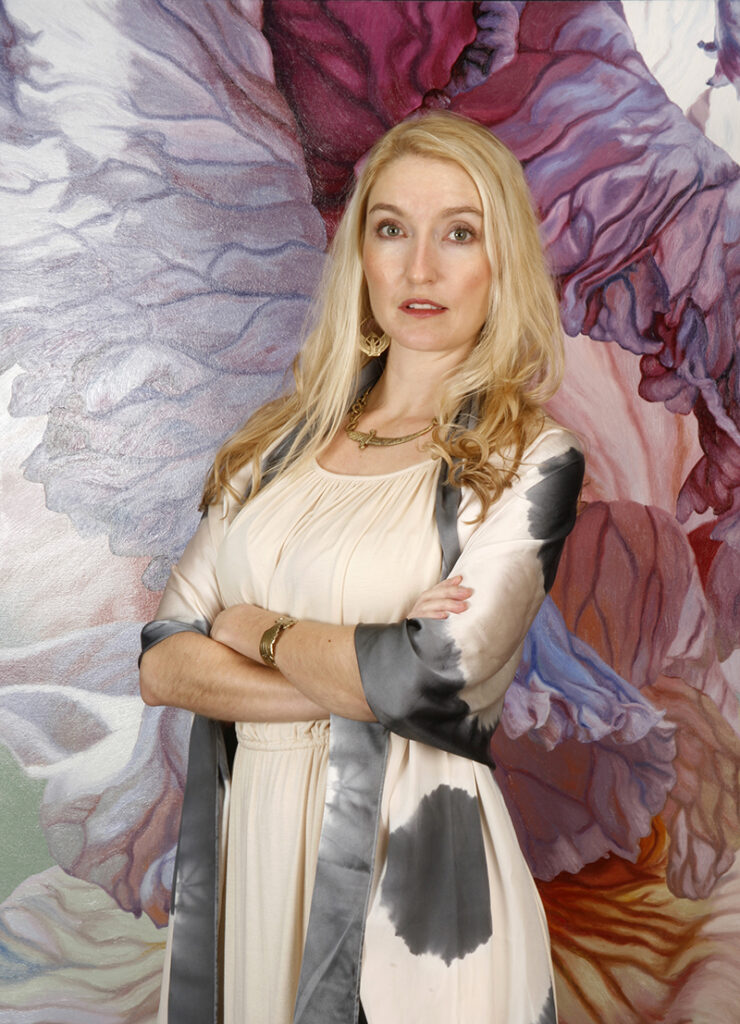 Much like this faceted mineral, Chloe's life story is both nuanced and complex. Growing up in the tiny town of Castle Valley in Southern Utah, the red desert, dramatic canyons, and wide-open skies left an indelible impression. Chloe's parents first moved to the region in the seventies, lured by a life in the wilderness after 'dropping out' of society after graduating from Harvard.
From the earliest days, both Chloe and her younger sister were encouraged to pursue their artistic gifts. After all, their mother and father were creatives themselves, actively making furniture or painting and sewing. "I remember the living room was full of spinning wheels and looms," Chloe says of her eccentric childhood home.
With no television and distractions, drawing became the young artist's primary form of entertainment and self-expression. By kindergarten, she was copying masters like Picasso, Vermeer, and Renoir. "I grew up playing outside in one of the most beautiful places on earth," she says. "The weather was always doing something, and I was an artist, so I was observing. I had very robust imaginary worlds and stories I was telling myself."
After high school, Chloe attended the prestigious Rhode Island School of Design, where she graduated with a degree in illustration. A few years later, in 2008, she illustrated a children's book entitled, The Illuminated Desert, which won Best Children's Picture Book the following year through the Mountains & Plains Independent Booksellers Association.
Despite having an admittedly "difficult" relationship with the desert, she remains forever imprinted by the landscape of her youth. "When you're a child of the West, you are so connected to the land, even if you spend your whole childhood trying to get away from it," she explains. "It is still a part of my bones."
Over the years, the artist lived and painted everywhere from London, Rome, and Edinburgh to Los Angeles, Boulder, and San Francisco, searching for home on her own terms. It was only during the pandemic, however, that she made her migration to Texas.
"In 2021, I was driving through West Texas, and then through the Hill Country with the wildflowers going bananas, and I thought to myself, I finally found my place," Chloe remembers. A search on Zillow ultimately led her to a charming home in Blanco, which she purchased sight unseen. Today, that residence is a sanctuary of calm for the artist, who spends her days painting from the airy back-house-turned-studio.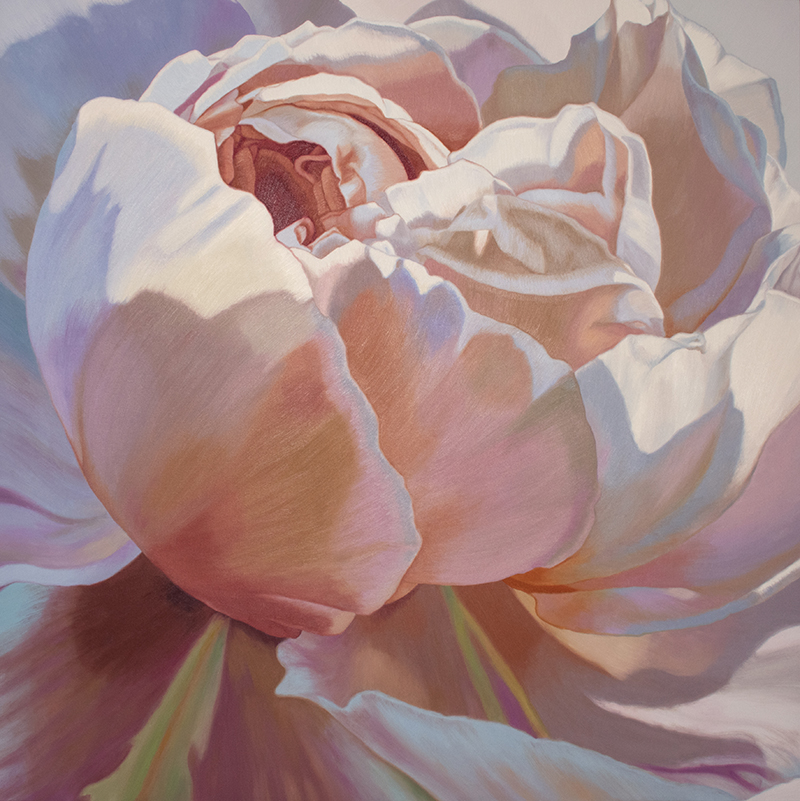 Be it a double-centered rose, a drooping tulip, or the blooming head of a hydrangea, flowers remain one of her most beloved and loyal subjects, as evidenced by the hundreds of photographs that blossom across her workspace. It was only later, however, while living in Malibu and teaching yoga at a local studio, that the artist added crystals to her repertoire. One morning after coming into work, inspiration struck as she watched the studio's crystal collection come alive in the sun.
"When I'm painting crystals, every brushstroke is a straight line, and when I am painting flowers, every brushstroke is a curve," she shares. "They are just different parts of my personality being expressed."
Regardless of the subject matter, Chloe's portfolio purposefully magnifies the complex beauty of organic matter, from the kaleidoscopic refractions of a sunlit citrine to the undulating universe of a peony in bloom. Still, the painter admits that it's not just about the flowers or minerals, but the ways in which they're illuminated that she finds most stimulating. "My art has always been about light, plain and simple," she says. "In college, I had this amazing professor who said to us, painting is about the poetry of light as it falls across the objects, and I got really into that … I am always looking for the poetry."
Generally, she only works on one canvas at a time, given her direct painting method. "Flowers are very vibrant, alive things, and if you try to create the color effects with dry paint, it is not going to look right," she shares. "It really requires that wet-into-wet painting technique." She begins by sketching the subject on canvas with pencil before it is sealed and left to dry. When it comes time to paint, she enjoys listening to music, podcasts, and audiobooks; Gordon Hempton's Sound Escapes are another inspiration, as are the native songbirds outside her studio window.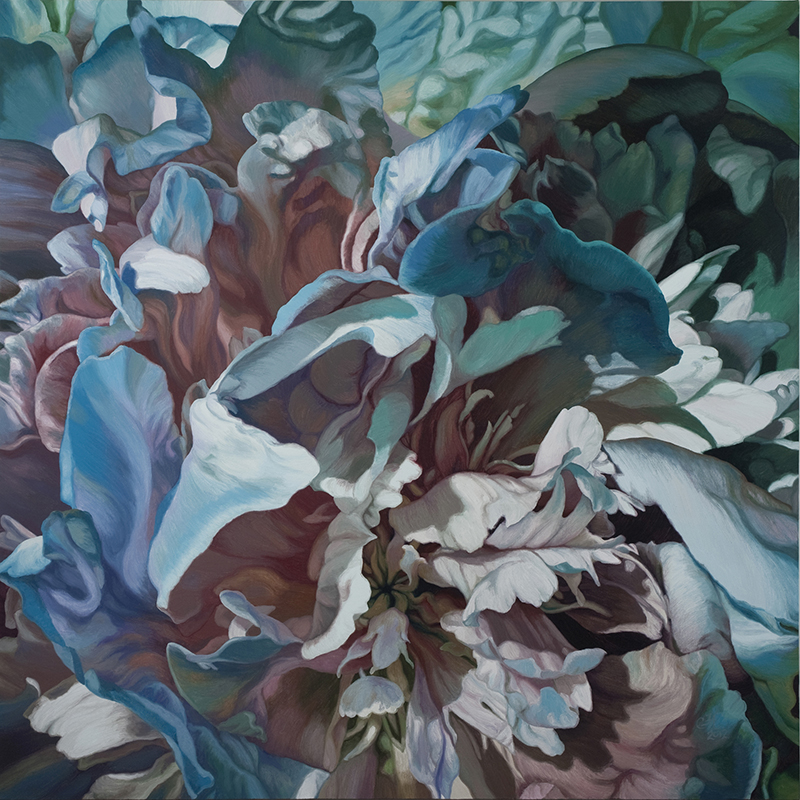 For a long time, she also listened to Mantra throughout the creation process, hoping to imbue a feeling of peace and divinity into her work. "I wanted the paintings to be able to affect a person slowly over time, and have a beautiful presence in their home," she says. Eventually, however, she stopped doing that and just let them be. "Whatever is happening with me, whatever I'm feeling, I let it rip … Original art always has a vibration."
In addition to her coveted flower and crystal series, the cross-media artist has also been experimenting with textile sculpture for the past few years. "At some point, the world felt like a darker place, and I needed to get some of the angst that I was feeling out," she explains. "I started making these really messy things where I was throwing paint on the floor and taking fabric and crumpling it up – the antithesis of what I had been doing in a way." Those experiments gave way to several new series, including her 'Folds' and 'Inundations' featuring hand-dyed linen that is sculpted on canvas.
Today, maintaining her prolific studio practice is a full-time job, though the artist is also involved with two personal side projects, including Kala Art Advisory, and Wolf Gallery in Lakeway. She first discovered her love of curating and art advising in her early thirties, while working as the creative director of a prestigious art advisory firm in Malibu. That experience helped not only pay the bills but taught her an invaluable education about the other side of the art business. "One of my passions is putting together collections for other people," Chloe says. "I just adore it."
Outside of work, she enjoys slowing down and tending to her garden at home. One night not long ago, she befriended a neighbor who was pulling seeds off the road. "She's been teaching me things," Chloe shares of her new naturalist friend. "I have been going crazy planting wildflowers and learning about local species, harvesting little bits, and putting them in my garden." She has also been taking pictures of native flowers, and hopes that one day, they might develop into a painted series of their own. Until then, the artist keeps sowing seeds, ever ready to bloom and grow in her new Texas chapter.