Fredericksburg is renowned for its scenic beauty, historic downtown, award-winning wineries, and, as of 2018, elephants. Asian elephants to be exact. Elephas maximus to be scientific. 
The pachyderms came here from California, shortly after their caregivers Kari and Gary Johnson found and fell in love with a piece of land located in between Fredericksburg and Stonewall and started The Preserve. The couple knew the 50-plus acres, which had once been part of the historic LBJ Ranch, would serve as the perfect location to establish a preserve for elephants and other animals. The Johnsons are no strangers to elephants having been around them for almost 50 years. Both were exposed to the animals at an early age with Kari's stepfather being an elephant trainer in Texas and Gary purchasing his first elephant at 14. The Preserve allows them to not only continue to work with elephants but to share them with the world.
"These are an endangered species and we believe that the contact that our friends, neighbors and visitors have will help create more ambassadors for these creatures," Kari said. "They really can touch your heart."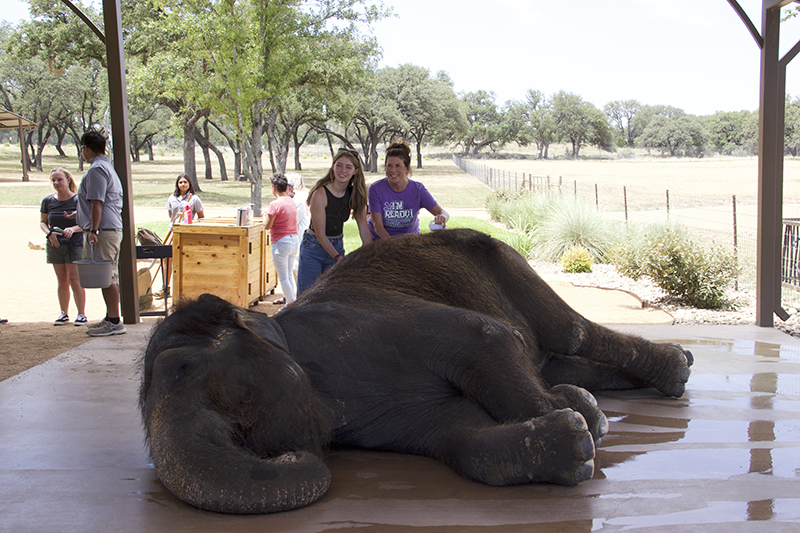 This need for elephant ambassadors is more timely than ever given the plight of both Asian and African elephants. The most current estimates state that there are fewer than 35,000 Asian elephants left in the world and just under 450,000 African elephants. "There are only about 400 elephants in the United States and that includes those found in zoos," Kari said. "The split between African and Asian is about fifty-fifty." This decline in elephant numbers in the wild, especially in Asia, is due to human encroachment and habitat loss.
The elephants at The Preserve serve as ambassadors by representing their species and to build the bridge between elephants and humans. "We believe that unless you have contact with something, why would you even care about it?" Gary said. The Preserve's Mission Statement further explains that it and the ambassadors' aim is, "to preserve all animals by building awareness through contact and education in partnership with our animal ambassadors. Contact cultivates caring, which encourages conservation."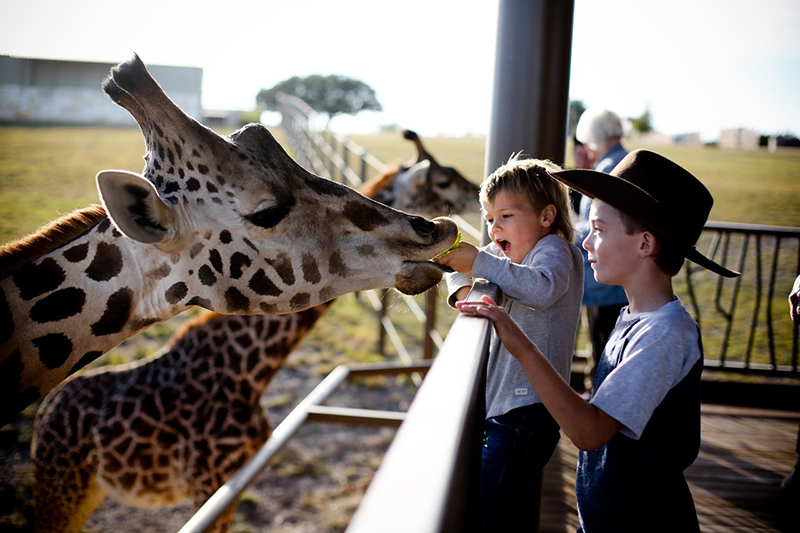 That contact comes in the form on The Elephant Experience. During this hour and a half presentation and interactive hands-on experience, visitors get to interact with ambassadors Kitty, Rosie, and Becky. Described as "Miss Personality plus," Kitty has been with the Johnsons for 31 years. She loves people and attention and "is known for her luxurious ear hair" and being a "social butterfly." Rosie is not only one of the stars of the show but a star in real life as well as she appeared in such films as "Zookeeper" and "Evan Almighty" in addition to numerous commercials. So named for her rose-colored cheeks, Rosie has been with the Johnsons for 27 years. Becky is by far the most vocal of the group, the youngest of the trio, and also the smallest.
Small is a relative term as Asiatic elephants can reach massive sizes. Males average nine feet tall at the shoulder while females measure nearly eight feet in the same space. Males can reach weights of almost 9,000 pounds and have a body length, including the trunk, of almost 21 feet. Despite these almost unreal measurements, the elephants at The Preserve are friendly, docile, and more than happy to interact with humans of all ages and sizes.
The Experience – which is limited to 50 guests per session – begins with the ambassadors walking trunk to tail to the shaded outdoor classroom. The trio is introduced by several of The Preserve's 20 employees who each take turns detailing elephants as a species, giving the history of the ambassadors, and the purpose of The Preserve. After this, and several surprises from the trio, one of the elephants walks a short piece to another shaded pavilion where it gets a bath from visitors. Each guest takes a turn washing the elephant and posing for pictures. From there guests walk a short distance to where they can have their picture taken with another member of the trio. This generally involves, on the human side anyway, lots of pets, hugs, and kisses. After pictures are taken, two elephants are brought into yet another shaded pavilion (always welcomed in Texas) where guests learn about the care of the ambassadors' feet.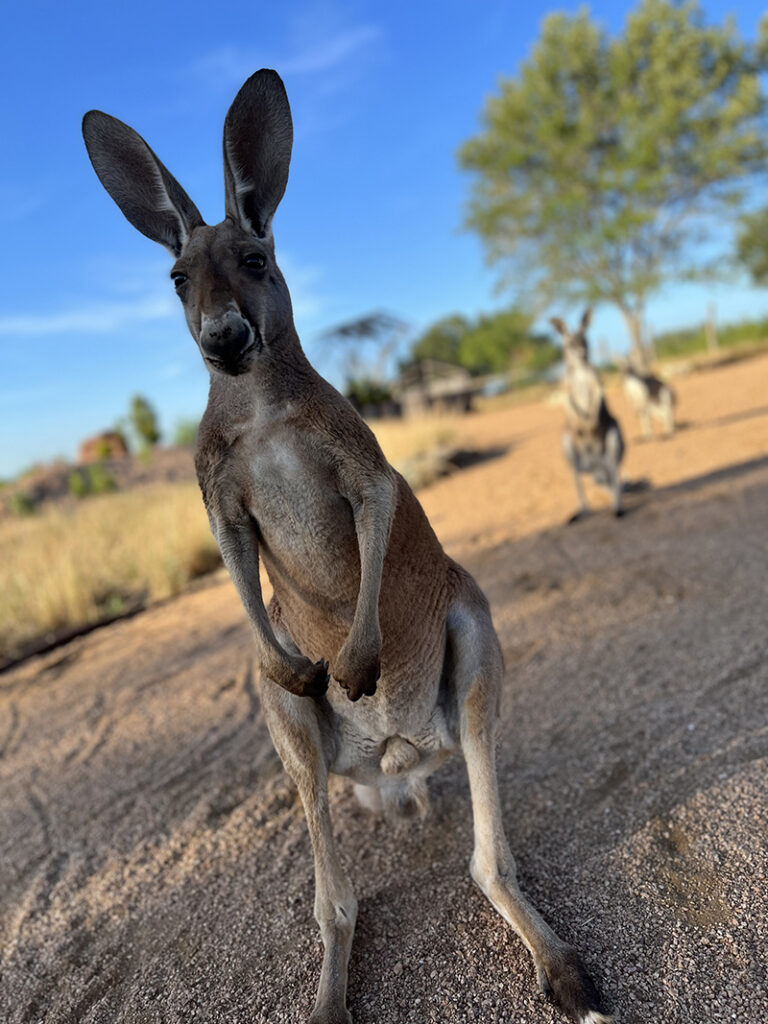 Guests are shown how the elephants' feet are cared for. The pachyderms, which have five toenails on their front feet and four on their rear, and cut, cleaned, and filed. The bottom of their feet, the heels of which holds a large pad of gristle which acts as a shock absorber, helps them walk quietly, and to listen for vibrations, is shaved down with the use of a specially designed tools. Once guests get to inspect the duo's nails and feet – and touch – it's back to the first pavilion where the trio is reunited for an exhibition of some of their special talents.
In addition to learning about the elephants' native habitat, their anatomy, their lifespan, the difference between their species and the African variety, and a host of other educational yet entertaining facts, the elephants show their abilities by spinning hula-hoops on and painting with their trunks. And while this may seem hokey to some guests, it's actually a fun way to demonstrate the animal's agility. It is also a mental challenge for the trio that helps to keep their mind's sharp and engaged. After this, guests help feed the elephants a snack, are allowed to interact with the trio, and pose for some final farewell pictures.
Since its first show in 2018, The Preserve's Elephant Experience has proved to be extremely successful. Despite relying on mostly word of mouth advertising, the experience has seen tens of thousands of guests. "We have guests come from all over," Kari explained. "Most are from Texas but many come from out of state. One group drove all the way from Iowa for the Experience only to turn around and drive straight back afterward. And we've had visitors from as far away as Germany and Spain who came here just for The Experience. Many guests come for a repeat visit, and they find that they learn something new about the elephants each time." Guests not only come to see they elephants but, on occasion, to get engaged. "We've had several of those and I'm glad to say the proposals have always ended in a yes." And, on one occasion, even a deceased person got The Experience when a couple from Galveston brought their mother's ashes to interact with the elephants.
The Preserve is expanding its role to the stated position of, "expanding elephant education, knowledge, and conservation" with the new Animal Expedition. Opening late summer or early fall 2023, the Animal Expedition will feature ambassadors to Australia's wildlife in the form of kangaroo, wallaby, cockatoo, and kookaburra and Africa's wildlife in the form of giant tortoise, porcupine, and giraffes. Much like with the Elephant Experience, guests of the Animal Expedition will learn about these fantastic creatures, interact with and feed them, and of course, pose for plenty of pictures. And while all this promises to be fun, it's not the true purpose of The Preserve. "We want to not only preserve these endangered species, but also preserve the animal-human bond," Kari said. "We want people to be able to feed, touch and learn about animals they normally wouldn't have the chance to interact with."