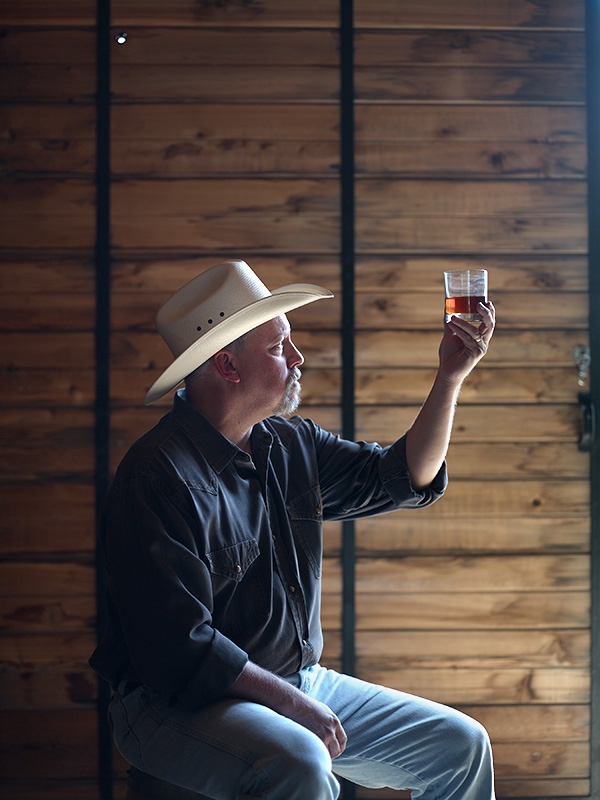 In 2018, over twenty-four million 9-liter cases of American Whiskey were sold domestically, generating over $3.6 billion in revenue for distillers. And people these days are not only drinking more bourbon, but they're also drinking more expensive bourbon. Over the past five years, High End Premium revenues were up 37 percent and Super-Premium were up 136 percent, according to the Distilled Spirits Council of the United States.
In bars across America, bourbon's unprecedented resurgence of popularity has been fueled by mixologists' and millenials' demand for high-end premium ingredients in several Pre-Prohibition style cocktails such as the Old-Fashioned, the Manhattan and the Mint Julep. New bourbon distilleries are opening, and current bourbon distilleries across the country are investing heavily in new production to meet heavy demand. When limited allocations of bourbon go on sale, people camp outside of liquor and package stores just to score a bottle.
Designated by Congress in 1964 as a "distinctive product of the United States," bourbon acquired legal status, as much for its protection from imports (during Prohibition, bourbon was distilled and aged in Mexico) as for purposes of taxation. Federal standards of identity state that bourbon must be made in the United States from a grain mixture of at least 51 percent corn, distilled to no more than 160 proof, aged in new, charred-oak barrels and entered into those barrels at no more than 125 proof and bottled at 80 proof or more.
Thus, while most bourbon is still made in Kentucky, bourbon can legally be made anywhere within the United States, including Texas.
Garrison Brothers Distillery in Hye has the distinction of being Texas' first and oldest whiskey distillery, founded in 2005 and led by Master Distiller Dan Garrison. If the State of Texas had its own Hall of Fame, there's no doubt that Garrison would be among its hallowed ranks. A bold and unabashed man with an equally big persona and heart to match, Garrison is known for making damn good whiskey. Rock & Vine was fortunate to spend a little time recently with this Texas Legend.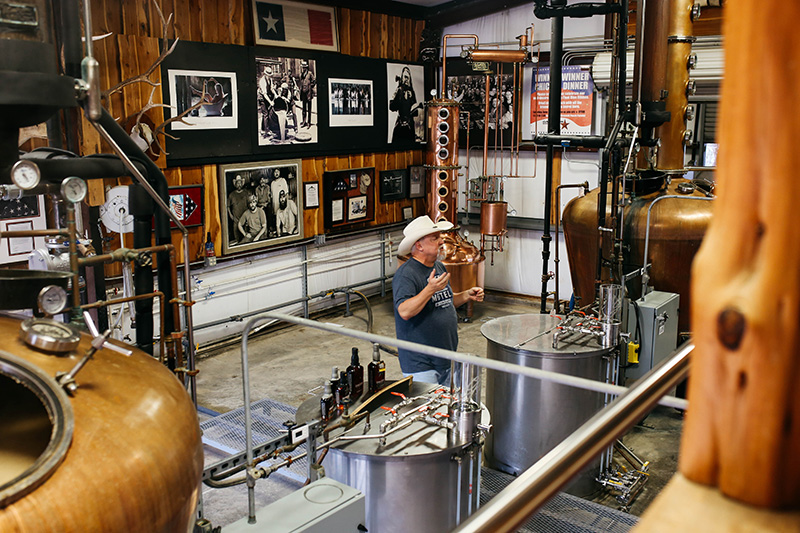 ---
RV: Why did you decide to make bourbon?
DG: Bourbon is the nectar of the Gods. Have loved good bourbon since I was 13 years old. If you are going to take on an artistic challenge like craft distilling, why not shoot for the most expensive and most challenging goal? Plus, vodka is for rich, skinny women on diets and tastes like crap.
---
RV: From the beginning, Garrison Brothers committed to making bourbon from "corn to cork" instead of sourcing it from elsewhere, as others have done. That must have seemed to be an awfully risky venture, especially given the long wait to get bourbon to market. What compelled you to take that risk?
DG: Wish I was wise enough to tell you it was a cold, calculated, strategic move. But that would be a lie. I was simply to young and impetuous to understand the impossibility of producing the nectar of the Gods. Oh, and yeah, 99 percent of America thought all bourbon MUST be made in Kentucky. Well, they don't think that any more.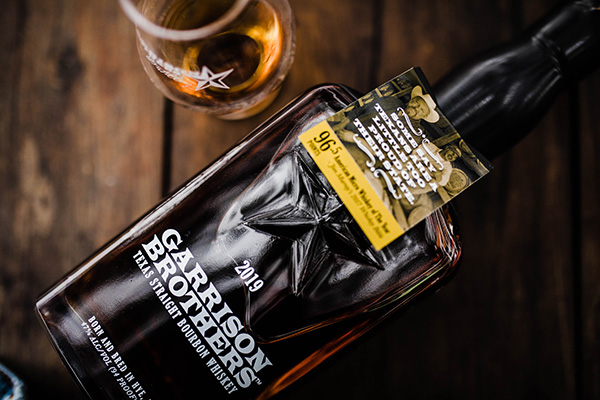 ---
RV: Garrison Brothers is relatively young in the industry of craft bourbon, yet it has established itself to be as good as anything else out there. How did your team accomplish what must have seemed like an impossible task?
DG: Actually, that premise is incorrect. Garrison Brothers Distillery, which started producing in 2003, was one of America's earliest craft distilleries, the first whiskey ever legally made in Texas, and we believe the first bourbon made entirely from scratch beyond Kentucky.
It has taken 16 years to get where we are today. Not exactly a get-rich-quick-scheme, and for that matter, no one on our team is anywhere near "rich," but we love what we do and we are pretty darn good at it.
---
RV: Success is not without its share of hardships, heartbreaks and sacrifices. What has it taken to get Garrison Brothers to the success it enjoys today? What kept you focused on succeeding?
DG: I'm surrounded by people who are smarter, younger and better looking than me. And they have giant beautiful hearts. This family has been through hell the past two months. But we still love each other and those we have lost.
---
RV: Who's the other Garrison Brother and what is his role?
DG: He's a lying, skirt-chasing, whiskey-swilling, card-cheating redneck named Charles Garrison. He is my little brother and lives in Scottsdale, Arizona. Don't believe a word he says.
---

RV: What was it about this part of the Texas Hill Country that brought Garrison Brothers' Bourbon to Hye, Texas?
DG: I attended my first Stonewall Peach Jamboree and Rodeo In 2001. The greatest display of hard-working, tobacco-chewing, peach-growing Americans I've ever seen. I knew then I would walk across hot coals to be considered part of this remarkable community.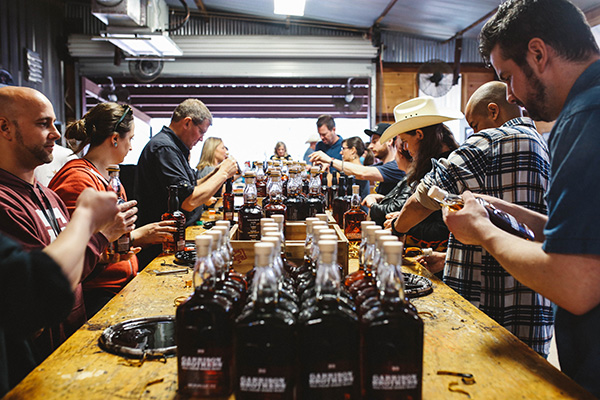 Did I mention how pretty all the Peach Queens are?
---
RV: Texas summers are hot as hell. How does this intense weather influence the flavor profile of Garrison Brothers' Bourbon and set it apart from other bourbons on the market?
DG: Heat causes liquids to expand, forcing the bourbon deep into the pores of the White American oak barrel in which it is housed. That's why we often refer to our bourbon as heat-forged. We are sucking the sugars in the sap from the oak trees at a rate that cannot be replicated in Kentucky.
---
RV: All of your "babies," from the Texas Straight Small Batch Bourbon, on through the Single Barrel, Cowboy, Balmorhea and Estacado, all share a common trait through their mash bill. How did you develop the mash bill for Garrison Brothers' Texas Straight Bourbon?
DG: Some amazing mentors: Elmer T. Lee, Craig Beam, Bill Samuels Jr., Drew Kulsveen, Chris Morris, Dave Pickerell, Jess Graber. I am a fortunate son of some experienced brown liquid producers. .
---
RV: Opening up a bottle of your Texas Straight Small Batch Bourbon, what aromas and tastes do we find there
DG: Try it and let me know. Everyone's experience with my bourbon is unique. Did I mention good bourbon may be an aphrodisiac?
---
RV: Garrison Brothers' Cowboy Bourbon is a limited release that is bottled uncut and unfiltered (2019 release was cask-strength at 137.3 proof) that typically sells out every year. Jim Murray's Whisky Bible has named it American Whiskey of the Year – twice! What's special about Cowboy Bourbon?
DG: Uncut, unfiltered, straight from the barrel to the bottle. Chunks of wood and charcoal flowing in it. We recommend decanting it like a fine wine so you don't get barrel goo in your teeth.
---
RV: It takes a hell of a lot of hard work, talent, passion and vision to reach the kind of success Garrison Brothers has achieved. Tell us about some of the whiskey badasses who help bring each bottle of Garrison Brothers' Bourbon to life.
DG: Better yet, come take a tour and meet my amazing team.
---
RV: Garrison Brothers' Distillery is open to the public. What can folks expect when they drop in for a visit?
DG: Relax. Chill. Taste. We ain't in a hurry.