For so many businesses, the pandemic has been a threat – and that is especially true for craft breweries, since the shutdown of bars has cut deep into their sales.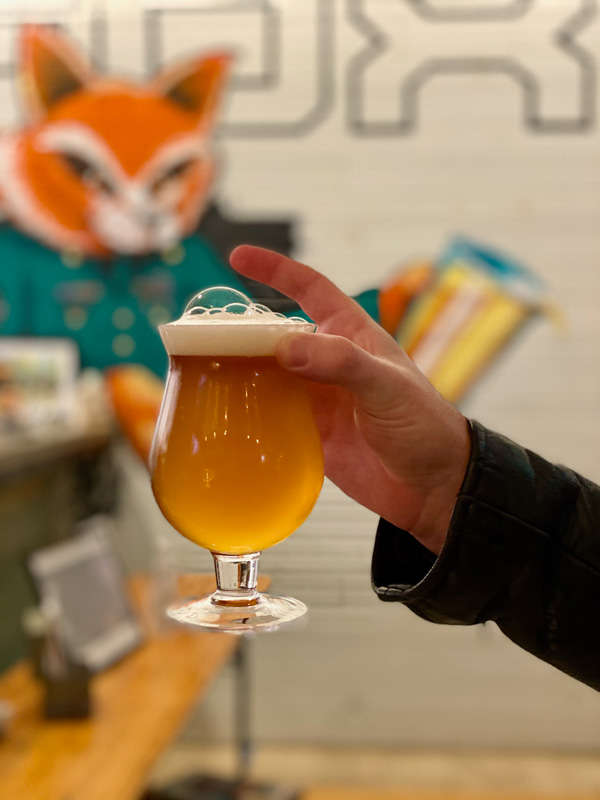 But one brewery near Dripping Springs found a unique way to survive – by temporarily becoming a completely different business.
"We became a grocery store, instantly," said 12 Fox Brewing owner Joe Hogge. "We had just gotten a Sysco (wholesale restaurant supply) account in January, and we opened up seven days a week, noon-7. We were gonna be here anyway, and we figured if we made $50 a day, that's better than zero."
At first the account was just to stock their business. But then they began using it for their personal needs to avoid grocery trips – remember how crazy shopping in the early days of the pandemic were?

"The next thing I know we're buying eggs and milk and bread, all the basics," and the light bulb went on. "We put it out there to our neighbors that people didn't have to go into the H-E-B. The cake lady in town made muffins for us to sell, a local rancher sold us steaks. It was about half local products and half commercial.
"We did that all of April and May and that led us to staying open. We had clipboards set out, and people could sit at a table (in our biergarten), fill out a grocery list, and we'd pack it and bring it out. Then they figured out, 'While I'm shopping, can I have a beer?' They would drink beer and we'd pack their bag."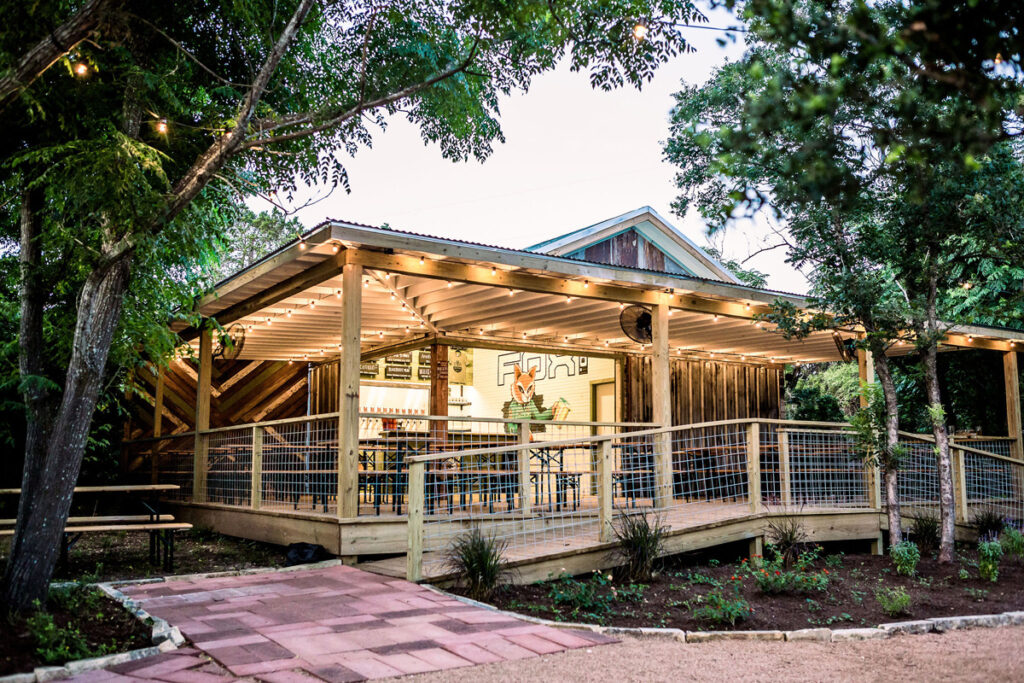 But Hogge and his partner, brewmaster Aaron Luelling, didn't open 12 Fox to be grocers, and now tweaks to TABC rules have allowed them to get back to their core business: making delicious beer and serving it in an idyllic Hill Country setting.
It's a journey that began when the duo met in basic training – the name comes from 12F, the Army designation for their combat engineer positions. They served in Bosnia, although they really got to know each other in Germany, and like a lot of service members in that country, they discovered that there was more to this world than American light beer. This was before the American craft brewing revolution had taken off and German beers were eye-opening for them. "They had flavor!" Hogge said.

When their service to our nation wound down, Hogge and Luelling drifted apart – Hogge headed to Texas and Luelling to Las Vegas, where he became a CPA. Then they found each other again via social media.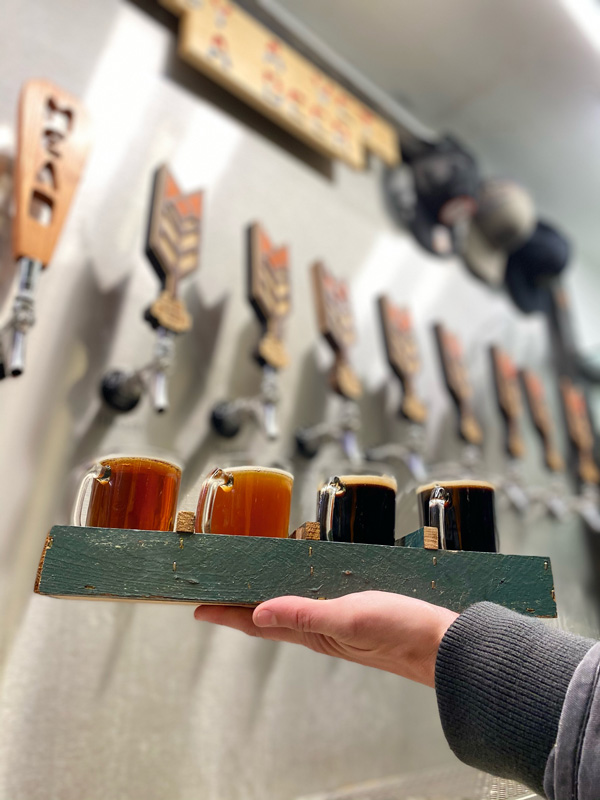 "Aaron said, 'Hey, I started brewing,' and my first question was, 'Do you have a hefeweizen?' because I couldn't find one here in America that matched what I got in Germany. He did, and it was the best beer I ever had."
Learning on his own with no formal training, Luelling entered a big homebrew competition in San Diego around 2014, and he won the whole thing – not just best in his category, but best overall. He started thinking about turning pro, but opening up a brewery in Vegas was prohibitively expensive. Hogge stepped in.
"I went to visit him, and in a hotel room in Vegas we shook hands and I said, 'If you'll move to Texas, I'll build you a brewery.' I just know he makes the best beer I've ever tasted, and that's all I needed to know."
Of course, if you're going to sell German beer, the Texas Hill Country is a good place to do it. They stumbled across 10 acres on Fitzhugh Road – already home to a long list of breweries and distilleries – and immediately enjoyed the synergy of their beer brethren.
"In the beer world, people want to help each other," Hogge said. "It's not as cutthroat as other businesses. They wanted to help. I could call (fellow Dripping Springs breweries) Acopon or Suds Monkey and ask them how they do things. Other industries, they don't want to give away trade secrets. There's a real camaraderie in brewing."
Expect a real taste of Germany and Belgium if you head out to their gorgeous spread – a perfect place to socialize during the Covid-19 era, with only outdoor seating at tables spread safely apart underneath shade trees.
"We try not to Americanize the recipes," Hogge said. "If they [Germans] have been brewing that hefeweizen for 400 or 500 years now, I think they kind of have the recipe dialed in. Us Americans always think we can make things better, and it's not always that way. Just be traditional to that, because it's what made it that.
"So we're really traditionalists on the beer we want. I'm the basic beer lover – I love hefes and pilsners and bocks – and Aaron likes the complexity, so that's when we merge over into the Belgian area, because they have a lot more sugars and carmelizations and bring out a lot more flavors."
They also make an IPA "because people make us make one," Hogge said, but German and Belgian styles are the focus.
By the time you read this the winter, you can expect some seasonals appropriate to the cooler weather: Hogge was very excited about "Roxanne," the foreign export stout that won Luelling that homebrew competition. He also said they'll be releasing a version of their Scotch ale that has been aging in used Garrison Brothers whiskey barrels for nine months, and "Julie," a Belgian tripel that is "really smooth, stone fruit flavors up front with Belgian candy sugar in the middle, and then it ends with a little heat because it's 10 percent alcohol, but then it's gone, with a really clean finish."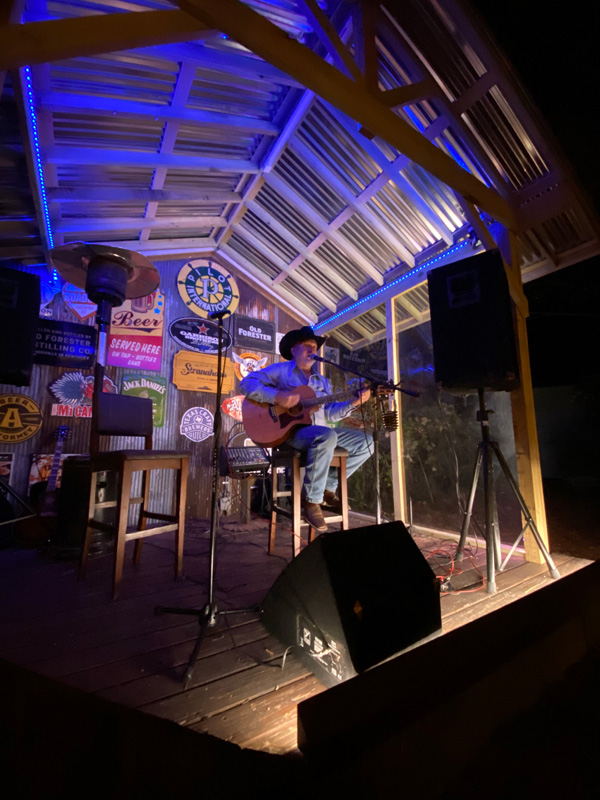 At some point you can expect the return of the McGregor Irish Red, too. "It was so popular when we brewed it for St. Patrick's Day that people said that if we'd brew another batch of that, they'd buy our $250 mug club memberships. True to their word, they did."
That's typical of the loyalty 12 Fox is building, Hogge said.
During the Grocery Months, "Our local support was amazing. People would buy two beers while they were shopping and then get a four-pack to take home. I know they didn't need six beers, but they were trying to keep us open. It allowed us to buy two 10-barrel tanks at $12,000 a pop. They supported us so much that we actually grew during the coronavirus. I love my people. That doubled our production, those two tanks.
"I've lived in this area for about 20 years, but after opening 12 Fox I finally met all my neighbors. It's the community here. They all call this their country 'Cheers.'"
12 Fox Brewing
4700 Fitzhugh Rd. Dripping Springs, TX 78620
512-626-4458 • 12foxbeer.com
Hours: Wednesday and Thursday, 3pm-8pm
Friday and Saturday, noon-9pm
Sunday noon-7pm