There is an unmistakable sound that occurs when opening a bottle of sparkling wine, usually ringing in a moment of celebration. Yet do we understand how that effervescence transcends in winemaking? More importantly, did you know Texas Hill Country offers a wide range of options to satisfy the quest for bubbles? We sought to unlock the mystery of producing bubbles in wine, then guide readers through Hill Country region to find the best offerings.
First let's start with the process. Basic winemaking entails converting natural sugar in wine grapes via yeast to create alcohol. The yeast eats away at sugar, converting it to alcohol. Once the yeast converts the sugar, it then dies off and is known as lees. The byproduct during fermentation is CO2 (carbon dioxide gas) that usually escapes which allows winemakers to make a wine with no carbonation.
Luckily and by happenstance, the French region of Champagne, with some help from the British, discovered if you trap the CO2 gas, bubbles in wine come to life. From there, it's just a matter of perfecting that process and finding a glass mold to hold the 70 PSI pressure.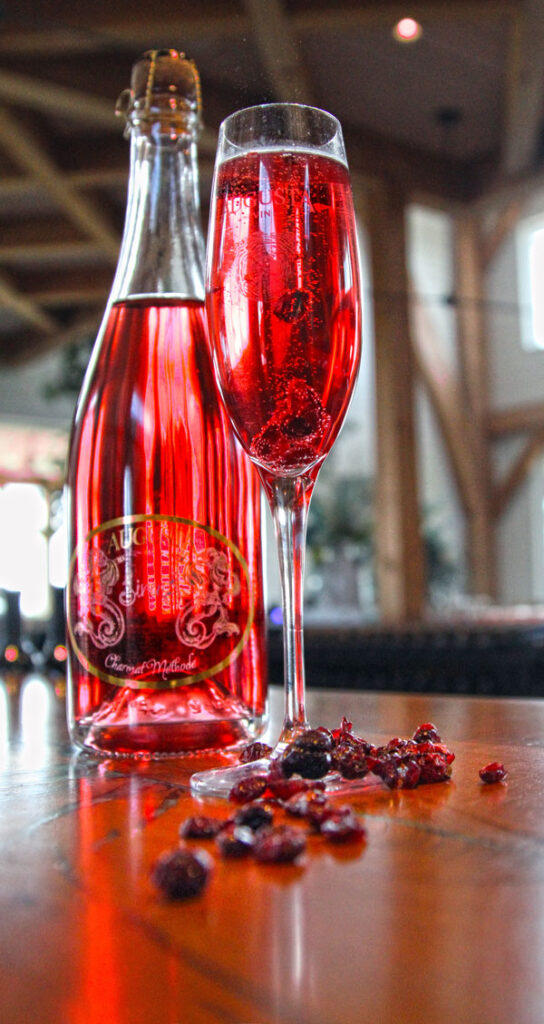 What most consumers don't know is there are numerous ways to create bubbles. They range considerably in cost and style, and are usually based on what regional influence and the winery perfecting that product. Let's break it down with the most common styles and naming found here in Texas.
Champagne Method, Méthode Champenoise or Traditional Method Champagne. All three names represent the same method. But to call sparkling wine Champagne, it must come from Champagne, France. True Champagne from the region represents the most prestigious and, from a sommelier viewpoint, the highest quality. They have a long history with unique terroir to showcase distinctive personality and excellent aging potential. That said, it can carry a steep price tag for the best Grand Cru's and Premier Cru classification. A vintage (year listing on label when the grapes are harvested) is only declared when it was an exceptional growing season. Otherwise, it is listed as a nonvintage and is a blend (cuvee) from several vintages. For those who love Champagne, vintage 2018 was considered one of the best ever so be on the immediate lookout since they are being released this year.
This Champagne Method is the most expensive to produce, since winemakers first make a still wine, then conduct a secondary fermentation in the bottle to trap the CO2 and rest the lees in-bottle during that tirage stage. The French Champagne region has the strictest rules that parlay with time. Once aged, vintage requires a minimum of 3 years, and nonvintage, 15 months. Vintage Champagne tends to be more complex with a rich mouthfeel, compared to a softer nonvintage, representing a house style.
Method Charmat or Tank Method. This is similar to the Champagne Method, but the secondary fermentation takes place in a pressurized tank. Aging requirements don't apply in this method and depends on the winery producing the wine. The result is a lively expression with less complexity and lower cost to the consumer. Another noticeable difference is in the size of bubbles with the Champagne Method being more refined and smaller in size.
Other names to note when looking at sparkling wines:
Cava – Famous in Spain and produced near Barcelona. The grapes used in Spain are different from traditional Champagne grapes of Chardonnay (white), Pinot Noir (red) and Pinot Meunier (red), so a distinctive flavor profile. Winemaking styles are across the board with Traditional Method to Tank Method. Overall, a great value, especially for the Traditional Method style versus Champagne.
Prosecco – Northern Italy's homage to sparkling wine and one of the most-consumed alcohol beverages in Italy. It's usually light and lower in alcohol, so a lovely expression of bubbles. It's another great value for sparkling wine lovers. Most Proseccos are tank method with a quick grape-to-glass production timeline. Be sure to look for the DOCG classification to ensure the highest standards.
Pét-nat, or Méthode Ancestrale, is a method of sparkling wine production used all over the world. Interestingly, winemakers can use any grape to create this wine. Unlike traditional-method sparkling wines, like Champagne, which adds sugar and yeast to dry, still wine in order trigger a second fermentation and produce bubbles, pét-nat works by bottling wine that is only partially fermented. Buyer beware on this style: expect cloudy, unfiltered bubbly wines and a rustic style.
---
What to expect and where to go in Texas Hill Country
Heath Sparkling Wines, located next to Grape Creek Vineyards is a vison of proprietor Brian Heath. It offers a unique tasting experience designed exclusively to a rotating array of four sparkling wines. Each wine, a different style and cleverly named, showcasing Texas and California fruit sourcing. All the wines are exceptional but felt the ultra-dry, vintage 2018 Blanc de Blanc (all Chardonnay) stood out. They are thoughtfully paired by chef, Savanah Zapata with seasonal small bites using private suites limited to six guests. The staff is well-trained and execute a flawless experience mixed with a large screen, video educational tool as a backdrop. The tasting room is architecturally stunning, sleek and modern giving way to panoramic vineyard views. Soon, a new member patio will open that shouldn't be missed.

Tasting Room Manager Richard Foster has a long history working for the Heath family. "The sparkling wine program is excelling with quality year after year," Foster said. "The winemaker, through working consistent vineyard sites, is pushing forward with higher standards and minor tweaks and crafting artisan wines with more complexity. A good example is our 2018 Blanc de Blanc with 18 to 20 months of aging on the lees."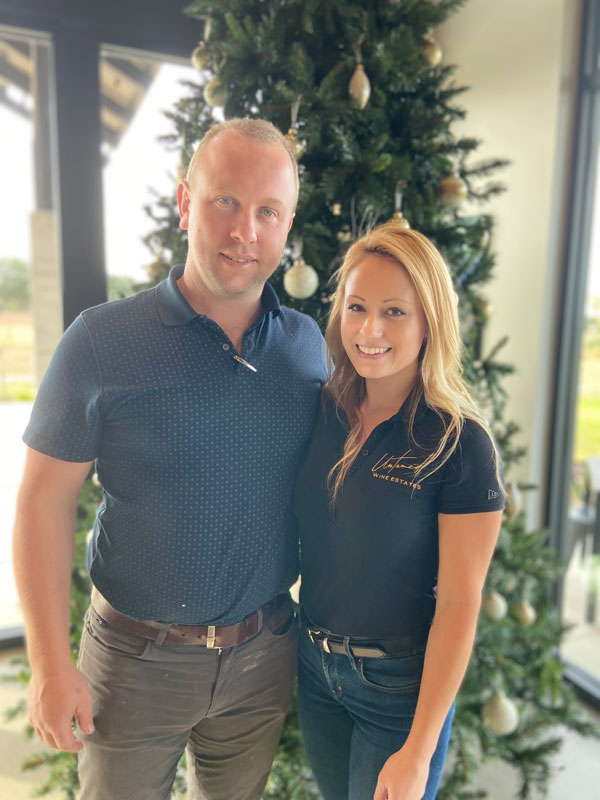 Untamed Wine Estates, Johnson City – A new kid on the 290 wine trail that's buzzing with exciting wines. Founders Dane and Mckenzie Sanvido are well-respected by local competitors, who sincerely feel winemaker Dane is the one to watch in Hill Country. His style reflects international training and savvy attention to detail. Mckenzie is trained around chemistry and supports lab work for local wineries. She's also an excellent chef, crafting tantalizing menu offerings that pair perfectly with her husband's wine. They only offer one sparkling wine at Untamed Wine Estates, but this 2019 Blanc de Blanc, Champagne Method sparkling wine is a winner. Sourced from cool, coastal vineyards in Monterrey, California, and aged on lees for 18 months. Classic elegance shines through with this release and it gains more complexity with aging.
Ron Yates Wines –Ron Yates and and his wines at the facility located near Hye showcase an authentic Texas winemaking experience. His flair is mesmerizing and real. An excellent example is a single vineyard Texas Grenache, sparkling rose. A Pét-nat style, salmon pink in color and quite interesting. Fresh strawberries layered with earthy rhubarb dance around lively bubbles. Rustic and unfiltered, yet worth discovering.
Augusta Vin, Fredericksburg is setting the stage for the future of premier Texas Hill Country wineries. It's a destination winery with all the right elements. The drive into the estate reveals perfectly groomed vineyards, a magical 60 acres of vineyard bliss. It's followed by a majestic tasting room crafted by proprietor Scott Felder, a home builder from the Austin area. The entire property is impressive in design yet welcoming with a causal elegance throughout. The winery is estate-focused so when tasting wines, one can truly embrace a sense of place while overlooking the vineyards. The sparkling wine program carries through on estate focus. All are hand-bottled with a local artist designed label representing the "Sirens" of Greek mythology. Be sure to explore the 2020 Sirens Sparkling Rose' Estate, a Brut styled expression of two red grapes grown on the estate, Sauso and Counoise.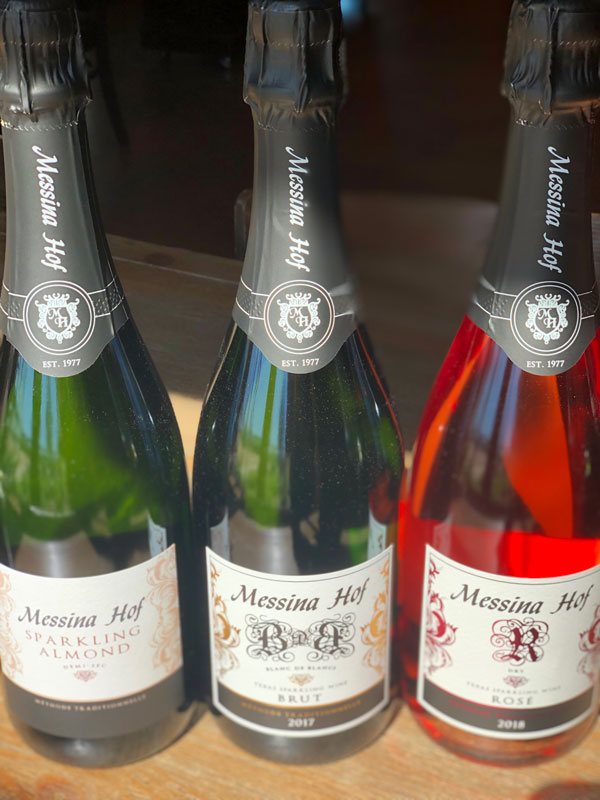 Turtle Creek Olives & Vines in Kerrville takes on a dual role when discovering sparkling wines. They offer private-label, 100% Texas wines, but double down with a classy, two-story historic wine bar that sells an international wonderland of sparkling wines. They include Champagne, Burgundy Crémant, California, Spanish Cava, Italian Prosecco, and even rare sparkling bottlings from the South Africa and Tasmania regions. Most wines are available to taste before buying and served by highly trained professionals. Truly a place to discover a wide range of sparkling wines at reasonable price points.
Messina Hof, Hill Country represents one of the founding wine pioneers in Texas, and the Bonarrigo family's history runs deep and centers on family values and quality Texas wines. When visiting Messina Hof, one will find a large selection of wines that covers every spectrum of wine consumer. That mentality carries over to the sparkling wine program. The 2017 Blanc de Blanc and 2018 Rose are solid, yet what intrigued me is their best-selling Sparkling Almond, semi-sweet, Methode Traditional wine. Not everyone wants a dry sparkling, and this wine delivers incredible flavor and quality.
Now it's time to bubble through Texas Hill Country. Celebrate life with friends or family, and sip these bubblicious recommendations. I know I'll be toasting to the Texas Hill Country award-winning wineries and supporting their efforts.