I visited Salvation Spirits just a few days before the distillery's bar, The Speakeasy, was officially open to the public. The Speakeasy is hidden, a should-be requisite for any establishment claiming this moniker, between a row of orchards and vineyards and behind a cheery, albeit delusive, farmhouse facade.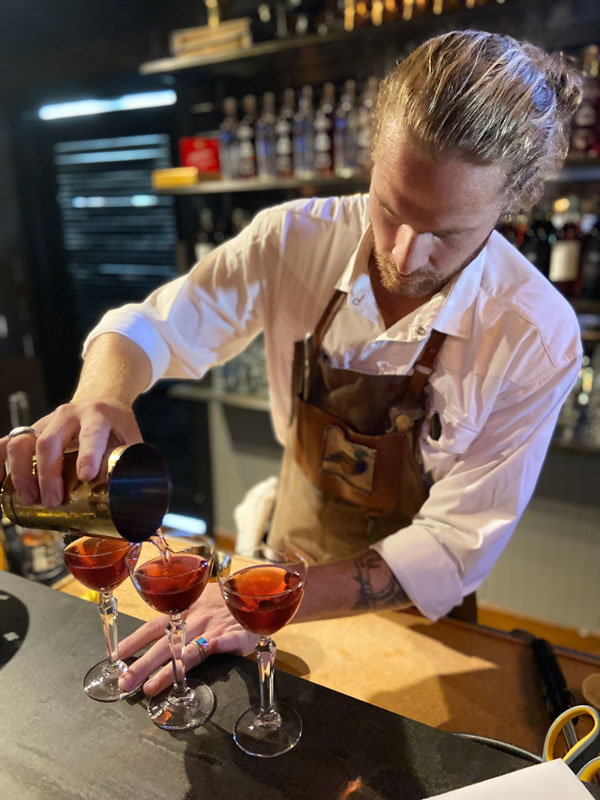 While the interview was at noon on a Tuesday, I couldn't help but wish it was 6 p.m. on a Friday, and I was there surrounded by a flock of my best friends, ideally with a driver patiently awaiting our grand exit from this portal to both an earlier era, and maybe a different city. Mostly, I'm content with Fredericksburg's sunny wineries and biergartens, but occasionally, I crave the anonymity and sexy drinkware that a dark bar has to offer. The Speakeasy ticks those boxes, and then some.
Salvation Spirits is the brainchild of Trey Blocker, who together with Sean Lemaster (VP of Operations & Master Mixologist), showed me around the property including The Speakeasy itself, as well as a 10-acre orchard featuring blackberries, peaches, grapes, pecans, pears, plums, and one impressive persimmon tree that was laden with neon orange fruit the day I saw it. Most of the fruit was planted around 13 years ago as a part of Bariloche Farm – the property's previous holder. One of the farmers that helped establish this hill country Eden over a decade ago was Israel Tomas, and like Sean (who also has a background in agriculture), Israel has joined the Salvation mission to, in Trey's own words, create "a purpose driven, environmentally conscious, distillery, winery, and brewery."
The Speakeasy is just Phase 1 of what will be a multifaceted destination on the 290 corridor – a project which will likely take a couple of years to complete. But the Speakeasy itself is done. It's cocktail program features ingredients organically grown on site, making use of the 4 acres of blackberries to create their flagship Fritztown Gin – a product which is currently being distilled offsite (at a secret location), but will soon be produced in the 500-liter German-made copper pot still that I saw patiently waiting its turn, tucked away in a storage barn.
The business has a proud commitment to donate 10% of its net profits to charity, including most recently, the Hill Country Community Needs Council. In fact, its brand takes inspiration from St. Michael, the patron saint of the German people.
There's a large spotted pig, Miss. Pickles, who roams the orchard, and a line of candied pecans made from the orchard's fruit. Trey, Sean, Israel, and even Miss Pickles are busy building something worth the detour.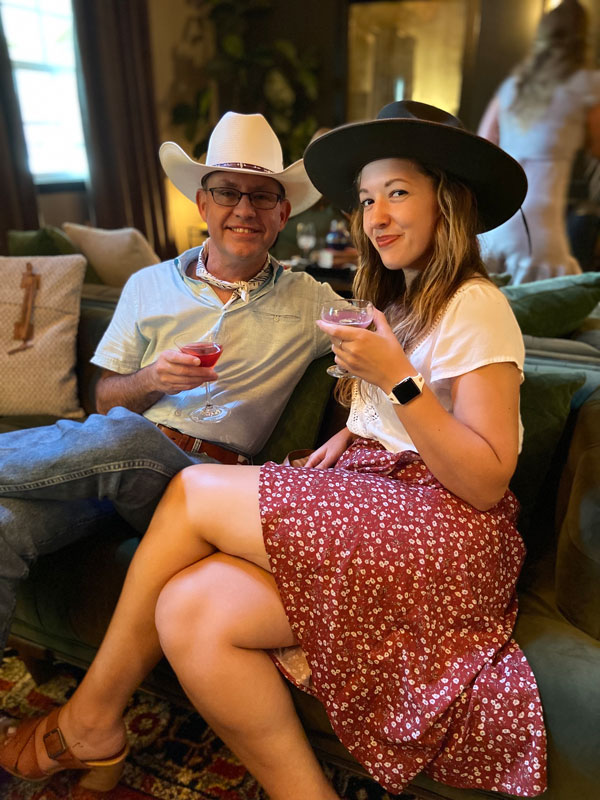 Surrounded by dark olive velvet and balancing arms of brass lighting, I was delighted when Trey told me the story of he and Sean's 2018 entrepreneurial meet-cute which happened at the one and only Otto's Bistro, "We sit at the bar… and [Sean] whips up these incredible cocktails…. And once you become a spirits geek, you're staring at everything on the shelf… And he knew everything about everything that is on the shelf. By our third cocktail, which was as fabulous and as different as the first and the second…. And so we're like, we like this guy. And then [Sean] throws in this sustainable farming degree, and Mark and I looked at each other and said, this is another God-thing, right? I'm just setting it up to say, this is the most incredible mixologist I've ever met."
Luckily, my trip ended with a test of this bold allegation, and while I'm not in the habit of systematically ranking the mixologists I meet, both the gin martini and blackberry sorbet cocktail I tried were damn delicious and indubitably memorable.
Before ever deciding to open a distillery (and speakeasy and soon-to-be production facility, restaurant, events venue, farm) Trey built a career as a lawyer and lobbyist in Austin, where he still has a robust practice. The move to spirits may seem like a divergence unless you know that part of Trey's lobbying career has involved efforts to, "apply a free market, pro-business attitude toward the industry," as he put it.  
He is the current director of the Texas Spirits as well as the Texas Winery PACs, the latter of which formed in response to the Covid-19 pandemic in an effort to give wineries a distinction more like a restaurant or manufacture instead of a bar, which at that point were operating under stricter guidelines from the Governor.
"My job as a lobbyist is to develop relationships… There's a lot of entertaining. So it's not a far jump from that to this," Trey said. "What's different with politics compared to this project is everybody's mad in politics, right? So our goal here is to make happy people happier."
The blackberry gin martini is dotted with a dehydrated berry, and this drink, as well as the garnish, made me happy. Sean points out the fact that airy blackberry bobs on top of the drink instead of sinks to the bottom. He thinks it makes for a nicer experience, and I think he's right.
We talk about the nuances of ice chunks, the bell curve of a craft cocktail as it relates to the melting of aforementioned chunks, as well as the importance of texture in a good drink, like that of their blackberry gin sorbet cocktail that had hits of lime, honey, rhubarb bitters, and aquafaba – a commonly used ingredient to add body to a drink.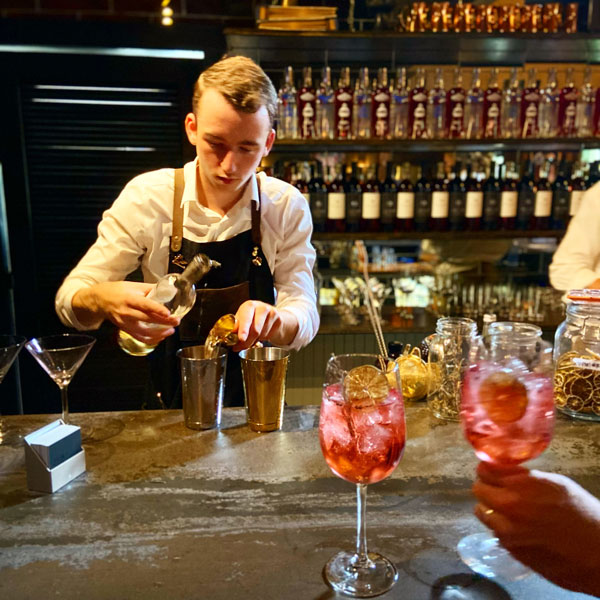 "There's a complexity that you want," Sean said of their cocktail program. "And, obviously, sometimes you get too complex. We're trying to toe the line. They're just complex enough, but also simple." I got that – the gin is perfectly botanical without slapping you in the face, and their flagship martini made with the gin, well balanced. Because of Salvation Spirts's distinction as a winery/distillery, they cannot purchase outside ingredients above a certain ABV – like Campari, an essential ingredient for the gin-based negroni. The solution? Sean spent 3 months coming up with his own campari-like recipe, a testament to just how much detailed work goes on behind the scenes.
Sean hopes to continue to create their own cocktail modifiers (apéritifs, liquors, etc.) using the ingredients produced off the land. I'm looking forward to sampling the vermouth he plans to make with the grapes growing out back. In no time, Salvation Spirits is set to be a closed loop system both ecologically and socially, there to make happy people happy.
To see the happy details for yourself, head to The Speakeasy's website and make a reservation, which are required for a visit.