"Locally sourced" and "farm-to-table" are buzzwords you hear a lot in the restaurant business these days. They sound nice … but what do they really mean?
In the case of Driftwood's Vista Brewing brewpub, it means this:
That Stonewall Peach Lambic beer you are enjoying was aged in casks from William Chris Vineyards in Hye, just 44 miles up the road. From the name, you can probably guess where the peaches came from.
That whiskey barrel-aged stout matured in a cask from Treaty Oak Distilling, 14 miles away in Dripping Springs. The grain for the whiskey came from Barton Springs Mill, next door to Treaty Oak.
The beef in your burger came from Double J Ranch, just 5 miles away.
The limestone-filtered water used to brew your beer came from 450 feet beneath you, pulled from the Middle Trinity Aquifer.
And your meal's vegetables? "They traveled 300 yards to your plate," says Vista co-founder Karen Killough, proudly noting that Vista actually has a full-time farmer on staff. Even the honey they use comes from an on-site apiary.
So yeah, when Vista says local, they mean it. And they've been awarded for it — three of their brews have received the national Good Food Award, which takes into account local sourcing of ingredients and sustainable business operations.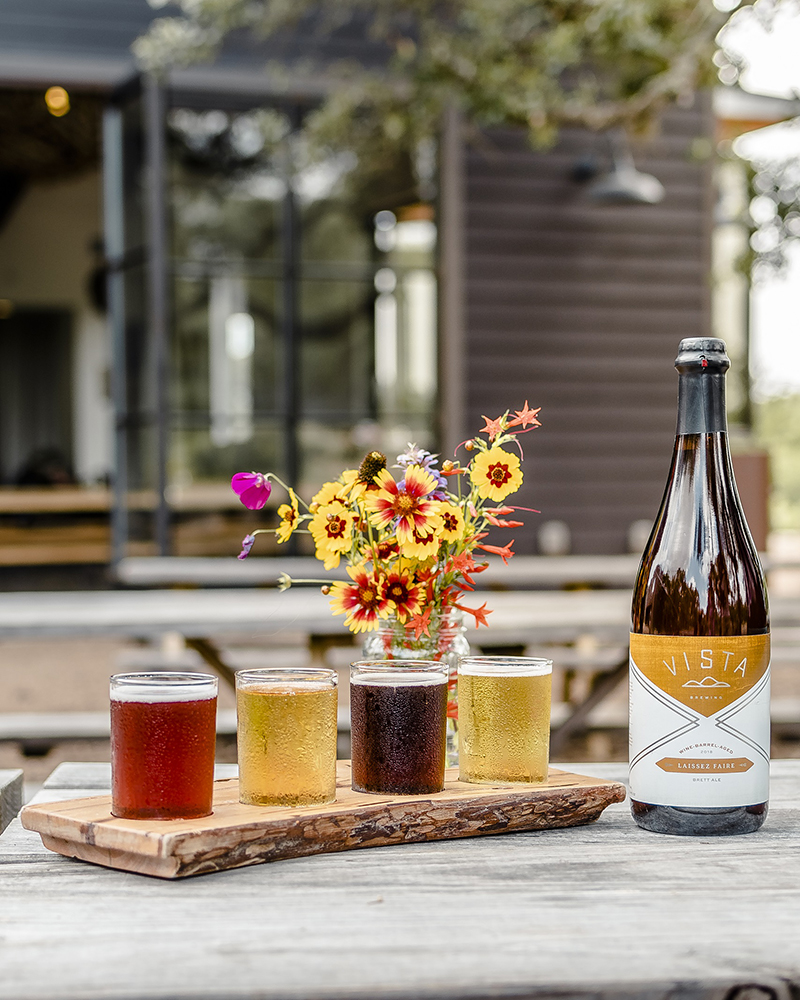 Killough and her husband Kent, an Austin native, came into this venture without a hospitality background — she was in computer engineering at Dell, Kent was in finance — but with a clear vision of what they wanted.
"The inspiration for Vista was that my husband and I traveled all over the world, and lived in England for a few years," Killough says. "We went to a lot of country pubs, some you could walk to, some out of the way in little towns and villages. We had the idea of a pub with great food and great beer — a beautiful place to relax, hang out with your family and your dog, where they don't rush you out. A community gathering place. That's what a pub is — a community living room."
Actually, Vista is substantially more than a living room. As she speaks, Killough is sitting in her spacious venue clearly built to be an events hall: "We have a lot of rehearsal dinners here," she says. "[Nearby] Dripping Springs is the wedding capital of Texas." Future plans include lodging for overnight stays.
"When we moved back to Texas, we wanted to do something outside the corporate world and started working on this idea for a destination brewery — inspired by the country pub, but more of a Hill Country pub."
Of course, a good pub needs beer, and Vista has it thanks to head brewer Daniel Heisler. In fact, he might be the only non-local thing about the place — Vista hired the veteran beermaker after his stints at New Holland Brewing (Michigan) and Blackberry Farm Brewing (Tennessee).
"One of his specialties is saisons, and that's a style we've always really loved here," Killough says. It's a style that is perfectly appropriate to a brewery tied to a farm, as saisons are one of a variety of European styles known as "farmhouse ales." "It ties to the land, to the farmers — the history of that style in Europe is something we feel strongly about."
It's also a style that is particularly good for a brewery relying on Hill Country well water.
"All of our beers except for the stouts are thematically dry, and you get the flavor of the water's minerality coming through in a lot of them.
"One of the first beers that was fully his recipe that he made here was a dry-hopped saison, and I just … I love that beer."
One thing this isn't dry are the barrels they use for aging certain beers. As noted, they rely on local distilleries and wineries for their barrels, and to get maximum flavor into the beer, they move quickly, heading down the highway to the aforementioned Treaty Oak and William Chris as well as others like Still Austin, Milam & Greene, Balcones and other neighbors.
"We try to source the barrels the day that they empty their product out. We're picking up those barrels when they're wet, so we're getting the flavor of their wine or spirit product and the flavor of the barrel.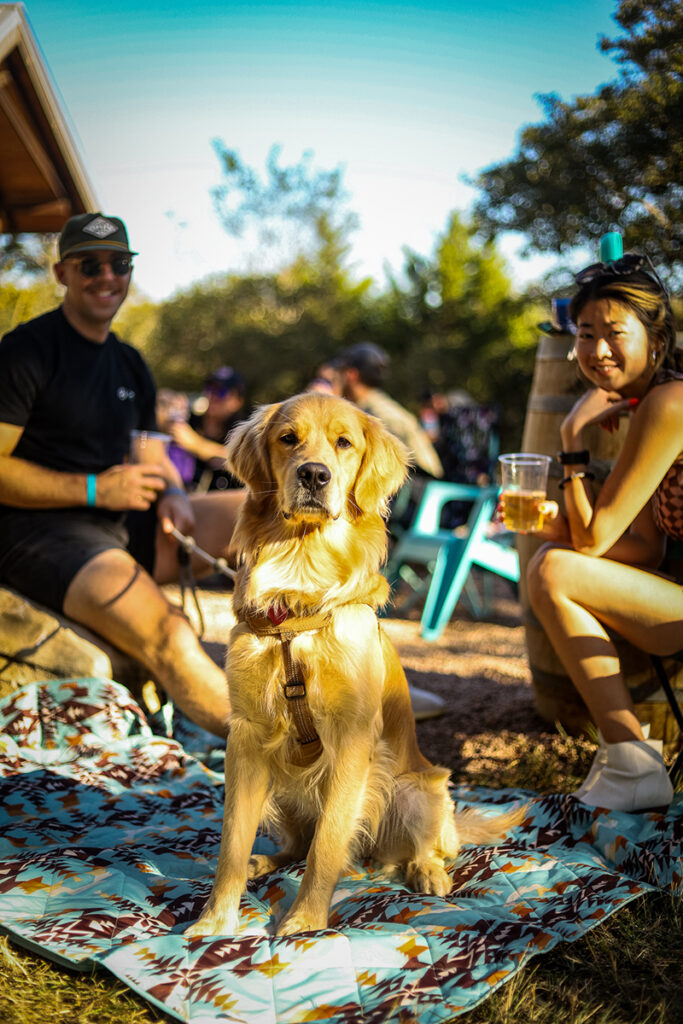 "We've done a couple of really cool projects with William Chris Winery in Hye, including a 100-percent 'spontaneous' beer, [meaning] we used the yeast and bacteria that was in their wine barrels [rather than store-bought yeasts]. We did another with both them and Lewis Wines where we took some fresh-pressed grape juice and refermented it into some of our already barrel-aged beers."
Now that might sound fancy, but Killough says that mostly, "We're not doing super-trendy stuff. We're doing traditional styles that will appeal to a wide range of drinkers, people of all levels of beer knowledge."
Likewise, she says chef Kyle Barker is producing comfort food she describes as "modern Texas fare." His burger is Vista's most popular menu item, and she calls the food "not fancy, but elevated."
Killough hopes you'll give all of it a try. "Our number one beer is a flight," she says.
---
Texas Craft Brewers Cup
The Texas Craft Brewers Cup, sponsored by the Texas Craft Brewers Guild, was held January 29-30 in Austin. To no one's surprise, Hill Country brewers did quite well.
Here's a list of local medal winners:
Texas Brewery of the Year
(based on cumulative medal points)
Real Ale Brewing, Blanco (large brewery category, more than 800 barrels per year)
Pilsner
Hans Pils, Real Ale Brewing, Blanco – Silver
American & International Lager
Altstadt Light, Altstadt Brewery, Fredericksburg – Gold
Golden, Blonde & Light Ales
Firemans #4, Real Ale Brewing, Blanco – Silver
Kölsch
Altstadt Kölsch, Altstadt Brewery, Fredericksburg – Bronze
Strong German & Czech Lagers
River Baptism, Real Ale Brewing, Blanco – Gold
Classic UK Styles
Prairie Fire Irish Red, Fitzhugh Brewing, Dripping Springs – Bronze
Stout & Porter
Texas Cannon Stout, Texas Cannon Brewing, Blanco – Silver
Belgian & Farmhouse Ales
Treeform, Roughhouse Brewing, San Marcos – Gold
Texas Sun, Ghost Note Brewing, Dripping Springs – Silver
Brett & Mixed Culture
Berried, Roughhouse Brewing, San Marcos – Silver
2021 SPON Three Year Blend, Jester King, Austin – Bronze
Smoke & Chili Beer
Smoke 'Em If You Got 'Em, Pecan Street Brewing, Johnson City – Bronze