Catherine Massaro is one of many artists that has faced the challenges of COVID-19. As an artist in the Texas Hill Country, she has had galleries along Highway 290 in Johnson City and, more recently, in Fredericksburg. But in March, she shucked it all and went into quarantine.
"I looked up and down Main Street and I thought, this is going to be disaster," Massaro said. Faced with the enormity of either riding it out or giving up her gallery space, she chose the latter. Yet this is what Massaro later described as a blessing.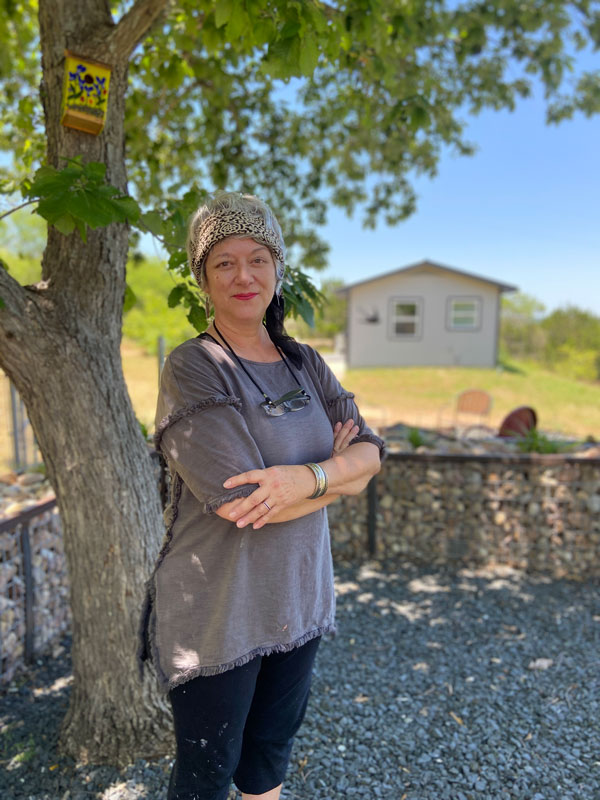 Spring is traditionally a time that exemplifies our fervor to take on new passions and reawaken our life pursuits. However, for Massaro, time (much like our own) is now suspended and the future is relatively unknown as we approach summer.
Time takes on a different dimension as an artist when the world of commerce ceases to exist. Massaro mentions that "it's really nice to be with myself again. It's a gift. I love my days and I enjoy losing myself in time while I work. When I'm painting or creating, time stands still. What I love about art is that it's a whole different problem-solving experience in relation to yourself."
Massaro is a graduate of the Kansas City Art Institute and has her Masters from Utah State University; she has an affinity for folk art that incorporates a multitude of mediums in a balanced perspective. Her work can be seen in many Mandela patterns that represent balance, transition and getting to the truth or core of an idea or concept, whether it is personal, social or spiritual.
More recently during the course of social distancing, Massaro is finding herself in a state of grace, returning to her past love of oil paints and self-portraiture. "There's a mindset for oil painting that involves the set up and the smell of oils, then the clean-up with turpentine – the process takes commitment," Massaro said.
When she describes her days, she does so with a spark in her eye, yet a tone of resounding guilt. "Spring is my favorite season, so when this quarantine came into effect, I was actually thankful I could retreat from what I was trying to do with the gallery and the business side of things," she said. "Is that horrible to say? I think we all get into our head too much. When I paint, I'm in that moment. I recognize that moment without a clock. I am entering into a different relationship with myself."
As we all encounter a similar state of anxiety around the coronavirus, Massaro reminds us how art allows her to focus on the present while she is creating and she encourages everyone to find their own path toward self-expression.
Catherine Massaro's photography and oil art work will be on display at the "Created During Covid" art's event at the KACC, Kerr Arts and Cultural Council beginning on July 9th.
To visit her home studio, call or contact for private appointment at: 775-303-8130 or via Facebook
@cmassarostudio