Quick, quick, slow, slow – the methodical process associated with the celebrated Texas two-step. But why not apply this to the new wine arena afoot in Texas?
During 2020, the Texas Hill Country found home to many new upstarts on the winery front, each with unique personalities, adding more dimensions to the landscape. Some may ponder how many more wineries can the Fredericksburg area absorb or will this enhance the quality being produced by current producers and grape growers? I say, we still have room to grow. And more importantly, the competition will produce finer expressions of quality as we expand. That coupled with Texas pride creates parity for a bright future.
Coming from a Napa/Sonoma winery history dating back to the 1970s, I'm now seeing Texas Hill Country growth similar to that era. Back in the '70s, Sonoma had 60-70 wineries (much like the current base in Hill Country) and now Sonoma unleashes over 400 in a 30-by-30-mile radius. In contrast, Texas showcases 500 wineries statewide. For many producers, it's just a matter of having vineyards to support growth, along with consumer quality satisfaction in the equation.
This time, I'm focusing on family values mixed with Texas pride, exhibited by two wineries both devoted to 100% Texas wines, a philosophy that exhibits Texas purity.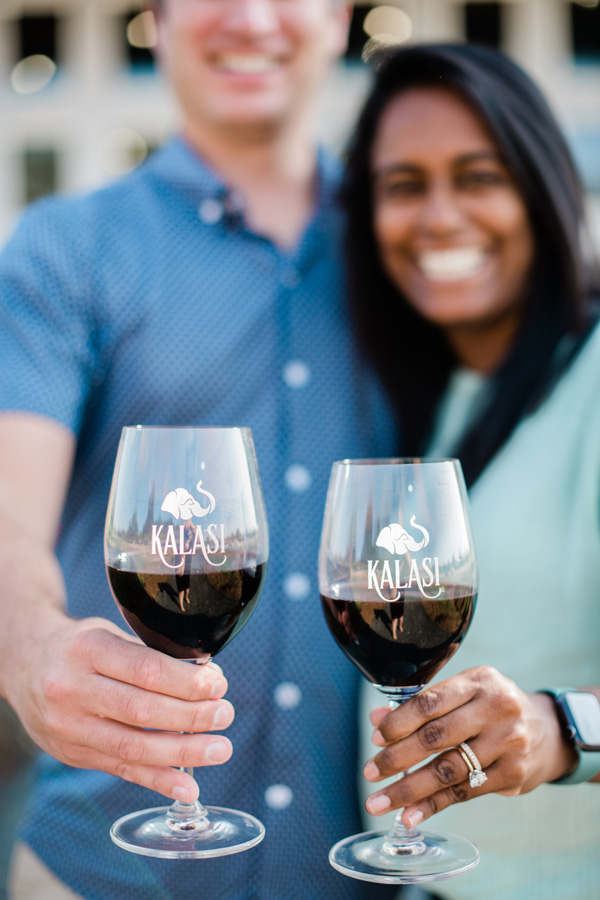 Kalasi Cellars, Fredericksburg
The name Kalasi is a vision of co-founders, husband and wife Greg and Nikhila Narra Davis. It reflects a cultural twist with roots to Nakhila's Indian family Heritage. The Indian name Kalasi translates as "together," reinforced by a strong elephant design element on the label, a symbol that breaks down barriers. Nakhila is a first-generation American and her parents come from generations of growing Indian-inspired food ingredients and spices. With Nakhila's passion for wine, the parents decided to plant vines in the Brownfield area, managed by their daughter.
The wines of Kalasi are 100% estate-driven, all coming from her family's High Plains AVA site, a pristine, 140 acres of Narra Vineyard. This high-pedigree vineyard site is farmed without pesticides and often used by leaders within Texas winemaker circles.
Winemaker Benjamin Calais of Calais Cellars and The French Connection sources from the Narra Vineyard and offers these insights: "This vineyard is naturally gifted with low-yielding vines, which produce intensity in flavor. Usually, two tons per acre is the threshold. In my mind, it is perfection for my winemaking style and creates an underlying ingredient to my success. I also admire how the vineyard was designed in clonal selection, which is often overlooked by grape growers."
When visiting the new tasting room, one is emersed in a sleek building design that resembles a barn with a modern flair. The 17-acre estate and outside garden area are laced with Adirondack chairs nestled under old pecan trees. Opened August 15, 2020, founders Greg and Nikhila serve as the greeters. Their personal passion flows deep through presentations with two wine levels or collections offered. The Heritage Collection using common varietals or blends and the premium tier, Reincarnated Collection, a rare, more unique definition of high standards and wine making. Both are small batch, presenting sense of place and terrior. My personal favorite, the 2017 Teroldego, is an inky, full-throttle red wine, yet balanced with silky tannins. Note: overall winery production is limited, 1,000-1,500 cases per year and only sold at the winery or online.
Not to be overlooked is the authentic Indian heritage food offered at Kalasi. They even offer soda drinks imported from India that process flavors of ginger, lime, and fresh clove, a clever alternative for the designated driver or a refreshing take-away after your tasting.
Adega Vinho, Stonewall
The second leg of my two-step involves a family driven Adega Vinho cadre working in harmony to produce 100% Texas wines. The Bilger family, proprietors represented by Andrew, Michael and Elena, create a multilevel kaleidoscope of passion wrapped around award-winning wines. Each family member processes a powerful winery business angle, yet as a team they create Adega Vinho magic.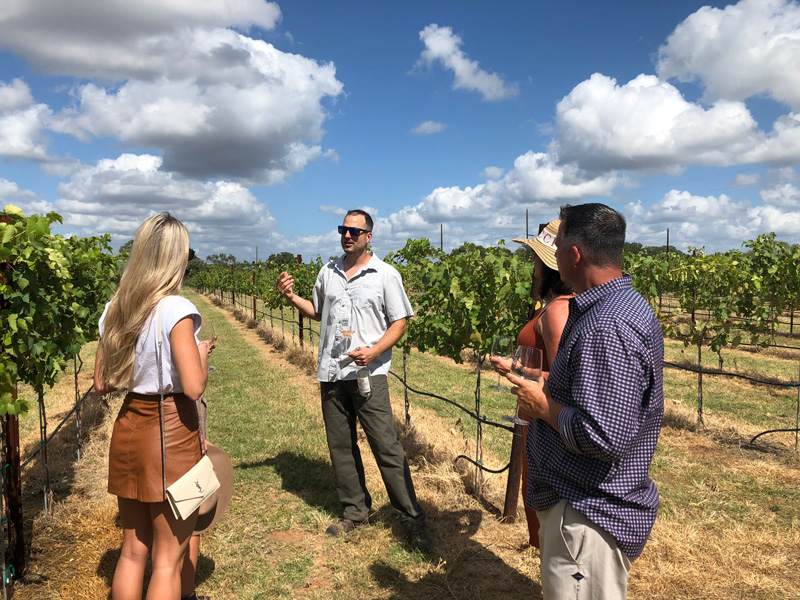 Their long-term vision, build out the Adega Vinho 24-acre estate under vine surrounding the Scandinavian-designed tasting room. Currently the family has 12 acres planted with a mix of grape varietals. The makeup consists mainly of Spanish, Italian and Portuguese varietals in origin but crafted with Texas nuances and precision.
Bobby Humphries, Founder of Terre De Vin, a specialist in Texas vineyards and wineries, states:
"I am consistently given the opportunity to work with some amazing grape growers, winemakers, and other professionals in the wine industry. Visiting Adega Vinho offers a personal connection with the Bilger family, who generously share their passion and vision. Using innovation and progressive ideas from vine to wine allows them to showcase what Texas wines can and should be. This includes higher planting densities of unusual grape varieties along with a winemaking style that allows the varietal to stand on its own. As the estate vintages are released, I expect exciting things from Adega Vinho."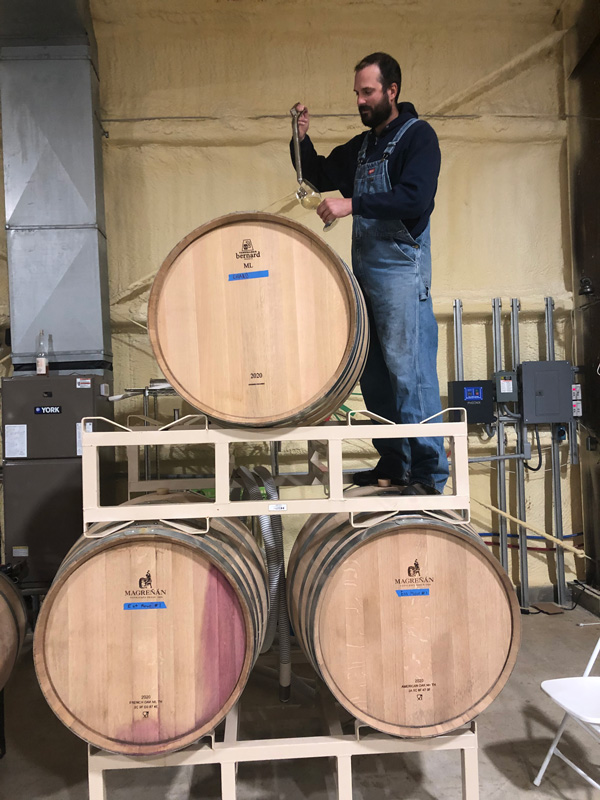 Opened in January 27, 2020, I went following a fellow sommelier recommendation. What I discovered are layers of passion from the family and tasting room staff that translates to the glass. Rarely does one taste through a portfolio and like all that they offer, yet that prevailed. The standout however was a red cuvee, 2018 Cuvee' Carmesin, an artistic 50-50 blend of Touriga National and Merlot.
On a recent visit I had a sneak peek at the future releases with Michael Bilger, Adega Vinho winemaker and vineyard specialist. What resonated throughout was incredible attention to detail, even with exploring every angle to excel. "We try to be as hands-off as possible, with our wine production 'ushering' the fermentation process rather than driving it," Michael Bilger said. "This approach is seeped heavy in the traditional approach to fermentation, but as it is almost 2021, we do lean into modern wine making techniques throughout our fermentation journey."
When visiting Adega Vinho, be sure to experience a full tasting, meet the family who often serves, then move to the spacious outdoor setting. All areas are warm and welcoming, but the live oaks and picnic area bring out a tranquil way to relax with friends and family.